The PS4 and PS5 version of Baldur's Gate Dark Alliance has just been released last May 7 and as expected for new games, a lot players are reporting crashing issues. Some of those playing reported that Baldur's Gate Dark Alliance won't play right away because they're getting the CE-34878-0 error after it crashes. If you're experiencing the problem, this guide should help.
What does CE-34878-0 error in Baldur's Gate Dark Alliance mean?
CE-34878-0 is one of the common errors in PlayStation 4 that indicates that a game being played has crashed. In many cases, a simple restart can be enough to get rid of this temporary disruption. However, in the event that your BG:DA continues to crash repeatedly afterwards and it's followed by this error code, it can mean that there's an issue with BG:DA, or with the console itself.
Causes of CE-34878-0 error code in Baldur's Gate Dark Alliance
If Baldur's Gate Dark Alliance keeps crashing and showing the error, it may be caused by one of the following:
Bad system cache.
If your PS4's system cache is corrupted, the console may show signs of slowing down and BG:DA may load very slow or keep crashing. The system cache may need to be rebuilt in order to fix the problem.
BG:DA client is outdated.
One of the simplest ways to keep bugs away is to install the latest updates. Updates not only bring cosmetic changes but also fixes for known bugs and glitches.
Device software needs an update.
Just like the reasons to keep your BG:DA updated, you also want to make sure that your PlayStation 4 runs the latest software. On top of known fixes, Sony sometimes release updates to device drivers for your console to keep them working smoothly with a new game.
Random Face Recognition glitch.
If you're using a PS Camera and you enable Face Recognition, your console may encounter the error when playing due to this feature. It's a known issue for older models.
Database is broken.
Another reason why your Baldur's Gate Dark Alliance crashed on you may be the bad state of your PS4 database. Your PlayStation 4 system uses an organized set of files and folders in order to work efficiently but sometimes, this database may become corrupted, resulting to all sorts of issues.
Corrupted save files.
It's also possible that the save files for Baldur's Gate Dark Alliance has been corrupted. This can happen if you interrupt the BG:DA or your PS4 when it's trying to "save" your progress. Game data corruption may also happen if you turn off the console while it's trying to install a system update.
Hard drive issues.
A rare reason for this error can be related to your hard drive. If your hard drive is malfunctioning, or if a certain sector is damaged, certain game data may become unreadable causing your game to crash.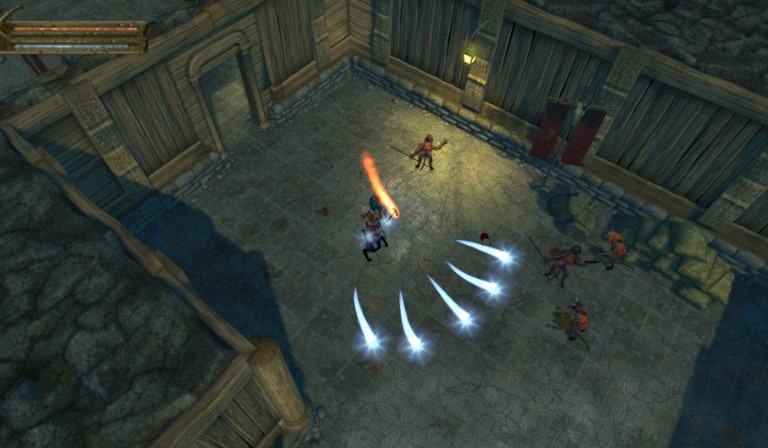 How To Fix Baldur's Gate Dark Alliance CE-34878-0 error?
These are the solutions that you can try if you're getting CE-34878-0 error when playing Baldur's Gate Dark Alliance.
Fix #1: Rebuild the PlayStation 4 system cache with a reboot.
To do this, you have to turn off the device, unplug it from the power outlet for 30 seconds, then power it back up. This would force the system to delete the system cache and rebuild it over time.
Fix #2: Check for updates.
Updating both the the game and your PlayStation 4 software are important steps in this situation.
To update a game:
Go to the PlayStation Home screen.
Highlight the game and press the [Options] button on your controller.
Select Check For Update and install any updates that are available.
To check if there's an available update for your console:
Select Settings at the top of the PlayStation home screen.
Select System Software Update and allow any system updates to install.
Reboot the device.
Fix #3: Disable Face Recognition.
If you're using a PlayStation camera, turn off Face Recognition and check for the error. If the issue stops, make sure that your device's software is fully updated and try not to use the PS Camera by unplugging it.
To disable Face Recognition, follow these steps:
Unplug the PS Camera from the console.
Restart the device.
From the Home screen, select Settings.
Select User.
Select Login Settings.
Uncheck Enable Face Recognition.
Fix #4: Delete and reinstall Baldur's Gate Dark Alliance.
If the error continues at this point, you'll need to reinstall Baldur's Gate Dark Alliance. This may work if the cause of the problem lies with the game data that were corrupted.
Fix #5: Rebuilding the database.
If a reinstall won't help, it's possible that there's a problem with the database. Follow this link to know how to rebuild your PS4 database.
Fix #6: Initialize the console.
If you continue to experience crashing problems, another effective solution to try is a PS4 factory reset. As the name suggests, this will return the software to its factory settings and will clear the hard drive of user added data. Be sure to create a back up of your game progress for your game before doing this to avoid losing them.
OTHER INTERESTING ARTICLES:
Visit our TheDroidGuy Youtube Channel for more troubleshooting videos and tutorials.