This post highlights a couple of workarounds to fix Twitch error 788078d4 while streaming on a Windows 10 computer. Read on to learn what to do if you encounter this error and are unable to livestream games or watch other users play games using Twitch.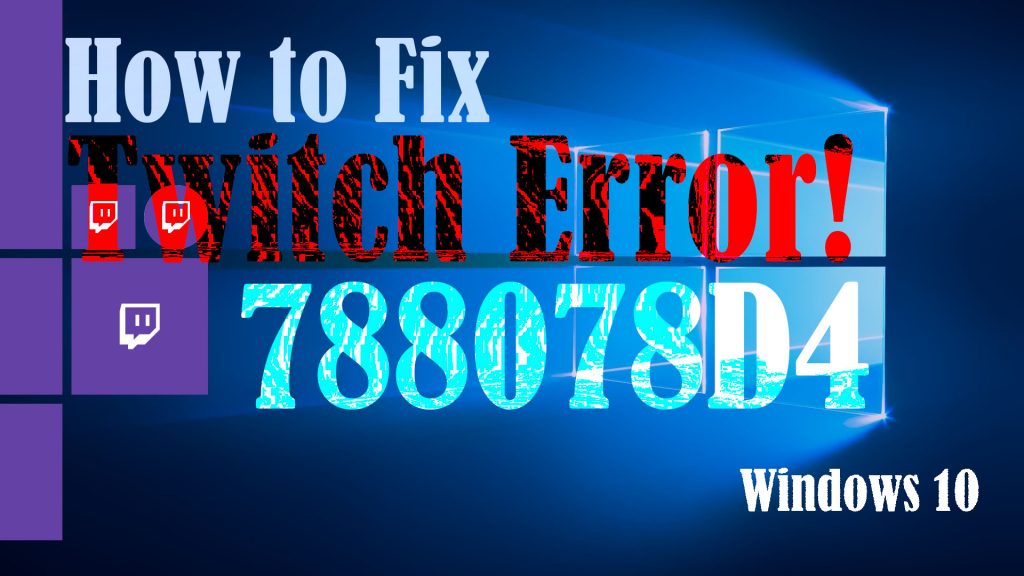 Twitch is hailed among the most popular platforms for live streaming. With Twitch, you can stream through your computer, console, smartphone, or even with consoles like PS4 and Xbox One. Desktop computers emerged among the most popular choices for streaming with Twitch. However, not all of the desktop Twitch users have got a positive streaming experience using the platform. In fact, a number of Twitch streamers were complaining about having encountered different types of errors when using the platform on their Windows 10 computer. Among the prevalent issues with Twitch on PC is the streaming error code 788078d4.
What does Twitch error 788078d4 mean?
If you encounter this error code when streaming with Twitch on your Windows PC, it denotes that a two-factor authentication is required for you to continue streaming. It has something to do with Twitch security settings that protect every user's privacy. This error is not only encountered by Twitch streamers on Windows PC but also by those using the streaming platform on Xbox.
Potential Solutions to Twitch error code 788078d4
To deal with Twitch error 78807d4 on your Windows computer, you will need to configure its security settings. Below are a couple of workarounds you can try to fix this error on your end.
First Fix: Verify and ensure that Two-Factor Authentication is enabled on Twitch.
Two-factor authentication is one of the security features used in several apps and websites to ensure every user's account privacy and security. Many apps and online platforms are already using this security feature as a form of rebuttal against the rising cases of cyber assaults and identity theft. And Twitch is among these platforms that's implementing this type of security feature.
That said, every Twitch user will be required to authenticate and confirm identity when attempting to access the platform. Access to Twitch basically needs to be authenticated in two different methods. These are through the regular login credentials (account username and password) and by entering a unique one-time access code sent to the linked device or phone.
Failure to activate the two-factor authentication on Twitch will likely result in getting the error code 788078D4. That said, verify Twitch settings and enable the two-way authentication feature if necessary. Here's how it's done:
Open the Twitch app then log into your Twitch account.
Click on your profile icon then select Settings from the menu items.
Click the Security and Privacy tab.
Navigate to the Security section then click the Set Up Two-Factor Authentication button.
On the following screen, click the Enable 2FA button then enter the phone number that you want to use to authenticate your Twitch logins.
Click Continue. A unique code will be sent to the phone number that you've entered.
Go to your phone to view the unique authentication code sent via SMS.
Just enter that code to verify your Twitch account login and you would be all set to use the platform and start streaming games on your computer.
Second Fix: Verify and ensure that your Twitch account is verified.
Another factor that can trigger the occurrence of this error on Twitch is an unverified account.
Account verification is usually done when creating a new account on Twitch. This is when you'll get an email requesting you to verify your account.
This email will be sent to the email account you used to register your Twitch account. To make sure you didn't miss this step, go ahead and check your Twitch account settings.
Here's how to get there:
Open the Twitch app on your computer.
Enter your Twitch credentials to login into your Twitch account.
While on the Twitch app, click on your profile icon then select Settings from the menu items.
On the Twitch app's settings menu, click the Security and Privacy tab.
Go to the Contact section, then check under your email address if it says, Verified.
If you don't see the Verified status, then you need to verify your account first.
To do this, access the email account that you used to register for a Twitch account then look for the verification link sent by Twitch. Open the email then click on the verification link inside it.
Other Suggestions
If none of the given workarounds is able to fix the problem and you're still getting error 788078D4 while using Twitch, restart your computer. Streaming errors may also occur when the computer is experiencing random system glitches affecting network-related apps and services. And the simplest way to get rid of these random glitches is to give the device a clean fresh start.
If all else fails to fix the problem and you're running out of options, then you may consider resorting to a drastic solution that is to uninstall and reinstall Twitch on your computer. A fresh install is typically required if the application has become totally corrupted.
Hope this helps!
Relevant topics that you might want to read: