In this troubleshooting guide, we will discuss the common causes of Twitch error code D5E73524 and learn how to fix this which made players logged out unexpectedly from the popular online streaming service. This error seems to occur commonly when accessing Twitch on Android TV, Firestick TV, and Shield TV, but some have encountered the error on their Xbox One and computers as well. If you are one of these Twitch users who is currently facing this problem, continue reading our page for more information.
What are the causes of Twitch error code D5E73524?
Based on what we have gathered, these are some of the common culprits why your Twitch app is acting up and leads to the error code D5E73524 when accessing your account.
Twitch server downtime.
Just like any established gaming services, Twitch app experiences outages on their server too. These downtime can be caused by necessary schedule maintenance which made the server unreachable to Twitch users.
Unreliable internet connection.
The Twitch app is always dependent on the internet in order to function. If the connection is too slow or basically cutting in and out, then the access on this application can be affected.
Antivirus software limitations.
The Twitch issue can also be triggered by the antivirus software installed in your computer. As the antivirus is responsible to protect your device, there are times that it blocks certain applications from running. Adjust the settings on your Antivirus software to allow the application to function.
Disabled Two-Factor Authentication.
Streaming in Twitch can only be allowed after the Two-Factor Authentication feature has been enabled. If you haven't activated the feature yet, you may encounter issues when trying to access your Twitch account on these devices such as Android TV, Apple TV, or Amazon Fire Stick TV.
Outdated Twitch application.
Typically, issues occur in an application when it is not up to date. Some gamers have reported that the issue happened on their end when they failed to update the Twitch application.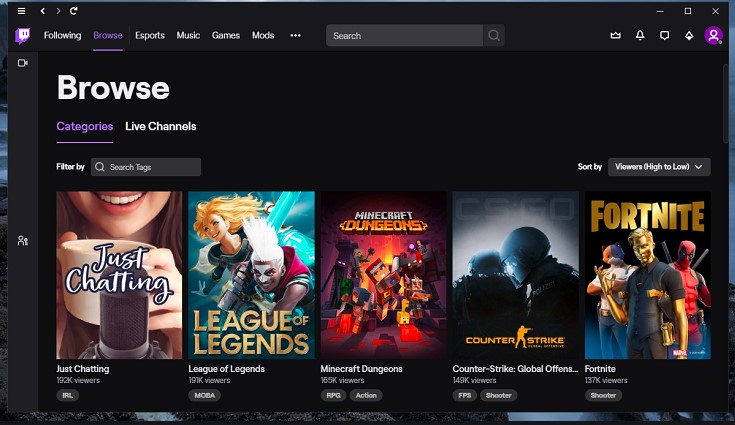 How to Fix Twitch Error Code D5E73524
We have selected the best solutions that Twitch gamers used to fix error code D5E73524. You may try these troubleshooting steps especially if you already tried to restart your device and the issue still exists.
Check for server outages.
It is highly recommended to always check for any outages when you encounter issues with an application. Twitch normally provides information regarding known outages on their server on their official Twitter account: @TwitchSupport. If there is an outage, access your Twitch account at a later time as you can't do anything when it's a server downtime.
Fix your internet connection problems.
As what we have mentioned, stability of your internet connection matters when it comes to these kinds of applications. If the internet is slow or intermittent, you need to do these actions to improve the connection.
Restart your router to refresh the connection in your devices.
Move your pc or device closer to the router for better wireless signal.
Remove any metal objects that can interfere with the signal between the router and the device.
If connection is still slow, connect the device directly to the router using a LAN cable.
Enable Two-Factor Authentication.
If you have encountered the error code D5E73524 when using Twitch, it could be due to the Two -Factor Authentication not activated on your account. Players who use the Twitch app for broadcasting games are now required to enable this feature for better security. Here are the easy steps to enable the Two-Factor Authentication:
Using a web browser, access your Twitch account. Ensure that your Twitch account has been verified before setting up the authentication process.
On the top-right corner, click your Account icon.
Select Settings found on the sidebar.
Select Security and Privacy tab in the Settings page.
Choose Set Up Two-Factor Authentication.
Read the instructions and provide the required information to successfully set up the feature on your Twitch account. 
Update the Twitch app.
Check if there are updates available for the Twitch app and do the necessary actions to fix the problem and for you to access your account.
Clear Twitch Cache on your PC.
A number of gamers were able to fix the problem by clearing the cache on their PCs. You can do this by heading to your web browser settings and select the clear data option. Once completed, access your Twitch account to see if it is already working.
Uninstall and Reinstall the app.
If the code D5E73524 still occurs after applying all the solutions above, try to uninstall and reinstall the Twitch app instead. The app installed in your device may be corrupted which prevents you from accessing and broadcasting games on your account.
Other interesting articles:
Visit our TheDroidGuy Youtube Channel for more troubleshooting videos and tutorials.