Are you getting the error code 727e66ac when loading or when in the middle of a game in NBA 2K23? In this guide, we will show you the solutions that you can do to fix this trouble.
How to fix NBA 2K23 error code 727e66ac?
NBA 2K23 error code 727e66ac can be caused by several factors. If this error keeps on popping everytime you load the game, or when you try to load one of the online modes (I personally experienced this when I tried playing MyCareer), these are the solutions that you need to try.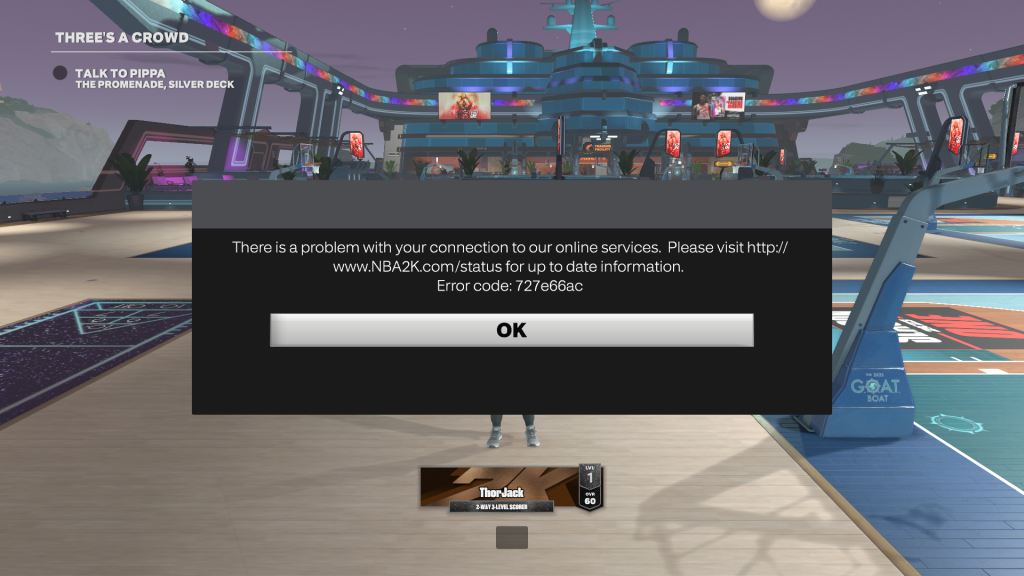 Fix #1: Refresh the game.
For some lucky players, they were able to easily fix this issue by simply closing and running their game again. The NBA 2K23 error code 727e66ac may occur if your console or computer has briefly lost a connection before you opted to load an online mode.
A quick restart of the game can easily fix this problem. Make sure that you try this before doing the rest of the solutions in this guide.
Fix #2: Power cycle your modem and/or router.
If the error returns after restarting the game, the next step that you want to do is to ensure that power cycle your network equipment.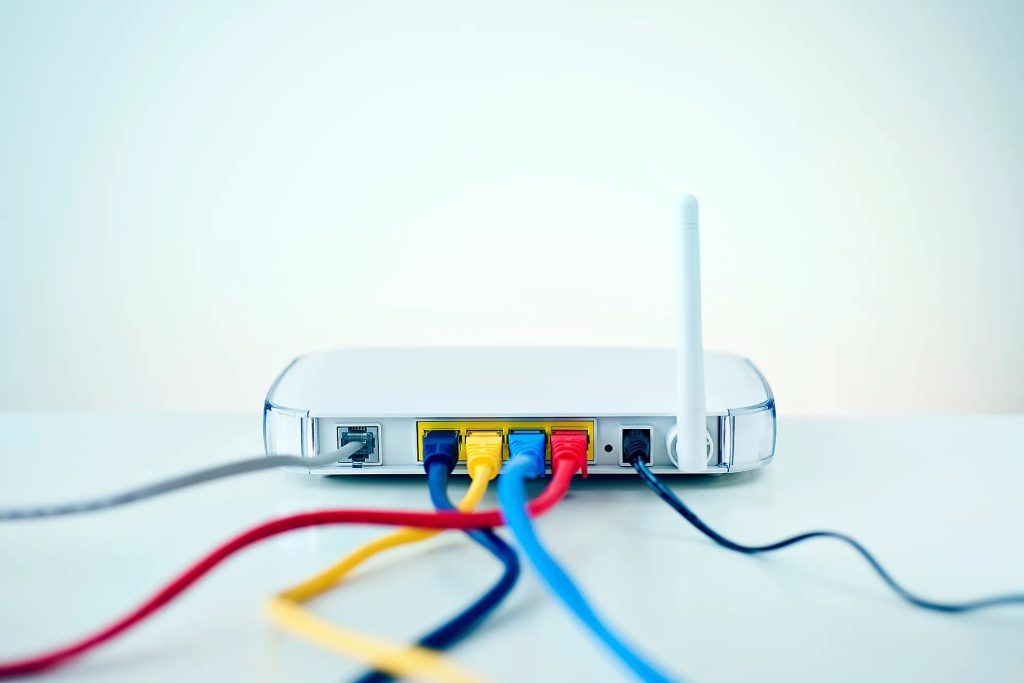 Basically, what you need to do here is to restart your modem/router by turning it off and leaving it unplugged from the power source for 30 seconds. This should be enough to refresh the device and hopefully clear any bug that causes it to malfunction.
Fix #3: Restart your PC or console.
Another simple troubleshooting step that you need to you need to do is to refresh your computer or gaming console. This is a basic troubleshooting step whenever you're having trouble with a game, or when a game appears to have encountered a bug or a connection glitch like the NBA 2K23 Error Code 727e66ac.
Fix #4: Verify the NBA 2K23 servers.
Another possible reason for the NBA 2K23 Error Code 727e66ac can be an issue with the servers. As a rule when troubleshooting NBA 2K error codes, checking if the online services are up and running is one of the first things to do.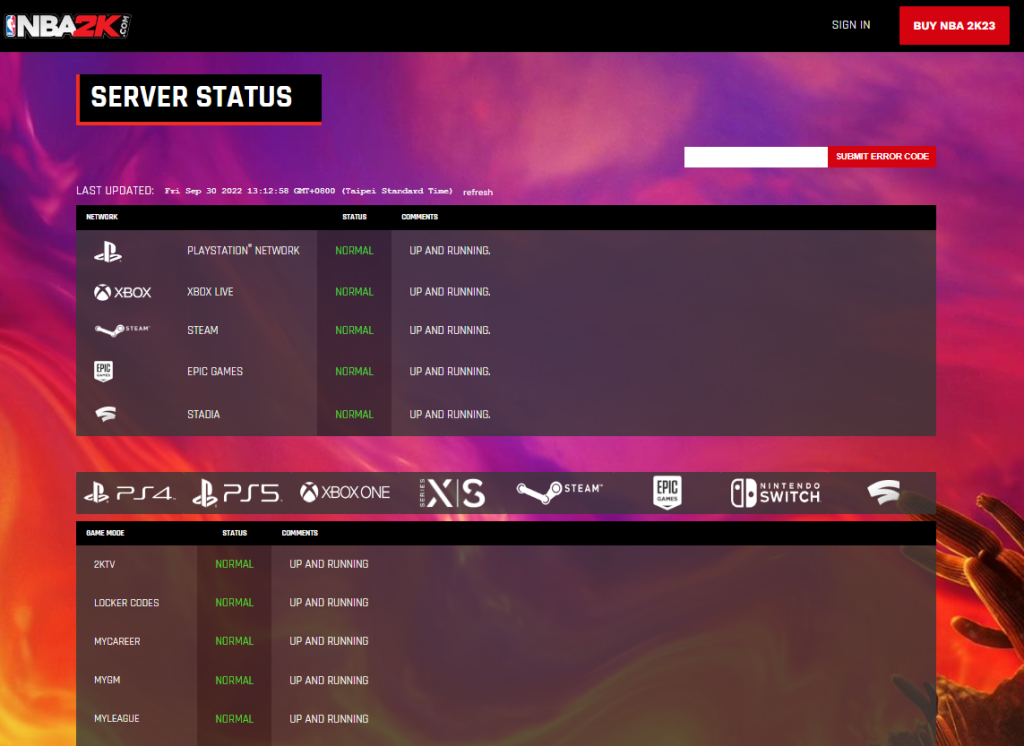 Connection problems are usually common for games with a massive online multiplayer players. The huge number of players wanting to play online at the same time during the first days or weeks of a game is not unheard of.
Server overload usually subsides over time so right now, what you need to do is to ensure that you're not dealing with a server problem.
You can check the status of the NBA 2K servers by going to their official website at https://www.nba2k.com/gamestatus.
Alternatively, you can also use third party resources like Downdetector to see if there's any on-going issues with the servers as reported by other users.
Fix #5: Install updates.
The NBA 2K23 can be enjoyed in online and offline modes. If you're not big into the online multiplayer component of this game and you mainly play by yourself offline, make sure that the game is running its updated version at this time.
If you're playing on Steam, all you have to do is to attempt to play any online mode so the software starts to scan for updates.
Fix #6: Use a different set of DNS servers.
The NBA 2K23 error code 727e66ac can be caused by network related issues. So, if the error persists at this time, the next thing that you want to do is to see whether or not there's something in your network settings that needs to be updated.
For example, it's a good point if you can run the game after changing your ISP-provided DNS to that of Google's.
This sometimes work especially if there's an on-going DNS server related issues coming from your ISP's end.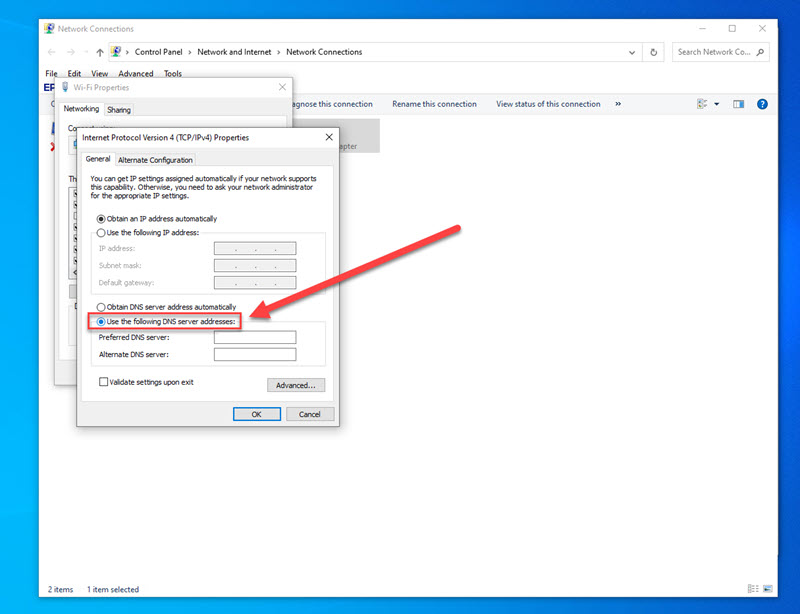 Follow these steps to change your DNS settings:
Press the Windows Key on your keyboard.
Type in "control panel" and open the Control Panel app.
Click Network and Internet.
Go to Network and Sharing Center.
Click on Change Adapter options.
Right-click on Ethernet network (or wifi) and click Properties.
In the Ethernet Properties window, click Internet Protocol Version 4 (TCP/IPv4), then select Properties.
In the Internet Protocol Version 4 (TCP/IPv4) window, select Use the following DNS server addresses:

For your preferred DNS server (primary DNS), type in: 8.8.8.8.
For your Alternate DNS server (secondary DNS), type in: 8.8.4.4.

Make sure to enable Validate settings upon exit box, then click OK.
Once you've changed the DNS settings, make sure that you check if your internet connection is working first before playing the game again.
If you are able to use your internet connection normally with the new DNS settings but the NBA 2K23 error code 727e66ac remains, continue to the next solutions in this guide.
Fix #7: Turn off the antivirus or firewall.
If the new DNS servers did not improve the situation, your next move is to see whether or not the NBA 2K23 error code 727e66ac disappears when you disable your antivirus or firewall.
Sometimes, a security software can block a game from launching or working normally.
Be sure to enable your antivirus and firewall after the troubleshooting to keep your computer safe.
Fix #8: Use a VPN.
Using a VPN in gaming can either have positive or negative consequences. For some people, having a VPN can improve their internet connection speed as they can find a better server than the one they're connecting to by default. For others though, the opposite can be true.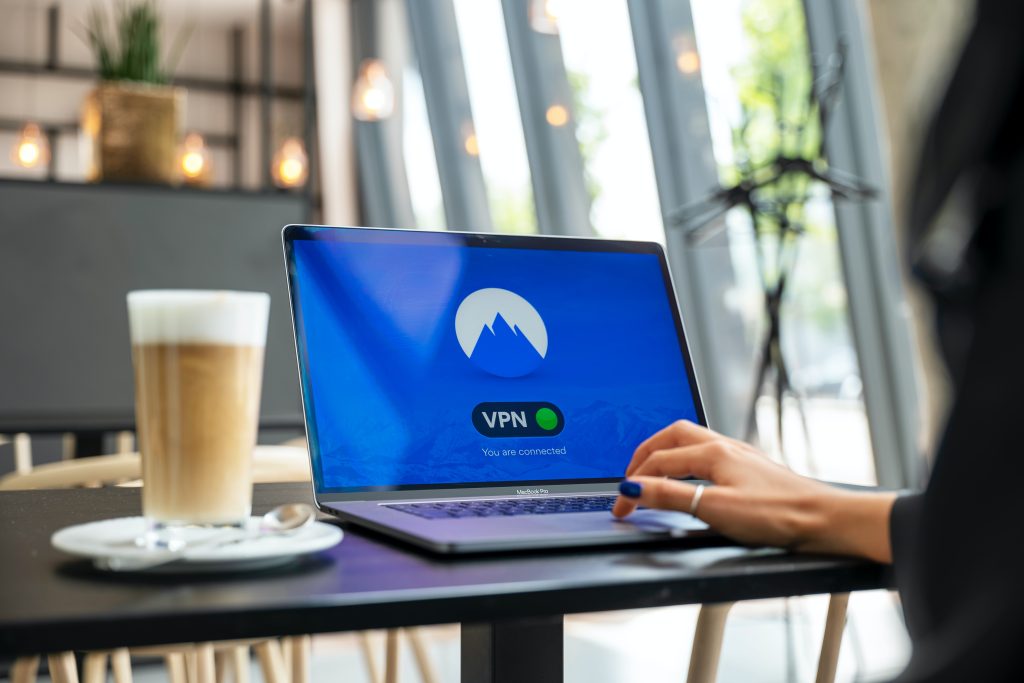 If you should come to the point of deciding whether or not to get a VPN, we highly recommend that you try out services that offer a trial. That way, you can test out if the services can help you or not.
Fix #9: Repair game files.
One other possible reason for the NBA 2K23 error code 727e66ac error is damaged game files. To check if this is the case, you can refresh your NBA 2K23 game files by using the Steam's Verify integrity of game files tool.
Here's how to do that:
Open Steam.
On the Steam application, go to your Game Library and right click on the NBA 2K23 game.
Then, click on Properties.
Go to the Local Files tab.
Select Verify integrity of game files.
FAQs
What does NBA 2K23 error code 727e66ac mean?

NBA 2K23 Error Code 727e66ac can be an indicator of a number of things. For most people who have recently experienced this problem, it's a temporary minor bug that can be resolved by doing a restart or by refreshing the network equipment.
For some, the problem may require a bit more work like checking the game files, changing to a new DNS server, or even using a VPN.

Is NBA 2K23 error code 727e66ac common?

By far, there's just a small number of players reporting this error, a few weeks after the game was released. This might mean that the problem has already been addressed by the developer and may no longer cause issues with other players at this time.
OTHER INTERESTING ARTICLES YOU MAY LIKE: