This post highlights a few potential solutions to a problem on the Ragnarok X Next Generation app that won't launch or is stuck on loading in Android 11. Read on to learn why this happens and what to do in order to fix the problem.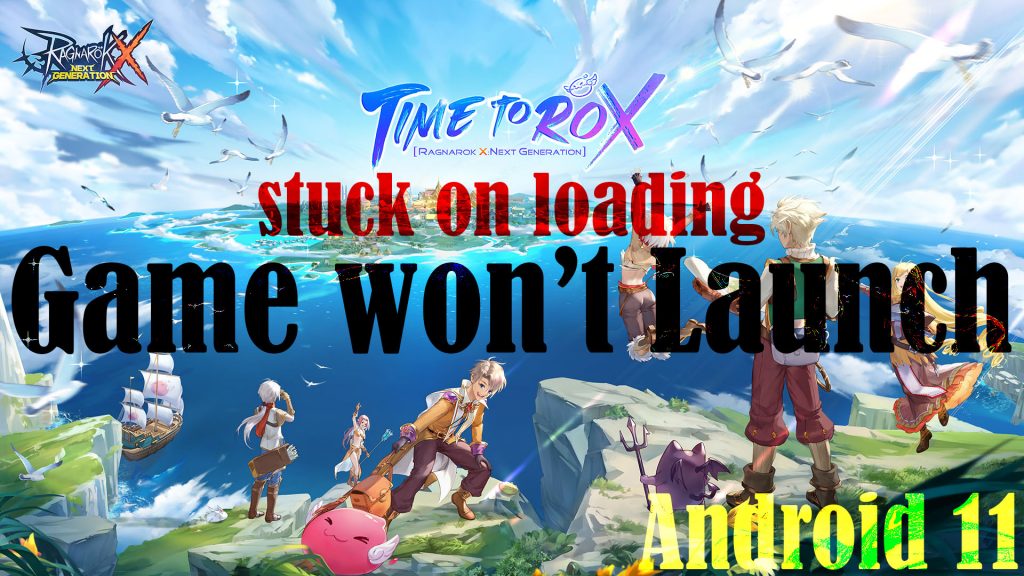 Ragnarok X Next Generation is a popular 3D MMORPG mobile game for adventure-seekers. The game is available on both Android and iOS platforms todate. If you're playing this game on your Android device and for some reason you couldn't get it to launch or it gets stuck on loading, then you can try any of the potential solutions I've outlined in the later section of this post.
What makes Ragnarok X unable to launch/stuck on loading?
There are several reasons as to why an app won't launch and gets stuck on loading. Insufficient storage or low memory is one of the common culprits. Apps are more likely to misbehave if the device is running low on storage. This is especially true to gaming apps that require ample storage and system resources to operate.
Aside from low memory, internet connectivity issues, faulty updates, invalid/incorrect settings, and data corruption are also among other factors that you should consider ruling out in this case.
Troubleshooting Ragnarok X app that won't launch in Android 11
Before you begin, verify and ensure that your device has a stable internet connection. It's possible that you cannot access a certain game server because your device is currently having trouble connecting to the internet. As a result, the game is unable to finish loading and just gets stuck on the loading screen instead.
To clear out random internet connection errors that might have caused some problems with your online games, disconnect then reconnect your Wi-Fi. If you've set up multiple Wi-Fi networks on your device, then switching to another Wi-Fi network is also a potential solution especially if the problem is with the previous Wi-Fi network that's corrupted.
If the Internet is good but the game still gets stuck on loading, then you can try the following methods to rule out other factors.
First solution: Force stop the app
If this is already the nth launching attempt and for some reason the app is still stuck on loading, it's possible that the app has stopped and got stuck in the background. If this is the case, then you will need to force stop the app.
As the name implies, this forcibly stops or ends the app from the background and allows it to have a clean fresh start. Here's how it's done:
First, tap Settings from the Home or Apps screen.
Tap Apps.
Find and select Ragnarok X Next Generation on the list.
On the App info screen, tap Force stop.
That should force the game to close.
To ensure that no other apps are interfering with the Ragnarok X, better end all background apps on your device. You can do this by tapping on the Recent app icon at the bottom of the Home screen and then tap End All on the Apps card/preview screen.
After ending all other background apps, retry launching Ragnarok X and see if it's already able to load up completely.
Second solution: Clear the app's cache and data
Like any other apps, gaming apps also collect temporary files and store them as cache. In time, these temporary files accumulate and occupy more storage space. Aside from memory consumption, corrupted temporary files may also be stored in the game's storage. When these files remain, there's a tendency for them to trigger in-game errors. That's when the game would start to misbehave or stop working properly.
That said, clearing cache and data on Ragnarok X is also a potential solution to this problem. Here's how it's done:
Tap Settings from the Home or Apps screen.
Tap Apps.
Find and select Ragnarok X from the list of apps.
Then, tap Storage.
On the App Storage menu, tap Clear Cache.
That should delete all cache from the app storage.
To delete all data for the app, tap Clear data then tap OK on the pop-up message to confirm.
All temporary data for the app including your login credentials, game progress and other relevant data will be erased. As a result, the game reverts back to its factory state.
Any errors attributed to errant cached files or corrupted app data will likewise be rectified in the process, allowing the app to work properly again.
Third solution: Install pending app updates
Developers typically pushed periodic updates to keep their apps stable and optimized. Software updates also embed essential patches to eliminate widespread bugs that cause problems on the app.
If you haven't set your apps to automatically install new updates, then you should consider updating them manually. To check for any available updates for your apps, just follow these steps:
Open the Play Store app on your device.
While on the Play Store main menu, tap on your profile picture.
Then, tap My apps & games.
Find Ragnarok X on the list of apps then tap the Update button next to it. If you don't see Ragnarok X in the list, it means that there's no available update for the game yet.
If multiple app updates are available, then you can just tap the Update all button on the upper-right side. Doing so will update apps simultaneously.
Fourth solution: Reset all settings.
If the problem started after altering some settings or system features, chances are that some settings are messed up and that has resulted in certain apps unable to open or get stuck on loading. In this case, restoring the original settings and system configuration on the device would be necessary. In some Android 11 devices like later Samsung Galaxy phones and tablets, there is an option or command that you can trigger to reset all settings without deleting any saved information. Here's how to access this reset option:
Tap Settings from the Home or Apps screen.
Tap General management.
Tap Reset.
Select Reset all settings from the given options.
If prompted, enter your device PIN, pattern or password to proceed.
Finally, tap Reset settings then tap Reset on the succeeding window to confirm.
The phone will then erase all custom settings and then restore the original or factory default options.
App preferences, privacy settings and permissions are also restored to their default values.
Fifth solution: Uninstall then reinstall the app.
If none of the aforementioned procedures worked, then you may have to consider performing a fresh reinstall on the Ragnarok X application. There might be some fatal errors in the app that could not be rectified by any workarounds. In this case, the erratic app needs to be uninstalled so you can install the latest and bug-free version of the app from the Play Store. Here's what you should do then:
Open the Play Store app.
Tap on your profile icon.
On your profile menu, tap Manage apps & devices.
Select and tap Ragnarok X then select Uninstall.
If prompted, read the uninstall warning then tap OK to confirm.
After uninstalling, restart your device to refresh apps and system services. Then reinstall the Ragnarok X app from the Play Store.
Other Suggestions
If you have an SD card installed on your device, try to remove the SD card and then retry launching the Ragnarok X app.
In some cases, a corrupted memory card or non-functional SD card is found to be the main reason as to why certain apps would fail to launch or stop working properly. To rule this out, power off your device and then remove the SD card from the tray.
Meanwhile, if the problem started after installing new app updates, then rolling back to the previous version is also a potential solution. The new update might have contained some bugs that crippled some existing apps including Ragnarok X.
Hope this helps!
Relevant topics that you might want to read: