Are you having trouble signing in to Xbox Live because of 0x87DD0005 error? In this article, we'll show you what this error means and what solutions you can try to fix it effectively.
What does 0x87DD0005 error mean?
0x87DD0005 is an Xbox Live connectivity error code that can occur in older Xbox 360, previous generation Xbox One, or current generation Xbox Series X|S consoles. It's also been experienced by some PC users who try to access their Xbox Live account or Microsoft account on their machines.
Basically, a player is prevented from signing in to his or her Xbox Live account when this error code is active. This means that one is prevented from accessing any Xbox Live services including its online gaming experience.
Causes of Xbox Live error code 0x87DD0005
There are several causes for error 0x87DD0005. Let's discuss each of them briefly below.
Server issues.
By far, 0x87DD0005 error is mostly caused by issues from the server side of things. Just like any server, Microsoft's Xbox Live services can go down due to an outage, maintenance, or high traffic.
If you were able to go online on your Xbox console before but now it's showing the sign in error 0x87DD0005, it's possible that a server issue might have started recently.
Slow internet connection.
Having a slow or busy network at home can lead to your Xbox console being unable to establish a stable connection to Xbox Live servers. This, in turn, may result to all sorts of problems including the sign in error 0x87DD0005.
Fault in your home network configuration.
Problems with your network equipment like an unresponsive modem or router may also cause 0x87DD0005 error. At other times, a non-working ISP-provided DNS settings may lead to some login credential issues or certain Xbox Live errors. Consider doing troubleshooting steps to ensure that your home network is up and running when experiencing any Xbox sign-in error.
Account issues.
Having an incorrect billing information in your Xbox account has also been tagged as a possible culprit. Make sure that you review your profile billing section to see if there's any detail that you need to update like an outdated payment option, or an incorrect debit or credit card. You need to do this step if you recently made changes to your account.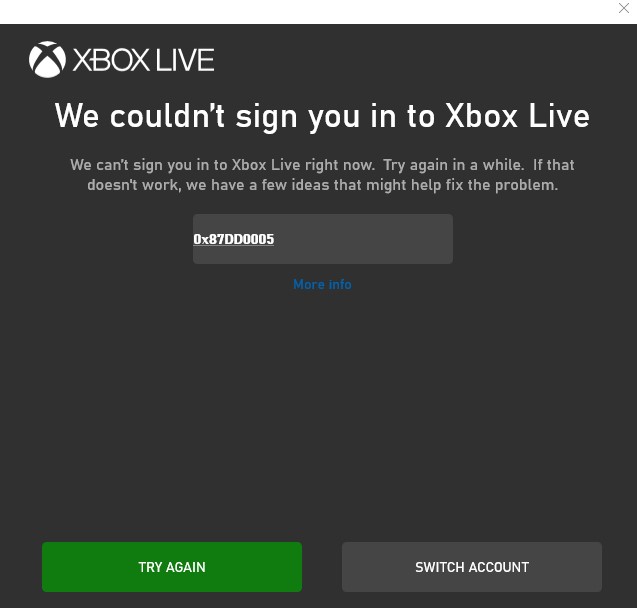 How to fix Xbox Live 0x87DD0005 error?
Below are the solutions that you can try if you're experiencing Xbox sign-in error 0x87DD0005.
Check Xbox Live server status.
Before doing troubleshooting steps on your console or home network, make sure that the first thing that you do is to check if there's any on-going server issues. To do that, you must visit the official Xbox server status page.
Reboot your Xbox console.
If there's no known server issue at the moment, the next thing that you want to do is to refresh your Xbox console. Just turn the console off normally and unplug it from the power source for about 30 seconds. Then, turn on your Xbox again and check for the problem.
Run a speed test.
You can verify the internet connection speed on your Xbox by performing a speed test. Here's how to do that:
Go to your Xbox Home screen.
Go to Settings.
Select Network.
Select Test network connection.
If you want to know how fast your download and upload speeds are, you can select Detailed network statistics in the previous Network screen.
If you think that your Xbox has an unusually slow download and/or upload speeds, consider disconnecting other devices from your wifi or network. If the speed improves after that and the 0x87DD0005 error disappears, then your network may had simply become busy or slow.
If you need further troubleshooting steps to fix slow connection issue, we recommend that you contact your Internet Service Provider.
Power cycle the router.
The other simple solution that you can try is to ensure that your modem or router is rebooted. This is sometimes enough to fix minor network bugs and random Xbox Live errors.
Simply turn the router off and unplug it from the power source for 30 seconds, just like your Xbox console. Then, once the time is up, turn it back on, wait until all the lights become stable, and try to connect to Xbox Live again to check for the 0x87DD0005 issue.
Check for wifi signal interference.
If you use wireless connection on your Xbox, it's possible that the internet connectivity issue you're experiencing may be caused by poor wifi signal, or signal interference.
Make sure that there's no source of interference like thick wall, glass, metal, or other thick objects in between your Xbox and the router.
Keep in mind that the router's signal range is limited to 30 feet only. If your console lies beyond this range, try moving it closer to the router.
Better still, consider using a wired or direct connection to the router using an Ethernet cable. This will not only eliminate possible signal interference issues but can also boost the speed of your connection.
Check for billing information issues.
If you recently made some changes to your billing details, try to double check if there are any information you may have missed or if there are items that must be updated.
To make it faster, visit the Microsoft website to check your billing information on your computer or smartphone with these steps:
Sign in to your Microsoft account. Be sure that this is the same account as the one you use on your Xbox.
Go to Payment & billing tab if you think you need to update your Payment Options. Under the same section, you can also select Billing help if there's any issue that you need to address concerning billing.
If you want to double check your account subscriptions like your Xbox Live, you can select Services & Subscriptions tab instead of Payment & Billing.
and select Billing info.
OTHER INTERESTING ARTICLES:
Visit our TheDroidGuy Youtube Channel for more troubleshooting videos and tutorials.