Many PC players are reporting issues when trying to join a COD Black Ops Cold War multiplayer match because of Zed 398 Swift Clover error. If you're one of them and you're wondering how to fix it, this troubleshooting guide should help.
What is "Zed 398 Swift Clover" error?
Error code Zed 398 Swift Clover is a Call Of Duty Black Ops Cold War error that prevents players from matchmaking. It's been observed in the PC version of COD Black Ops Cold War since the game was first released officially. The full error shows up as: "An error occurred: Zed 398 Swift Clover."
By far, Zed 398 Swift Clover error seem to appear when one is about to join a multiplayer matches but others also claimed to have successfully joined matchmaking but failed to pick a map. There are also cases when a player appears to successfully load the match but gets kicked out right when the game loads.
Causes of Zed 398 error in Call Of Duty Black Ops Cold War
Months after this error was first seen, the game's developer, Treyarch, is yet to officially issue a fix. There's also no clear guidance from them on the possible causes of the problem. We've done some research ourselves by checking online forums and other web sources about this error and here are the common causes that we've identified in many of the cases:
Server issues.
Just like many other COD Black Ops Cold War errors, Zed 398 looks to be coming from the server side of things, at least for some of the cases that we've seen. Many players experience this error coincidentally when there's any active server outage or issue so it can be a direct or indirect result of an Activision server problem.
If you're getting the error code Zed 398 all of a sudden, the first thing that you must do is to check for any server issue. If there's anything going on, simply quit the game first and try playing a multiplayer match later.
Crossplay feature conflict.
With Zed 398 Swift Clover error code only appearing in PC version, some players suspect that it may be caused by a bug in the crossplay feature. By default, COD Black Ops Cold War enables crossplay and some players who experience Zed 398 error code fixed the issue by turning the feature off.
Corrupted game files.
There's a small number of Black Ops Cold War PC players who were able to resolve Zed 398 error code by doing a Scan and Repair fix. This means that for these cases at least, the most likely reason for the problem may be outdated or corrupted game files.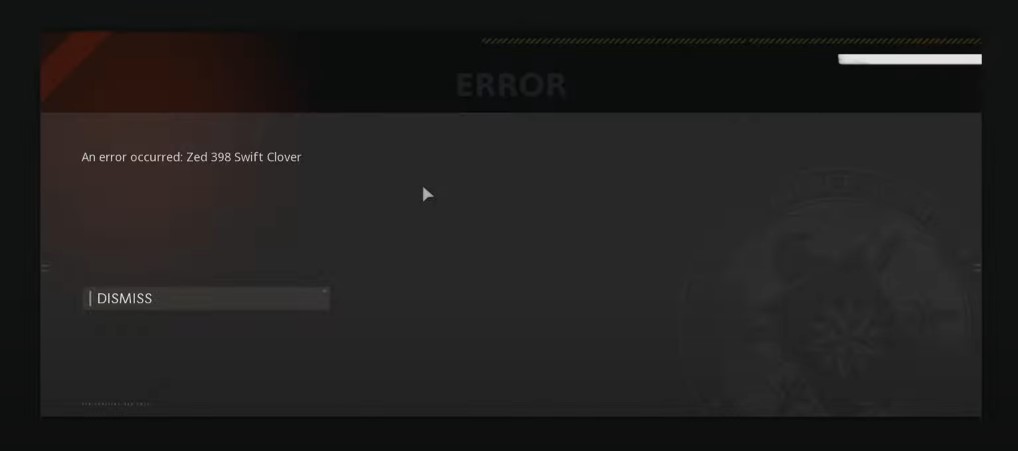 How to fix COD Black Ops Cold War Zed 398 Swift Clover error?
There is a short list of possible solutions for Zed 398 error. Let's take a look at each of the things that you can try.
Fix #1: Check for server status.
The first step that you can try is to ensure that you check for any on-going server issues for the game. Visit the official Activision server status page and try to stop playing temporarily if there's an on-going server problem.
Fix #2: Restart the game.
If the game's servers are clear, the next step that you can try is to close the game and fire it back up afterwards. If the game has become unresponsive, consider closing the Black Ops Cold War game and its services using the Task Manager.
Alternatively, you can also try to reboot your PC instead.
Fix #3: Fix corrupted game files.
Some players were able to fix Zed 398 Swift Clover error by doing the Scan and Repair option in the Blizzard Battle.net launcher.
Fix #4: Delete and reinstall.
If none of the solutions in this guide has fixed the issue and it's been going on for days or longer, you should consider a clean reinstall of Black Ops Cold War. 
OTHER INTERESTING ARTICLES:
Visit our TheDroidGuy Youtube Channel for more troubleshooting videos and tutorials.