We've been getting reports of PlayStation players experiencing the SU-30641-4 error on their PS4 console. If you are unable to update the system and you're getting this error code, continue reading this troubleshooting guide.
What does error code SU-30641-4 mean?
SU-30641-4 is one of the errors in a family of software update-related issues in the PS4 console. SU stands for "software update" and this particular code, SU-30641-4, means that the PS4 console is having difficulty installing a system update via the internet, or when done manually using a USB stick or HDD.
The error code may come with either the "An error has occurred message" or "Failed to update the System Software. The Update file may be corrupted." message.
Because the error is imposed on the main screen and won't go away by simply ignoring it, it makes your PS4 unusable unless you address it first.
If you're getting error SU-30641-4 and you have no idea how to go about it, learn what the possible causes of this problem below and the solutions that you can attempt to fix it.
Causes of SU-30641-4 error code in the PS4
We've identified a number of possible reasons why you may be getting error SU-30641-4 in your PS4. Let's discuss each of them briefly below.
Server issues.
Like gaming servers, Sony PlayStation Network servers may go down from time to time. This can be due to an unexpected glitch, maintenance, or traffic issues. It's not uncommon for some people to experience software update issues because there's a problem with Sony's network.
If you are trying to install a system update via the internet and you're getting the error SU-30641-4, it may caused by a problem with the servers.
Issues with home network internet connection.
Your own internet connection at home can be another reason why your PlayStation 4 fails to install an update. If your internet connection speed is too slow, make sure that you fix that problem first before you attempt to update the PS4 software again.
Incompatible or other issues with USB stick or external hard drive.
If you are trying to update the software using a USB drive or external hard drive and you are getting the error SU-30641-4, it may be caused by incorrect folder structure, incompatible drive format, or damaged USB storage device.
Damaged sectors in internal hard drive.
The condition of your PS4's internal hard drive may also be one of the driving factors for error SU-30641-4. If your noticed that your console has become slow in general, or if all your games seem to crash for no apparent reason on top of the software update issue, you may be dealing with a possible bad hard drive.
Unknown software troubles.
A small number of PS4 users may also experiencing error SU-30641-4 if the database of their PS4 has been corrupted, or if the software has stopped working correctly due to internal damage. This can sometimes happen if a system update does not install correctly, say when the process is interrupted due to a power outage.
To see if you have a PS4 software issue, you can boot the console to Safe Mode and try to rebuild it's database first. If you can't do that, or if nothing happens, you can then try to factory reset the device.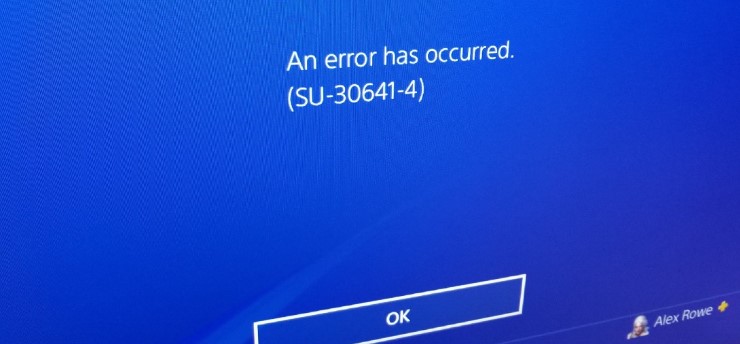 How to fix PS4 SU-30641-4 error?
Fixing error SU-30641-4 is typically easy and simple. Below are the possible solutions that you can do if you're getting this problem.
Check the Sony PSN server status.
Many people who experience error SU-30641-4 do so because of an external reason such as server outage or maintenance. To see if there's an on-going Sony PSN server issue, visit their official website in this link:
https://status.playstation.com/
Run a speed test.
If there are no server issues at the moment, the next step that you want to do is to find out the internet connection status on your PS4 console. To do that, you must run a PS4 speed test.
There are several important details in the speed test result such as the download speed and PSN status.
If your download speed is way too slow, that might be the reason why your console is unable to finish the system update.
There can also be situations when your PS4 is unable to establish a connection to the PlayStation Network because of issues in your home network, or if the router is problematic. If the PSN Sign In line says Unsuccessful, this means that your PS4 is having difficulty communicating with Sony PlayStation Network.
Reboot your router.
When dealing with any network issue, one of the basic things that you must do is to ensure that you refresh the router. Having error SU-30641-4 is no different so be sure to reboot the router at this time. To do that, simply turn it off normally and unplug it from the power source for 30 seconds.
Install firmware update via the Internet.
Error SU-30641-4 has been observed more often in manual system software installation so if you were trying to update via a USB stick previously, we suggest that you abandon the idea and see if you can instead do it via the Internet. Here's how to do that:
On your PS4 Home screen, go to Settings.
Select System Software Update.
Select Update via Internet.
Use a USB stick or external hard drive to update manually.
If you happen to be getting the SU-30641-4 error code when updating via the Internet, you can do the opposite and try a manual system update.
Rebuild your PS4 database.
The PS4 uses an organized system of files and folders or database in order to work. Sometimes, this database may become corrupted or damaged causing all sorts of problems. To ensure that your console has good file organization, you can try to rebuild its database.
Factory reset.
If rebuilding the database won't change anything, you can also do a more drastic solution of initializing the console, also known as factory reset.
Replace the hard drive.
A small number of PS4 users may also encounter software update issues because of a hardware fault, particularly on their hard drive. If none of the solutions in this guide has helped so far, consider replacing your hard disk drive with a new one.
OTHER INTERESTING ARTICLES:
Visit our TheDroidGuy Youtube Channel for more troubleshooting videos and tutorials.