Are you experiencing the dev error 5761 when playing Call Of Duty Warzone? Don't worry as this problem is something that can usually be fixed by players. This troubleshooting guide will walk you through the steps on how to deal with this issue.
What does dev error 5761 in Call Of Duty Warzone mean?
Dev error 5761, an error that can occur in both Call Of Duty Modern Warfare and Warzone, is one of the common DirectX problems that PC players often report. As such, this error is not present in other platforms such as PlayStation (PS4|PS5) or Xbox (One | Series X|S).
Causes of DirectX dev error 5761 in Call Of Duty Modern Warfare or Warzone
There are a number of causes for Dev error 5761 so let's discuss each of them briefly below.
Random glitch.
No game is perfect and from time to time, some of them may develop bugs, both minor and game-breaking. Sometimes, a minor bug may go away after a game has been restarted but other rare cases may require updates from the developer or drastic player intervention such as a reinstallation.
Crossplay bug.
Some gamers have reported that turning off the crossplay feature, which allows players from other platforms to play together, was effective in getting rid of 5761 dev error. This means that for them, their PC may have developed a bug that affects the crossplay feature for whatever reason.
Corrupted game data.
Game files may sometimes become corrupted. This can sometimes occur when a game is interrupted or forced closed when it's trying to save or install an update.
Interference from third party app.
Other third party applications are known to cause errors or issues such as crashes, lag, or game performance. Dev errors are sometimes caused by a bad app so if you're running other applications when playing Call of Duty Modern Warfare or Warzone, you can consider turning them off.
Outdated graphics card drivers.
Some forms of DirectX dev errors may occur due to outdated drivers, particularly of display adapters. Make sure that your video card drivers are running the latest version.
By default, your PC should automatically check for GPU driver updates but you can always manually check for new ones.
Hardware limitations.
Video games such as the recent Call Of Duty titles require decent hardware in order to run. If your PC is a few years old, you should consider checking if your PC game is compatible with the hardware you have.
Windows software issues.
At other times, certain DirectX dev error such as 5761 may occur due to outdated Windows software. Make sure that your system software is fully updated to fix dev error 5761.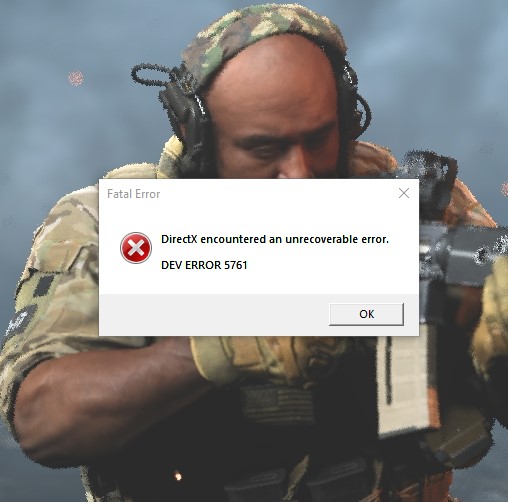 How to fix Call Of Duty Warzone dev error 5761?
These are the solutions that you can try when fixing DirectX or dev errors:
Fix #1: Check for updates.
Making sure that the software environment of your PC is fully up-to-date is one of the simplest ways to prevent bugs and to fix known ones. Updates also bring aesthetic changes as well as other visual improvements from time to time.
There are three main components that you want to update at this point:
games (particularly the COD Modern Warfare and Warzone)
drivers
windows software
Updating the Call Of Duty Warzone game is straightforward as it won't allow you to go into matchmaking if the game client is outdated.
For your drivers, especially for your GPU, there are a few ways that you can update them. You can either let the special software like NVIDIA GeForce Experience tell if there's any new available updates, or do it manually via the Device Manager.
For Windows updates, your computer should be set by default to update on its own but you can also manually check via System Settings.
Fix #2: Turn off crossplay.
If everything is updated but the problem remains, the next solution that you can try is to disable crossplay. Crossplay is a feature in some Call Of Duty titles that lets you play with other players from other platforms different from yours. So, if you mainly play Warzone on PC but your friends are on consoles (PlayStation or Xbox), you can still play together as a team by enabling crossplay.
The problem is, this feature has been found to be buggy by some Warzone gamers. At this time, there's no official word from Infinity Ward regarding any possible issue with this feature and we're not aware of it being the major reason for certain DirectX errors such as dev error 5761. Still, if you haven't tried turning it off, do it now and see if it will make any difference.
If the issue returns even when crossplay is off, turn it back on and proceed to the next solution below.
Fix #3: Verify PC can handle the game.
COD Warzone is a demanding game and if your PC is unable to keep up, you may run into system performance problems such as gameplay lag, low FPS, disconnection, crashes, and errors. Try checking the system requirements of COD Warzone to see if your PC can handle it.
Fix #4: Run Warzone in lower settings.
If your PC is weak or can't handle the game properly when you run it, you can try tweaking the graphics settings to find the best settings that your machine can handle. If you've noticed that your Warzone gameplay seems to be slowing down, crashing, showing graphical errors, or has glitches such as low FPS, one of the fixes that you must do is to see if your gameplay improves when you lower down the graphics settings.
Fix #5: Close other applications.
Some gamers have noticed that their PC has DirectX errors only when playing Warzone together with certain applications. This issue is not universal though so there's no convincing indication that a particular third party program and Warzone can't work together.
If you are experiencing Warzone dev error 5761 when another app is active or running in the background, it's likely a coincidence or caused by a unique bug in your system.
Some of the reportedly problematic apps include the following:
OBS
GeForce Experience
Game Bar
Apps with overlay feature or overlay options (like MSI Afterburner, Discord, OBS)
The best way to check if a third party app is interfering with your Warzone game is to close any program that runs in the background.
Fix #6: Repair game files.
To fix a possible bad game files issue, you can also use the Battle.net repair tool called Scan and Repair.
Fix #7: Delete and reinstall.
If none of the solutions above has helped, try to reinstall Warzone to fix the directx dev error 5761.
OTHER INTERESTING ARTICLES:
Visit our TheDroidGuy Youtube Channel for more troubleshooting videos and tutorials.