The much awaited Square Enix game has finally arrived and by far, it has not disappoint. But just like any other new games with matchmaking or online multiplayer aspect, this one has its own share of problems. In today's troubleshooting guide, we'll help you fix Outriders "party joining failure" error.
Many players have reported to have experienced this problem since the game's official release so hopefully you'll find this post helpful.
Causes of Outriders "party joining failure" error message
The party joining failure error, like other matchmaking system issues in Outriders, can be caused by a number of different factors. Learn about these causes below.
Crossplay feature bug.
If you're new to the Outriders game, you may have missed the known issue with crossplay feature during the Day 1 or the official release day. Square Enix (publisher) and People Can Fly (developer) decided to disable the feature because it caused matchmaking issues such as delays. Some players are even reporting that they could not totally join a party with their friends or join a random game. While the game works normally in solo play, joining in multiplayer games was initially a pain for many.
Server issues.
This error can also be caused by server issues. Matchmaking issues and other connection problems can happen unexpectedly, especially for new games like Outriders so it's important that you check if there's any troubles regarding the game servers at this time. It's possible that the game servers may be dealing with huge volumes of gamers trying to play at the same time. Overcapacity is
Home internet connection problems.
The state of your own internet connection can affect the performance of online games. If your internet connection is slow or keeps disconnecting, Outriders may experience lag or show connection errors such as the party joining failuter.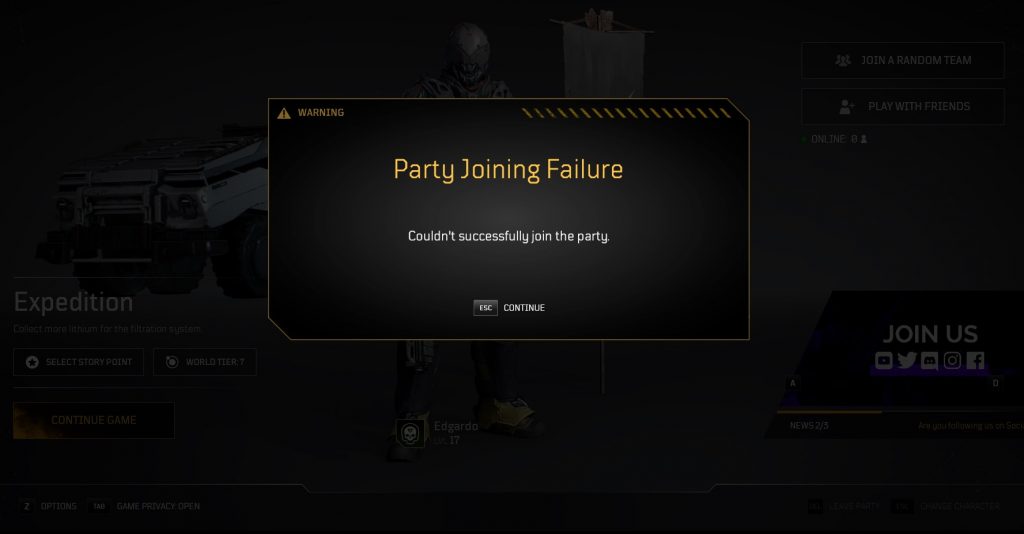 How to fix the Outriders "party joining failure" error
If you're experiencing the party joining failure error, these are the solutions that you can try to fix it:
Fix #1: Turn on Crossplay.
Many gamers experience the Outriders party joining failure error because Crossplay setting remain disabled even after it's been fixed. As mentioned, this feature was temporarily taken offline by the developer, People Can Fly, due to glitches. At the time of this writing though, crossplay has already been restored and is expected to work normally. Make sure that you enable it under the game Options menu before attempting to join your friends in a party.
Then, once you've enabled crossplay, you want to go to Lifttown Garage's Matchmaking Terminal and use it to create a game code. You can use this game code to invite your friends you want play with. All they have to do is to enter the code at the Matchmaking Terminal.
Fix #2: Check for server issues.
If crossplay has been enabled already but you are still unable to play with your friends, the next good thing that you can do is to see if there's any on-going game server problems. To do that, you must visit the official Outriders server status website.
If you are active on Twitter, you can check out the official Outriders account for up-to-date server-related and game information.
Fix #3: Troubleshoot your home internet connection.
It's still possible that even though crossplay has been enabled on your PC or console and there are no server issues, you may still be getting the party joining failure error.
If you want to fix Outriders party joining failure error, make sure that your own home internet connection is not the cause of the problem.
First, you want to make sure that you power cycle the router. Simply turn it off and unplug it from the power source for 30 seconds.
Then, once you've rebooted the router, make sure that you run a speed test on your PC or console to see if you have good internet connection speed. You want to have a minimum of 3 Mbps of download and upload speed if you want to have a decent, stable connection to the server.
If you noticed that your internet is slow, or if it keeps disconnecting, this may be the reason why Outriders is having a problem. To fix Outriders party joining failure error, you must ensure that your own home internet is stable.
We suggest that you get a solution from your Internet Service Provider if you need assistance in fixing your home internet.
OTHER INTERESTING ARTICLES:
Visit our TheDroidGuy Youtube Channel for more troubleshooting videos and tutorials.