Some players are getting this annoying generic message: "VALORANT has encountered a connection error. Please relaunch the client to reconnect." If you enjoy playing Valorant but your fun has been snuffed out by this error, check out this troubleshooting guide to know how to fix it.
What does connection error in Valorant mean?
If you're getting the Valorant "Connection Error" prompt, it indicates that the game client has lost connection to the servers. Some players have encountered this error while trying to join match while others may get it while the game is already underway. In both situations, Valorant loses communication with the game servers so a user intervention is usually necessary. This error code effectively blocks you from joining a match.
The solution for every case of "connection error" situation depends on the cause of the problem.
Causes of connection error in Valorant
There are multiple possible causes of connection error in Valorant. If you're getting this error code or message, it may be caused by one of the following:
Server issues.
Online multiplayer games like Valorant may sometimes suffer hiccups due to server problems. This is inevitable and from time to time, game servers are even taken offline intentionally by developers to fix known bugs and glitches.
Random Valorant client bug.
Games are constantly evolving and so are the bugs and glitches. As changes are introduced, new issues may develop and sometimes, these problems may require intervention from developers.
Most of the time though, bugs in this game are few and far between and if they do occur, they're usually minor.
Vanguard glitch.
The game's anti-cheat program that runs together with the main Valorant client can sometimes cause conflicts which can then lead to bugs. In some cases, issues related to Vanguard anti-cheat app are easy to fix and a simple restart is enough.
Home internet issues.
The status and quality of your internet connection at home can impact your online gaming experience. Make sure that your download and upload speeds are fast enough, and that you maintain your network equipment to keep them in good shape.
Some connection issues in games are caused by an unresponsive router, or ISP-related issues.
Corrupted game files.
Game files can get corrupted due to various reasons. In order to ensure that Valorant game data are intact, you want to make sure that you check for updates, especially now that you're dealing with a problem.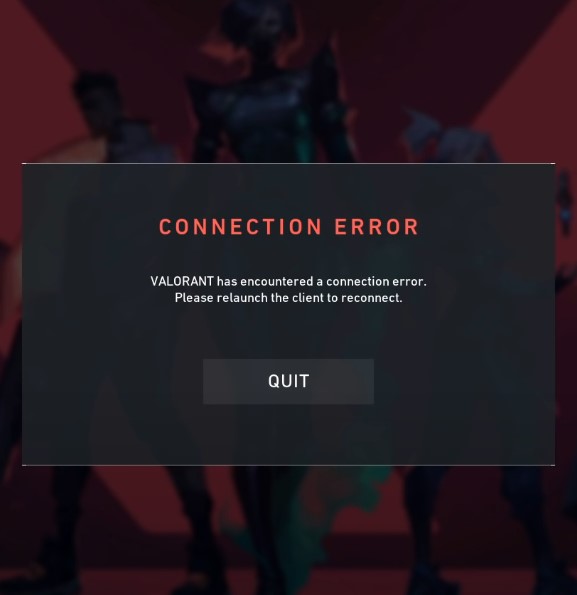 How to fix Valorant connection error?
Below are the solutions that you can try if playing Valorant keeps showing you the "connection error."
Fix #1: Verify Valorant server status.
The first connection error fix that you can do is to ensure that you check the game server status. To do that, visit the official Riot Games website.
Fix #2: Restart Valorant client.
If there's no server issues at all, you can assume that the cause of the problem is likely found within the game, or in your network. So, the next good thing that you can do is to ensure that you refresh the game client. Simply close the game and afterwards, launch Valorant again to check for the problem.
Fix #3: Restart Vanguard app.
Riot Games discourages cheating in the game and reason is obvious. Valorant is a highly competitive game and having cheaters in the community is one sure way of destroying their popular product. The thing is, the Riot Vanguard anti-cheat app can sometimes lead to problems. If you're getting the Valorant connection error at this time, try launching Valorant and Vanguard apps again to see if that will fix the issue.
Fix #4: Troubleshoot your router.
Another solution that you can try if you're experiencing the Valorant connection error is to make sure that you refresh your router.
Routers may sometimes become unresponsive if they're left running for a long time. It's recommended that you refresh your router at least once every few days to keep it in good working order.
Fix #5: Delete and install Riot's anti-cheat app.
In case there's a problem with the game's anti-cheat program, you can try to remove and reinstall it. Temporarily removing the program from the system has been known to help fix the Valorant connection error for some players.
Here's how you're going to do it:
Press the Windows key on your keyboard, or select the Start button on the taskbar.
Type in the words "add or remove" and select Add or remove programs.
In the Apps & features menu, search for Riot Vanguard.
Click on the Riot Vanguard icon and click Uninstall.
Confirm the uninstallation.
Fix #6: Reinstall Valorant.
If nothing has worked at this point, consider deleting and reinstalling Valorant. This may help if the cause of the problem has something to do with corrupted game data.
OTHER INTERESTING ARTICLES:
Visit our TheDroidGuy Youtube Channel for more troubleshooting videos and tutorials.