Do you want to know how to make the circle crosshair Valorant? Don't worry in this article we will be showing you the easy steps to make it. This article should be able to assist you and show you the circle crosshair settings in Valorant that are popularly in use by Valorant players.
Today, Valorant is a popular first-person shooter FPS title. Valorant is inspired on the Counter-Strike: Global Offensive game and incorporates buy menus, spray patterns, and shooting inaccuracy while moving.
It's a competitive shooting game for several players. Players handle one of numerous Agents, each with unique skills. Like any other tactical shooter game, Valorant combines competitive and hero elements from previous titles. Because each of the Valorant agents or heroes has their own set of talents and abilities, new players should create their character as a hero who best matches their playstyle.
Agents have a unique ultimate power that can only be charged by killing, dying, or achieving goals. Each player starts the game with a basic handgun and one or more signature ability charges. Money gained in previous rounds, any kills awarded to the player, and any goals completed can all be used to purchase extra weapon and ability charges. Players can acquire a variety of weapons during the Buy phase.
Valorant players Circle Crosshair settings in Valorant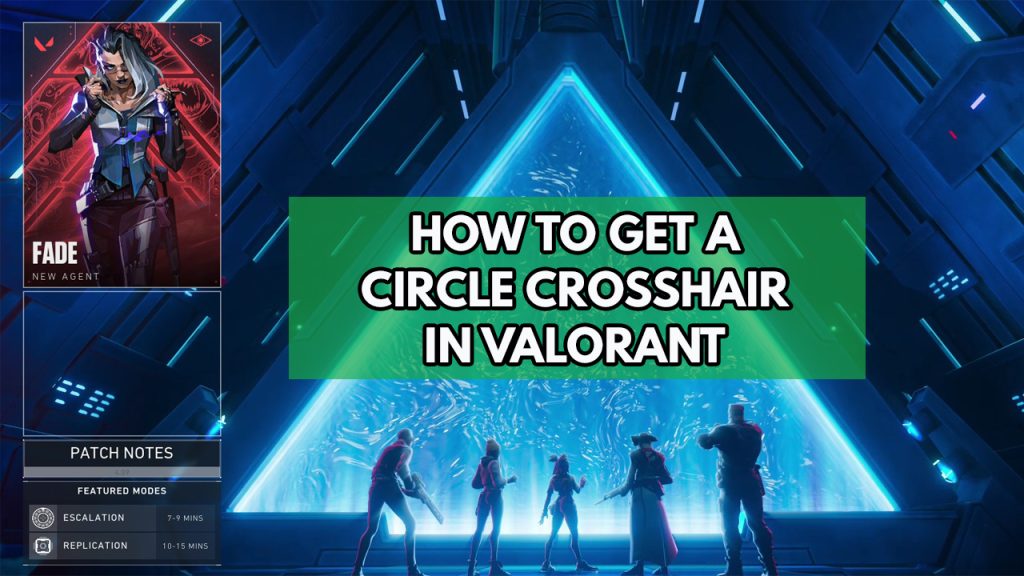 The Valorant crosshair is one of the game's most important but unappreciated features. Some people are perfectly content with the default crosshair. They are unaware that using a good crosshair that you are accustomed with will help you improve your aim and win the game.
Valorant features all the crosshair settings cuztumizable options through the traditional four reticle design to a smiley crosshair, so players may make practically any crosshair layout they like for personal preference. Because Valorant relies heavily on your ability to accurately put shots on target, having a crosshair that fits you and makes you feel at ease will offer you an advantage.
Circle crosshair is one of Valorant's most popular crosshair options. It's very good for newcomers. This crosshair is considerably simpler to make in the settings than many others. In this crosshair, the outlines are disabled, allowing the player to concentrate just on the center.
Circle crosshair in Valorant
Individual preferences for crosshairs are largely subjective. They can personalize their crosshairs to their preferences and comfort. Smaller crosshairs, on the other hand, can assist players attain sharper aim more quickly, and a circular crosshair is a suitable alternative for this.
Time Needed : 6 minutes
Making a circle crosshair in valorant
Open Valorant.

This will run Valorant.


Click the gear icon in the upper right side.

This will show a pop up window.


Then select Settings.

This will open the settings window.


Go to Crosshair tab.

This will let you go to crosshair settings tab.


Then click Primary.

This will let you manually create circle crosshair in Valorant.

Use these settings to create a circle valorant crosshair:
You should also adjust the Movement Error, Crosshair Color for better visibility, Firing Error to have a perfect Circular Crosshair.
Color: Any
Outlines: Off
Center Dot: Off
Inner lines option:
Show Inner Lines settings: On
Inner Line Opacity: 1
Inner Line Length: 1
Inner Line Thickness: 3
Inner Line Offset: 3
Outer lines option:
Import a circle crosshair Valorant
You can import the crosshair profile code or adjust it manually to your crosshair settings. To import circle crosshair profile code, you need to have the import profile code.
Circle crosshair profile code: 0;P;c;5;h;0;0t;4;0l;1;0o;2;0a;1;0f;0;1b;0
Importing profile code
Step 1: Open Valorant.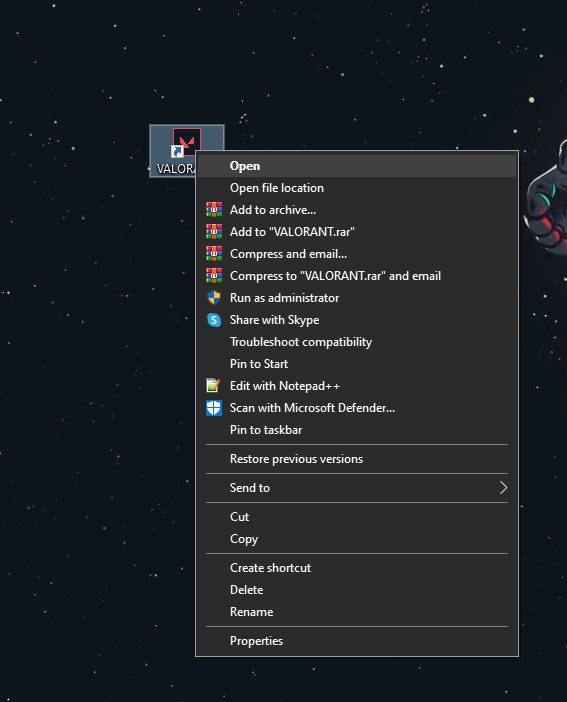 Step 2: Click the gear icon in the upper right side. This will show a pop up window.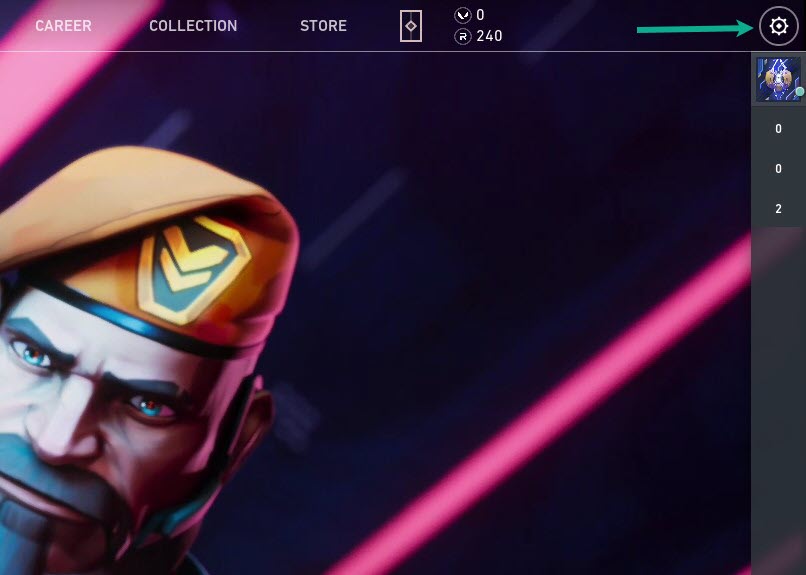 Step 3. Then select Settings. This will open the settings window.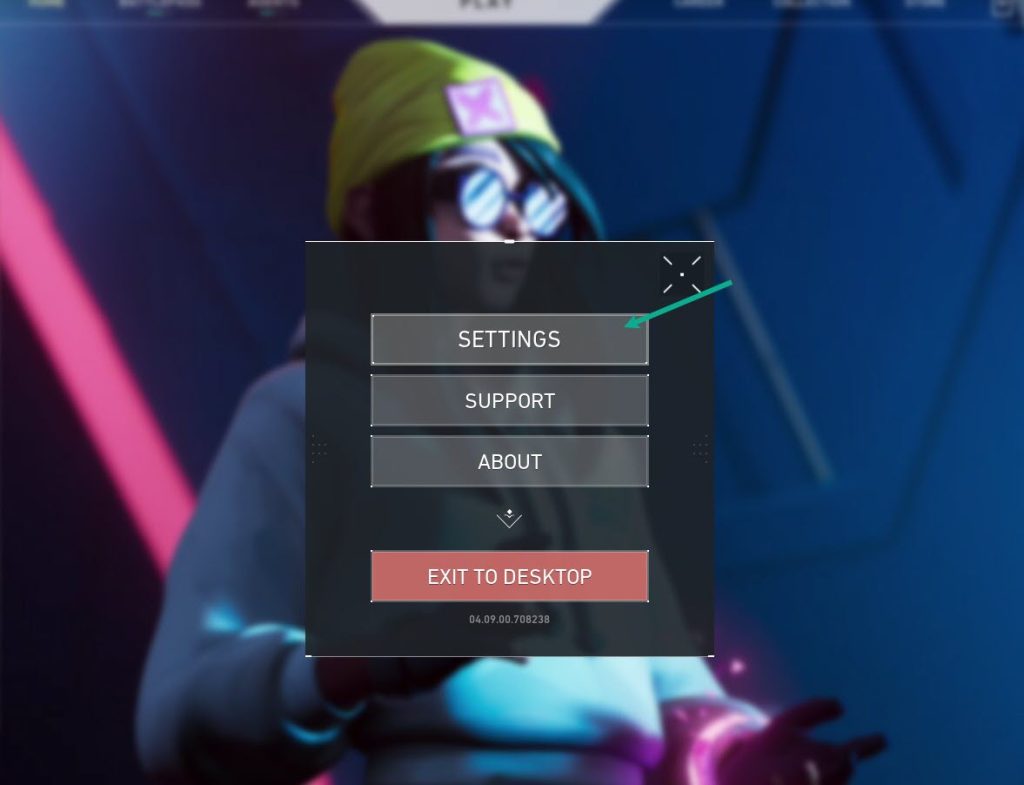 Step 4: Go to Crosshair tab.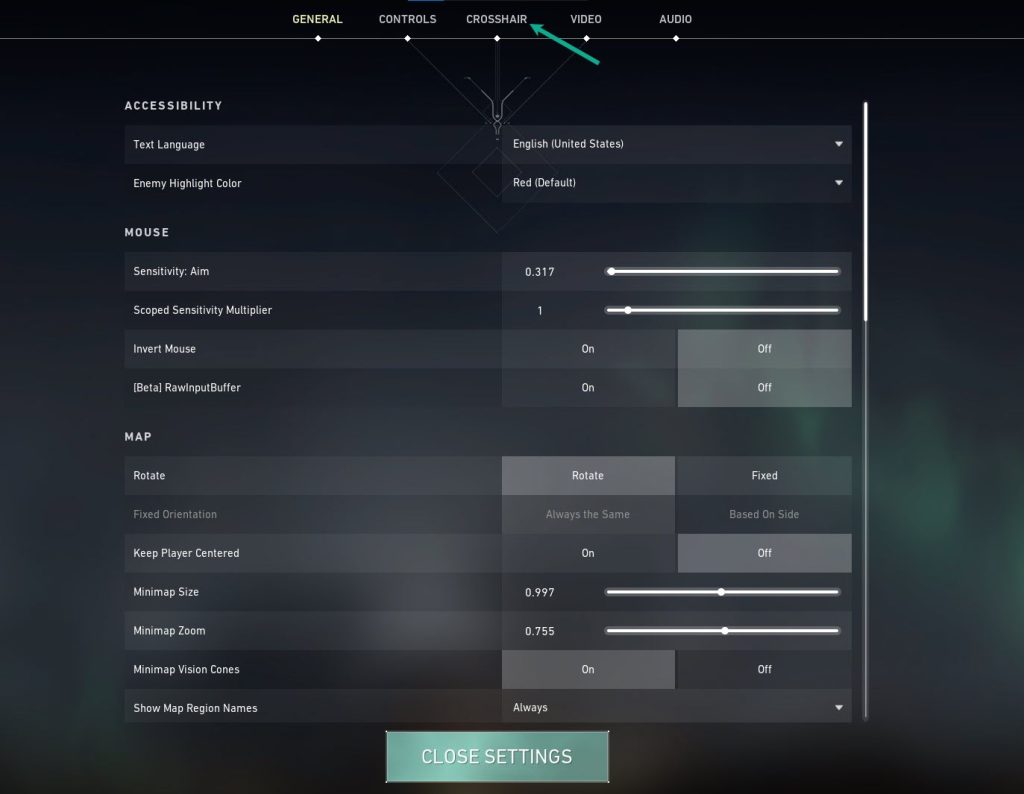 Step 5: Click on the Down Arrow (Import Profile Code button). This will let you show a pop up window to import profile.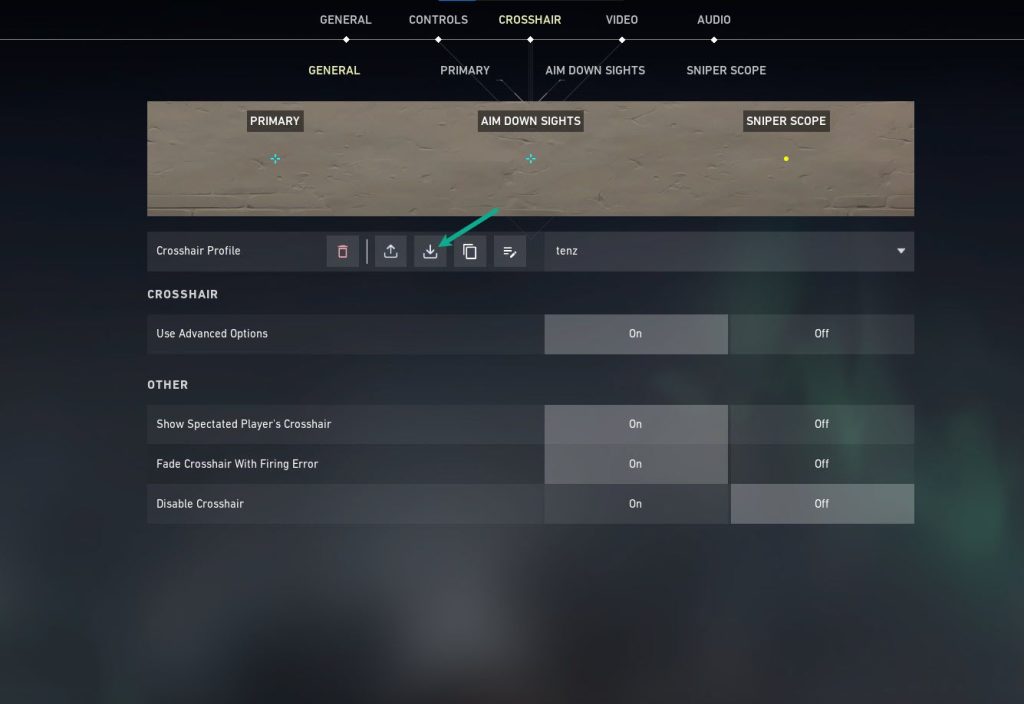 Step 7: A Import Profile window will pop up. Paste the Circle Crosshair Code.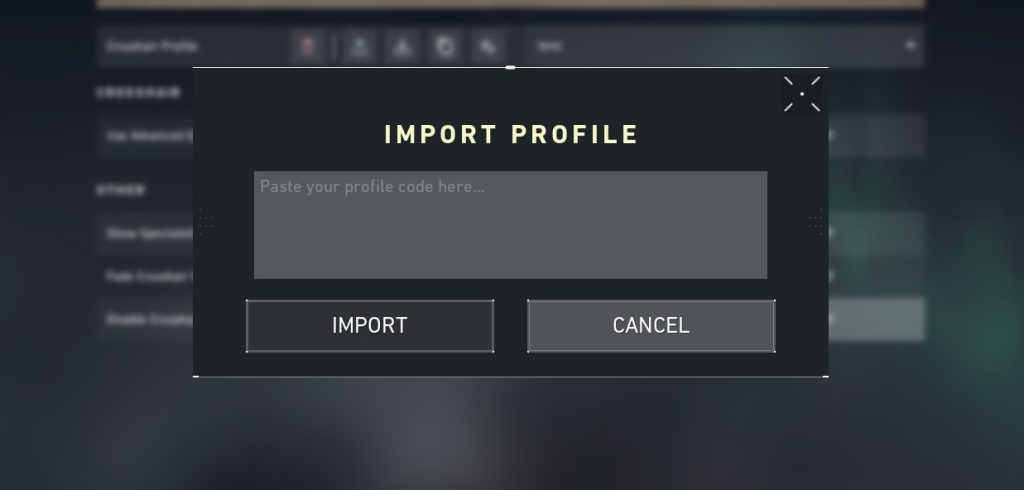 Step 9: Click Import. This will import the circle crosshair in Valorant crosshair settings.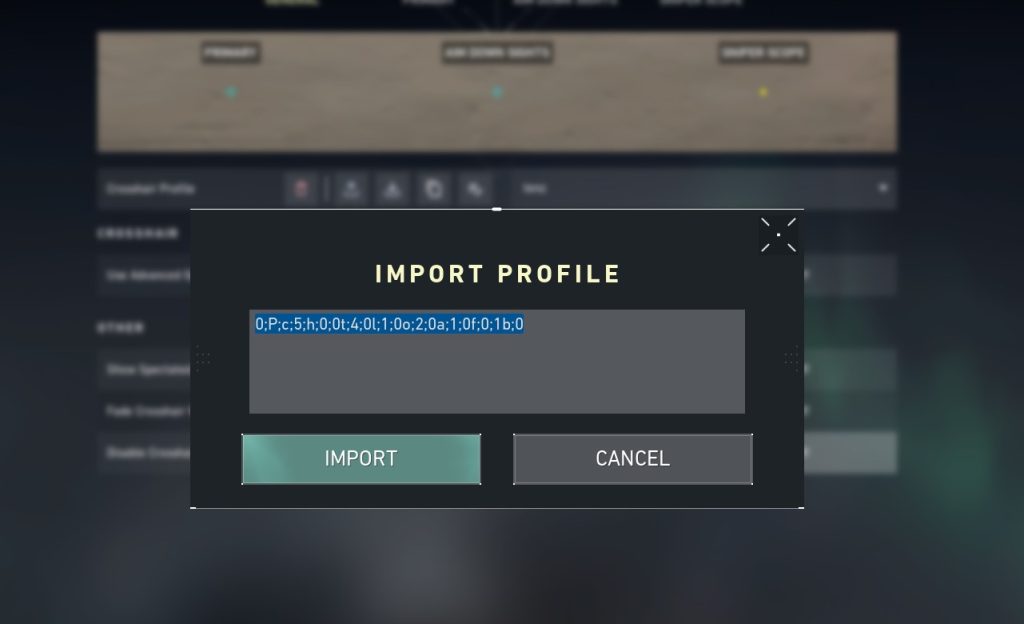 Frequently Asked Questions
Can you get a circle Valorant crosshair setting?

Yes, follow our guide above.

Is circle crosshairs good?

If you're particularly have a good aim then this is good.

What is the best crosshairs for Valorant?

It is determined by personal preference.

Does crosshairs matter in Valorant?

Aiming is a crucial aspect.

What is the best crosshairs color for Valorant?

Use green, white, or cyan.