Are you experiencing charging problems with your Samsung Galaxy Z Fold 4 smartphone? There are several factors that can cause this issue such as a software glitch, faulty cable, faulty charger or wireless charger, or even interference from third party apps. To fix this you will need to perform several troubleshooting steps.
The Samsung Galaxy Z Fold 4 is the latest premium Android smartphone available in the market that uses a foldable form factor. Officially introduced during the Samsung Unpacked August 2022 event, its a significant upgrade over its predecessor which is the Samsung Galaxy Z Fold 3. This model now uses the Snapdragon 8 Plus Gen 1 chip, as a 4400 mAh battery, and has a storage of up to 1TB.
Why is my Samsung Galaxy Z Fold 4 not charging?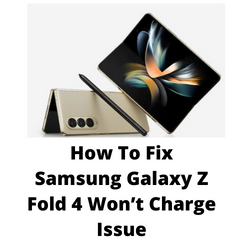 One of the issues that you might experience with your Samsung Galaxy Z Fold 4 is when it does not charge. This problem will occur when using a wired charger or even a wireless charger. This can be an annoying experience especially if the battery charge is fully drained since you won't be able to use the phone.
Here's what you need to do to fix this Samsung Galaxy Z Fold 4 charging issue.
Solution 1: Check the Samsung Galaxy Z Fold 4 charger
The first thing you will need to do when experiencing charging issues with your Galaxy Z Fold 4 is to check the charger. This includes the wall charger you are using, the charging cable, and the charging port of the phone.
This device supports a wired USB C charger of 25W. If you are using a wireless charger then make sure that it has an output of at least 15W.
Use the official Samsung charger
Samsung does not include a fast charger with this phone model. You can however purchase an original Samsung fast charger separately which is going to be compatible with this phone model.
If you can't get a Samsung charger then any charger will do as long as it has an output of at least 25 watts via USB PD 3.0, Quick Charge 2.0,or Adaptive Fast Charging.
When using a different charger on the Galaxy Z Fold 4 make sure to check if it charges other devices first.
Try using a different USB-C cable
A common cause of the Galaxy Z Fold 4 not charging using a is a damaged charging cable. This is usually the case if you are using wired charging and the cable gets constantly bent, pulled, or has debris stuck in its port.
To eliminate the possibility of this cable causing the problem you should try to use a new USB-C cable.
Clean the charger USB port
There's a possibility that the USB port of your charger will has dirt, lint, or debris stuck in it which can prevent the power to be transferred to your phone battery.
Unplug the charger from the power outlet.
Check its charging port.
If you can see dust or dirt try gently blowing into the charging port to remove dust and debris.
If the charging port remains clogged you can try using a different charger.
Use a wireless charger
If you are unable to charge the Galaxy Z Fold 4 using a wired charger then try using wireless charging.
When using wireless charging make sure that the charger you will be using has an output of at least 15W.
You can charge the phone wirelessly by placing the back of your device onto the wireless charger. You might have to move your device around on the wireless charger to establish the strongest connection.
If you experience issues charging the phone wirelessly then this might be caused by your phone case. It's best to remove this case or cover before you charge the phone.
In case the smartphone will charge using a wireless charger then this might be an indication that the charging port assembly of your device has a problem.
Solution 2: Perform a soft reset on your Galaxy Z Fold 4
Sometimes this charging issue can be caused by a software glitch which can easily be fixed by doing a soft reset.
The process will reboot the operating system of the phone and reload all of its services. Your personal data, files, and apps will remain unchanged.
Soft reset Galaxy Z Fold 4
Simultaneously press and hold the Power key and Volume down button on the right edge for approximately 15 seconds.
Release the buttons when the Samsung logo appears.
Once the phone has started try to check if you can charge it.
Solution 3: Check if your Galaxy Z Fold 4 is too hot
Your foldable smartphone will not charge wirelessly or with a wired charger if it's temperature is too high. This is a safety feature that Samsung has implemented which prevents the phone battery from getting damaged when the temperatures are too high since charging a hot battery will degrade it further.
It's easy to check if your phone is hotter than usually by simply touching it.
In case your phone seems to be overheating then this can be caused by various factors such as:
Too many apps open.
Gaming for an extended period of time.
Streaming large amount of content.
Leaving the phone under direct sunlight.
If the phone is too hot then you should cool it down first before charging it.
To avoid overheating issues on your Galaxy Z Fold 4 here's what you can do.
Avoid hot environments
Although your Galaxy Z Fold 4 is designed top work in hot or cold environments its best to avoid exposing it to extreme temperatures. The ideal temperature range of your phone is between 0 degree Celsius to 35 degrees Celsius. If your phone gets hot make sure to cool it down.
Remove your Galaxy Z Fold 4 case
Although phone cases and covers are designed to protect your Galaxy Z Fold 4 from getting damaged from accidental drops or bumps it can also prevent the heat generated by the phone to dissipate properly. Try removing the phone case when you feel that your device gets hot when you use it.
Close background apps
Sometimes third party apps running in the background on your Galaxy Z Fold device can cause your phone to heat up to a considerable amount. If you must keep apps open try to limit it to up to three apps.
You can close background apps by following these steps.
Tap the Recent key to view all running apps.
Then tap the Close All button to close all these apps at once.
Reset all settings
Performing this step will reset your phone as well as app settings to their default conditions. This will allow you to check if a phone or app setting is causing the overheating issue.
Go to Settings
Tap on General management
Tap on Reset
Tap on Reset all settings
Tap on Reset settings button
Type in the passcode if prompted
Tap Reset to confirm the reset
Solution 4: Check for water or moisture on your Galaxy Z Fold 4
Your Galaxy Z Fold 4 has a sensor that detects the presence of moisture or water in its charging port. Once it detects the presence of liquid it won't allow the device to be charged. This is a safety feature that prevents a short circuit from happening which will most likely damage the phone circuitry.
If water or moisture is present then you should let it naturally evaporate. You will need to wait for a few hours before you can charge your phone. You can also blow gently into the port or expose it to cool dry.
If you need to use your Galaxy Z Fold 4 and its battery is drained then in the meantime you can use a wireless charger to charge your phone as this is not affected by water or moisture.
If the moisture detected warning appears even if the port is dry then you should try to clear the cache of the USB settings app.
Open Settings.
Tap Apps.
Tap Filter icon.
Tap the switch to show system apps.
Tap Ok.
Scroll down to USBSettings.
Tap Storage.
Tap Clear data and Clear cache.
Solution 5: Update your Galaxy Z Fold 4 software
There's a possibility that software bug is causing this problem which is why you should download and install the latest software update on your smartphone.
Software update Galaxy Z Fold 4
Go to your phone Settings.
Scroll down and tap on Software update. The latest version available will be displayed.
Tap Download and install.
Solution 6: Start the Galaxy Z Flip 4 in Safe Mode
Samsung phones have a way of checking if a third party app is causing issues on the device. This is by starting the device in Safe Mode.
When the Galaxy Z Fold 4 is running in Safe Mode it will only have the default apps running. Any third party app you downloaded will be disabled. This makes it easier to check if a downloaded app is causing the issue.
Safe Mode
Press and hold the Power button and Volume down button (right edge) until the 'Power off' prompt appears on the screen then release.
Touch and hold Power off until the 'Safe mode' prompt appears then release.
To confirm, tap Safe mode.
If the phone can charge in this this mode then the issue is most likely caused by a downloaded app. Find out what app this is and uninstall it.
Solution 7: Run a test using Samsung Members
Your phone has a built in tool called Samsung Members that will allow you to test for any issues such as power or battery related problems.
You should run this test to check for any hardware related issues that could cause this problem.
Samsung members
Open the Samsung Members app
Tap Get Help.
Tap Interactive checks.
Run tests on Battery status, Cable charging, USB connection, and Wireless charging to check your hardware
If the results indicate that there is a hardware issue then you will need to contact the nearest Samsung service center regarding this matter.
Solution 8: Perform a factory reset
A factory reset is usually performed when the device is experiencing issues caused by a corrupted operating system.
This procedure will erase your phone data and bring it back to its original condition. Make sure to backup your personal data stored in this phone as it will be deleted.
Factory Reset
Turn off your Samsung Galaxy device.
Simultaneously press and hold the Volume up and side buttons until the device vibrates and the Android Recovery screen appears then release all buttons.
From the Android Recovery screen, select Wipe data/factory reset. You can use the volume buttons to cycle through the available options and the side key to select.
Select Factory data reset.
Select Reboot system now.
Set up your Android device.
After the reset has completed try checking if your phone can charge.
Solution 9: Contact the Samsung service center
If the above steps fails to fix the problem then you should contact the nearest Samsung service center for assistance.
Frequently Asked Questions
What to do when Galaxy Z Fold 4 battery drains quickly?

Try checking what app is using up most of your phone battery life then manage the said app by updating it or uninstalling it.
Open Settings.
Tap on Battery and device care.
Tap on Battery.
Tap on Battery usage chart.

How to enable power saving mode on Galaxy Z Fold 4?

Open Settings.
Tap on Battery and device care.
Tap on Battery.
Tap on Power saving mode and toggle it On.

How to limit notifications on Galaxy Fold 4?

Tap and hold on the app icon you want to disable notifications.
Next click on App info.
Then tap on Notifications.
Now tap on Show notifications and toggle it off.

How to adjust the Z Fold 4 screen timeout?

Open Settings
Tap on Display
Scroll down and tap on Screen timeout
Select and set the screen timeout.

How to adjust the Z Fold 4 screen brightness?

Open Settings.
Tap on Display.
Adjust the brightness on the Brightness scale.