Is the battery life of your Samsung Galaxy Z Flip 4 draining too quickly? There are several factors that can cause this problem such as an outdated software version, apps running in the background, or features that are enabled which you are not using. To fix this you will need to perform a series of troubleshooting steps.
The Samsung Galaxy Z Flip 4 is one of the latest foldable phones available in the market today. It's foldable form factor allows it to be used just like any other smartphone however what makes this model unique is that you can easily flip it to allow it to have a more compact size making it easier to fit in your pocket. Some of its best features include a Snapdragon 8 Plus Gen 1 chip and a battery capacity of 3700 mAh.
Why is my Samsung Z Flip battery draining so fast?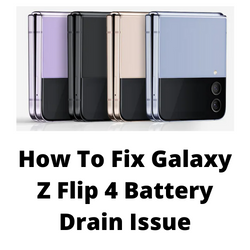 One of the issues that you might experience with your Galaxy Z Flip 4 is when its battery seems to drain too quickly. This can be an annoying experience especially if it happens during the day and you don't have a charger readily available.
Here's what you can do to fix this battery drain issue on your Galaxy Z Flip 4.
Solution 1: Check for battery hungry apps on your Samsung Galaxy Z Flip 4
One of the common causes of the battery life draining quickly on your Galaxy Z Flip 4 is because of apps running in the background. You will need to check which apps installed in your phone drains the battery the most. The top apps on the list are usually what's draining your phone battery life.
Check app battery usage
Tap on your phone Settings.
Tap on Battery and device care.
Tap on Battery.
Tap on Usage since last charge.
If an app is using up most of your phone's battery life then you can can force close this app, check for app updates, or uninstall it if it is not important to you.
You can also enable Adaptive Battery to limit the background usage limits of apps you don't regularly use. This will save battery life of your phone.
Turn on Adaptive Battery
Open Settings.
Tap on Battery and device care.
Tap on Battery.
Tap on More battery settings.
Tap on Adaptive battery and turn it on.
Solution 2: Soft reset your Samsung Galaxy Flip 4
One of the best ways to fix battery draining too fast on your Galaxy Z Flip 4 is a soft reset. This refreshes your phone's operating system and will usually fix any issues caused by a firmware crash or software glitch.
The soft reset will reboot the operating system of the phone and reload all of its services. Your personal data, files, and apps will remain unchanged.
Soft reset Samsung Galaxy Z Flip 4
Turn off the Galaxy z Flip 4 by pressing and hold the Bixby button and the volume down button on the side of the device.
Choose Power off.
Choose Power off again. The phone will turn off.
Wait for a few seconds.
Press and hold the Bixby button on the side of the device to turn on the Samsung device.
Try checking if the battery drain issue of the Galaxy Z Flip 4 still occurs.
Solution 3: Turn off services you are not using on your Samsung Galaxy Z Flip 4
If you have a lot of services running on your Galaxy Z Flip 4 then this will consume a considerable amount of battery . These features have the tendency to continuously keep scanning nearby devices for connections which will drain your battery life. To turn them off, swipe down the quick settings panel and tap the corresponding icon such as Wi-Fi, Bluetooth, GPS, or mobile data to disable.
Solution 4: Adjust the screen brightness of your Samsung Galaxy Z Flip 4
The higher the screen brightness of your Galaxy Z Flip 4 the more battery life it will consume. It is therefore a good idea to balance your device brightness to fit your current environment by adjusting the screen brightness level.
Adjusting screen brightness manually
Open Settings.
Tap on Display.
Adjust the brightness on the Brightness scale to a lower level.
You can also enable adaptive brightness which allows the phone to automatically set the brightness level depending on the environment.
Enable Adaptive brightness
Open Settings.
Tap on Display.
Turn on the Adaptive brightness switch.
Solution 5: Turn off the Always on Display on your Galaxy Z Flip4
When the Always On Display feature on your device is turned on it allows you to quickly view the time, date, notifications, and missed calls just to name a few. Although this is quite useful it can also cause battery drain issue which is why you should consider turning it off.
Disable Always On Display
Tap the Settings icon.
Tap Lock Screen.
Make sure the status switch beside Always On Display is turned off.
Solution 6: Lower the screen timeout on your Samsung Galaxy Z Flip 4
Another factor that can cause your foldable phone to have decreased battery life is if the screen timeout is set too high. This means that the display will be active for a longer period of time even if the phone is not in use. You should consider lowering the screen timeout value to save phone battery life.
Adjusting screen timeout
Open Settings
Tap on Display
Tap on Screen timeout
Select 15 seconds
Solution 7: Enable Dark Mode on Samsung Galaxy Z Flip 4
Samsung phones usually have a Dark Mode which switches the settings to a darker theme. This is beneficial for devices with AMOLED displays such as the Flip 4 since the individual pixels of the display in a dark background will not use battery life.
Turn on Dark Mode
Tap the Settings icon.
Tap Display.
Tap the Dark option.
This should improve battery life slightly on your phone and increase its screen on time.
Solution 8: Reduce screen refresh rate on your Samsung Galaxy Z Flip 4
While a higher refresh rate allows you for a smoother graphics on your phone it also uses a considerable amount of power. You should consider using the standard 60 Hz screen refresh rate if you prioritize battery life.
Adjusting screen refresh rate
Open the Settings app on your phone.
Tap on Display
Tap on Motion smoothness.
Make sure to select Standard refresh rate > Select Apply to save changes.
Solution 9: Enable power saving mode on your Samsung Galaxy Z Flip 4
Turning on the Power Saving Mode on your phone can considerably improve its battery life. This comes at a trade off though as background network usage, syncing, and location checking is going to be limited. The display setting will also be changed to 60 Hz.
Turning on power saving
Tap Settings
Tap on Battery and device care.
Tap on Battery
Go to Power saving mode and turn it on.
Solution 10: Start the Galaxy Z Flip 4 in Safe Mode
There's a possibility that the battery capacity of your phone won't be enough if an app you downloaded is consuming a lot of power. In order to check if a downloaded app is the culprit you will need to start the phone in Safe Mode.
Safe Mode will only allow the default apps to run in your Galaxy Z Flip 4 making it easier to determine if a third-party app is the culprit.
Safe Mode
Press and hold the Power button and Volume down button (right edge) until the 'Power off' prompt appears on the screen then release.
Touch and hold Power off until the 'Safe mode' prompt appears then release.
To confirm, tap Safe mode.
Wait for up to 30 seconds for the process to complete. When your device reboots "Safe Mode" will appear on the lower left side of the home screen.
Try observing if the issue occurs in this mode.
In case it doesn't then you will need to find out the specific app that is causing this problem and uninstall it.
After uninstalling the app you can exit from safe mode.
Exit Safe Mode
Press and hold the Side key.
Tap Restart > Restart.
The device will restart in standard mode and you can resume normal use.
Solution 11: Check for any available software update
One of the reasons your phone will have a short battery life is because it is running on an older software version. Try getting the latest software update as this will have several optimization features.
Take note that you need an internet connection to get the software update. It's best to use a WiFi connection and not a mobile data connection as the former is more stable and faster.
Manual software update
Open Settings, and scroll all the way down.
Find and tap Software update.
Tap Download and install to check for a new update.
After installing the update try to check if you see any improvement in the battery usage time.
Solution 12: Perform a factory data reset on your Galaxy Z Flip 4
In case the problem is caused by a corrupted system software then a factory reset is highly recommended.
The factory reset will erase your phone data and bring it back to its original condition. Any corrupted data stored in the operating system which could be causing this problem will be completely removed.
Before proceeding with this step you need to backup your phone files. Any photos, files, contact lists, or notes just to name a few that you have saved in your phone will be deleted so make sure to make a backup copy of these.
Factory reset
Turn off your Samsung Galaxy device.
Simultaneously press and hold the Volume up and side buttons until the device vibrates and the Android Recovery screen appears then release all buttons. Allow up to 30 seconds for the recovery screen to appear.
From the Android Recovery screen, select Wipe data/factory reset. You can use the volume buttons to cycle through the available options and the side key to select.
Select Factory data reset. Allow several seconds for the factory data reset to complete.
Select Reboot system now. Allow several minutes for the reboot process to complete.
Set up your Android phone.
After reset has completed don't install any third party apps yet. Try checking first if the issue still occurs.
Frequently Asked Questions
Is the Galaxy Z Flip 4 better than the Z Flip 3?

The Z Flip 4 has a larger battery capacity of 3700 mAh while the Z Flip 3 only has a battery capacity of 3300 mAh. This means that the Z Flip 4 will generally have a longer usage time per charge compared to the Flip 3.

How long does the Z Flip 4 battery life last?

You will usually get around 8 hours and 30 minutes of usage time when browsing the web continuously over a mobile data network.

Does the Z Flip 4 support wireless charging?

This device supports Fast wireless charging 10W.

How do I run a battery test on my phone?

Open Samsung Members.
Tap on Get help.
Under Diagnostics tap on Start.
Choose all possible selections.
Tap Start to run the test.

Does the Samsung Galaxy Z Flip 4 come with a charger?

Unfortunately this flip phone does not come with a charger in its box.