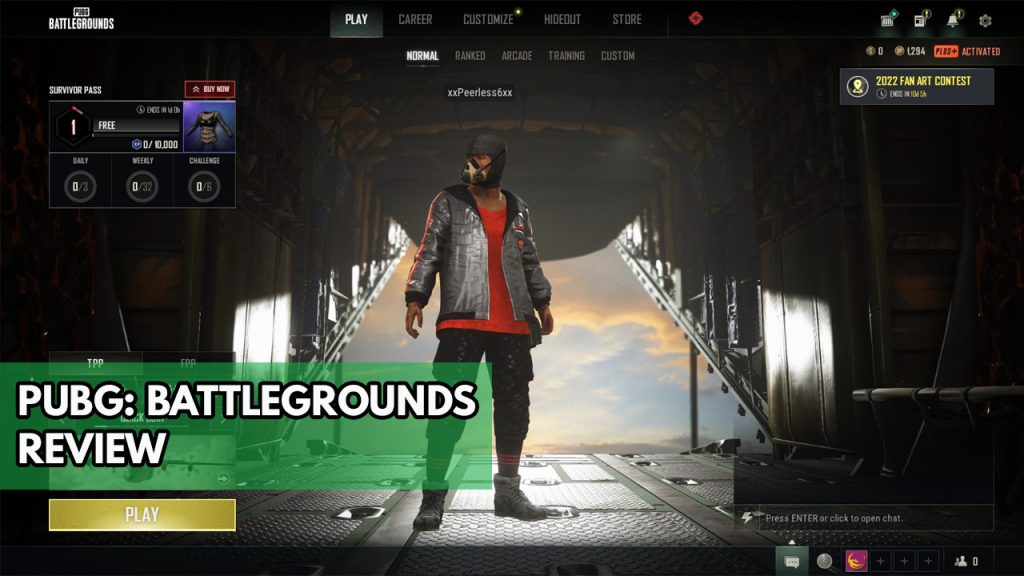 PUBG: Battlegrounds (formerly known as PlayerUnknown's Battlegrounds, or just PUBG) is a free to play Steam online multiplayer realistic simulation battle royale game created and published by PUBG Studios. The game is based on Brendan "PlayerUnknown" Greene's past mods for other games, and is inspired by the original Battle Royale japanese movie. It was developed into a standalone game under Greene's creative direction with the realistic simulation remain. In this article we will give you a original Battle Royale PUBG review.
Why Play PUBG Battle Royale Game?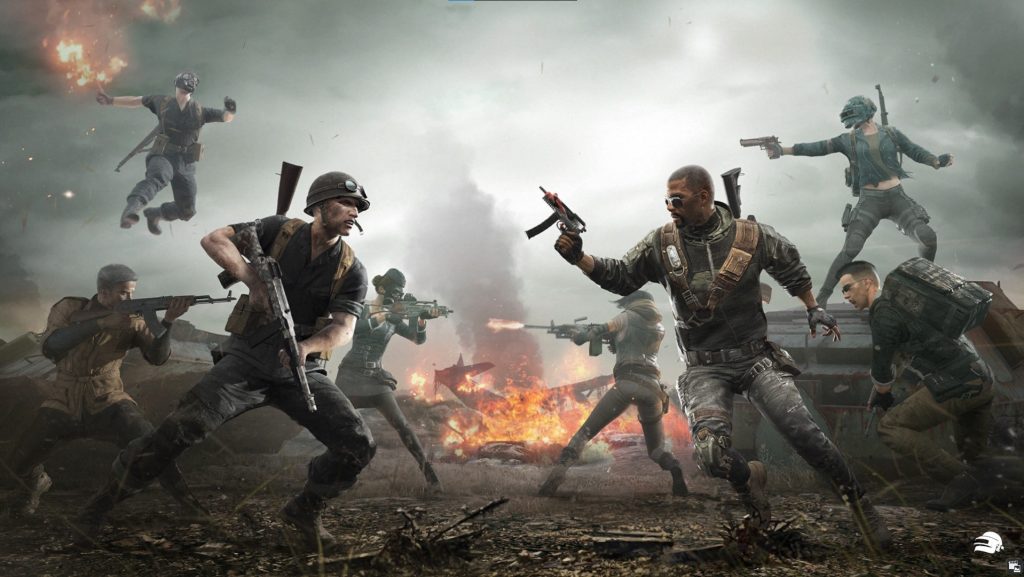 In March 2017, PUBG: Battlegrounds a Battle Royale genre was published as an early access beta for Microsoft Windows, followed by a full release in December 2017. In the same month, Microsoft Studios launched the game on the Xbox One via its Xbox Game Preview program, and it was officially released in September 2018. In 2018, PUBG Mobile, a free-to-play mobile version game for Android and iOS, as well as a PlayStation 4 port, were released In April 2020, a version for the Stadia streaming platform was launched, followed by versions for the Xbox Series X/S and PlayStation 5 in November 2020. As of the end of 2021, PUBG: Battlegrounds was the fifth best-selling video game of all time, with over 75 million copies sold on PCs and consoles.
Up to one hundred players can parachute into an island and scavenge for weapons and equipment in order to kill others while avoiding being killed. The game's map's available safe area shrinks with time, forcing surviving players into closer locations and forcing interactions. The round is won by the last person or team standing and get chicken dinner.
PUBG is a multiplayer shooter game like many games with Battle Royale element like Apex Legends in which up to 100 people compete in a match, a large-scale last man standing deathmatch in which players compete to be the last one standing. The match can be played solo, duo, or squads up to four players. The match is decided by the last person or team standing.
Game starts with players each match parachuting from a plane onto one of four massive zones map, which have areas of approximately 8 8 kilometers (5.0 5.0 mi), 6 6 kilometers (3.7 3.7 mi), and 4 4 kilometers (2.5 2.5 mi), with new maps added also. The plane's flight path across the map varies with each game requiring players to quickly determine the best time to eject and parachute to the ground. Players can look for weapons, vehicles, armor, and other equipment in buildings, ghost towns, and other locations after they arrive. At the start, these things are randomly dispersed over the map, with higher-risk zones often having better gear.
Players who have been killed can be looted for their items. Players can choose to play in first-person or third-person mode, each with its own set of benefits and drawbacks in combat and situational awareness; however, server-specific settings can be used to compel all players into one perspective, removing some advantages.
The map's playable area shrinks towards a random position, with any player trapped from outside safe zone taking damage incrementally and eventually being eliminated if the safe zone is not entered in time, the boundary appears as a glinting blue wall that contracts over time. This results in a more confined map, increasing the chances of encounters. Random areas of the map are highlighted in red and bombarded during the match, offering a hazard to players who remain in that area. Players are notified a few minutes before these occurs in both circumstances, giving them enough time to find a safe place to hide.
A plane may occasionally fly over different portions of the playable map at random, or anywhere a player uses a flare gun, and drop a loot box containing goods that are normally unobtainable during normal gameplay. These packets generate a bright red smoke that attracts players' attention and leads to more clashes. A whole round takes about 30 minutes on average. Below is a PUBG review of different game modes with known issues and solutions.
PUBG Battlegrounds Game Modes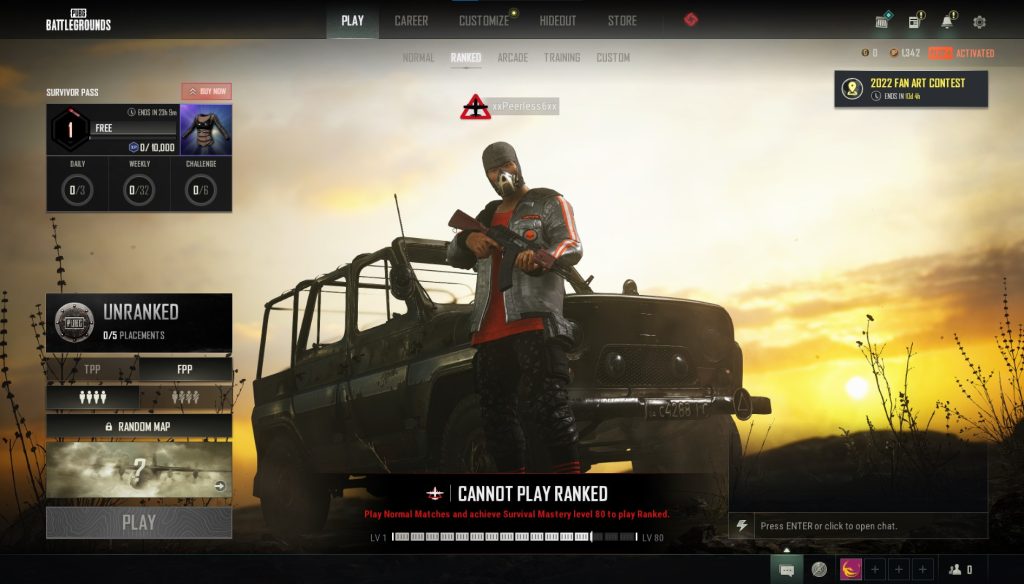 PUBG Battlegrounds gameplay is divided into several game modes. It can accommodate to your playstyle, whether you desire the traditional Battle Royale experience or Arcade style shooters like Team Deathmatch game modes. Each game option (solo, duo, squad, etc.) will have its own set of matches (For example, Duos cannot be matched with Solo queue). First Person Perspective (FPP) and Third Person Perspective (TPP) servers are available for these game types (with 1st person being optional to be toggled).
Each game option (solo, duo, squad, etc.) will have its own set of matches (For example, Duos cannot be matched with Solo queue). First Person Perspective (FPP) and Third Person Perspective (TPP) servers are available for these game types (with 1st person being optional to be toggled).
Players play ranked to climb the leaderboards and see who has the most total ELO, concurrent victories in a session, and/or kills in a game. Unranked servers are typically used by players who wish to learn the game or have fun without risking their ELO ranking on ranked servers.
Solos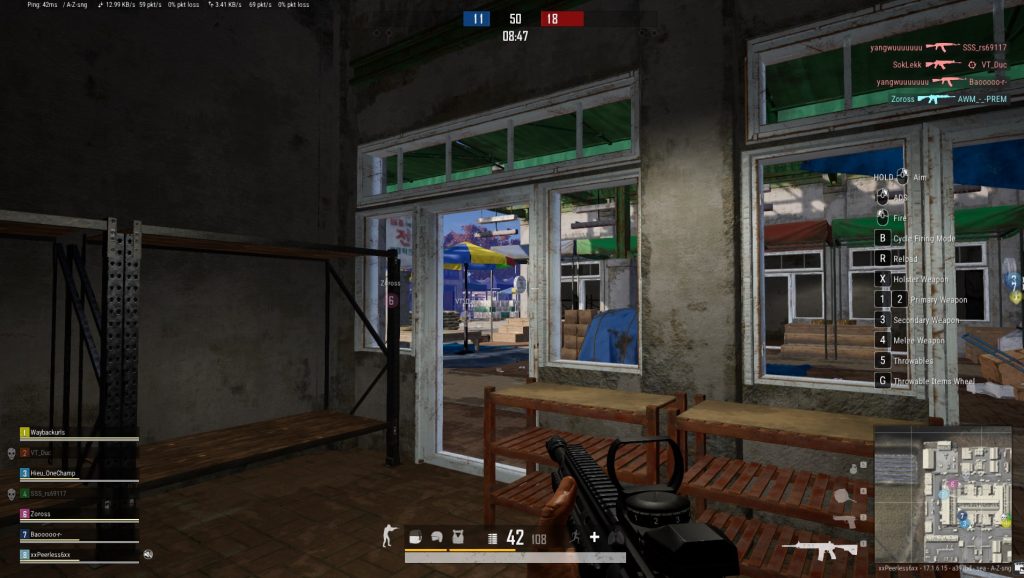 The traditional game mode. Free for all, murder everyone, and be the last one standing.
Solo is a game mode in which you spawn alone in the world and must rely solely on your own tactics and talent to get to the end and be the last person standing.
When you lose all of your health in solo mode, you die immediately rather than being knocked down.
There is also Solo FPP which is similar to the standard Solo game mode, but instead of being in third person, it is entirely in first.
Duos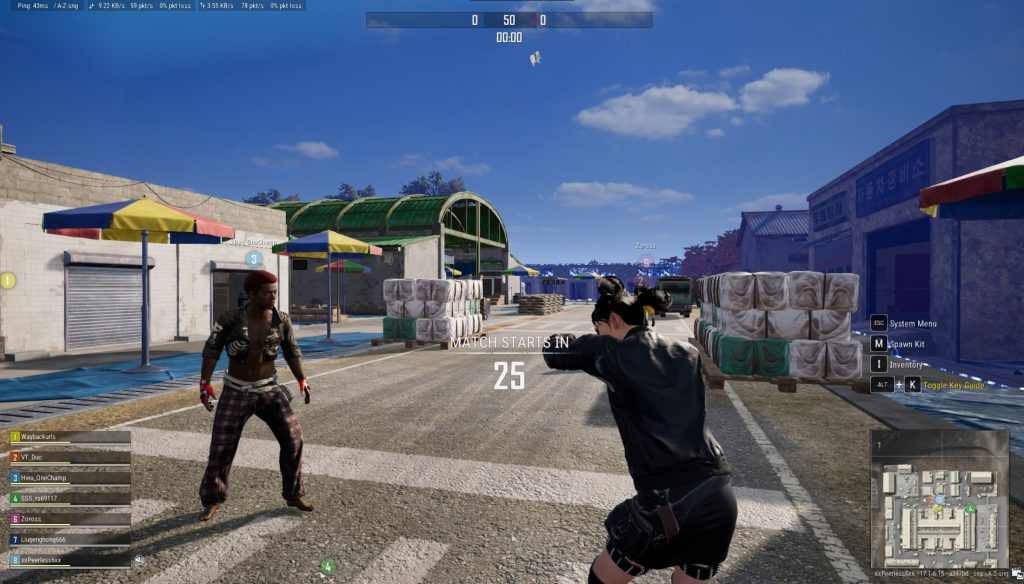 You will be paired with another person for this game mode, and you will compete against other duos to be the last ones standing. You are knocked down when you lose all of your health and have a chance to be restored by a teammate. This mode cannot be played alone, unlike squads. You must play as a group.
Duo FPP is based on the standard Duo game mode (as described above), but instead of being in third person, it is in first person alone.
Squad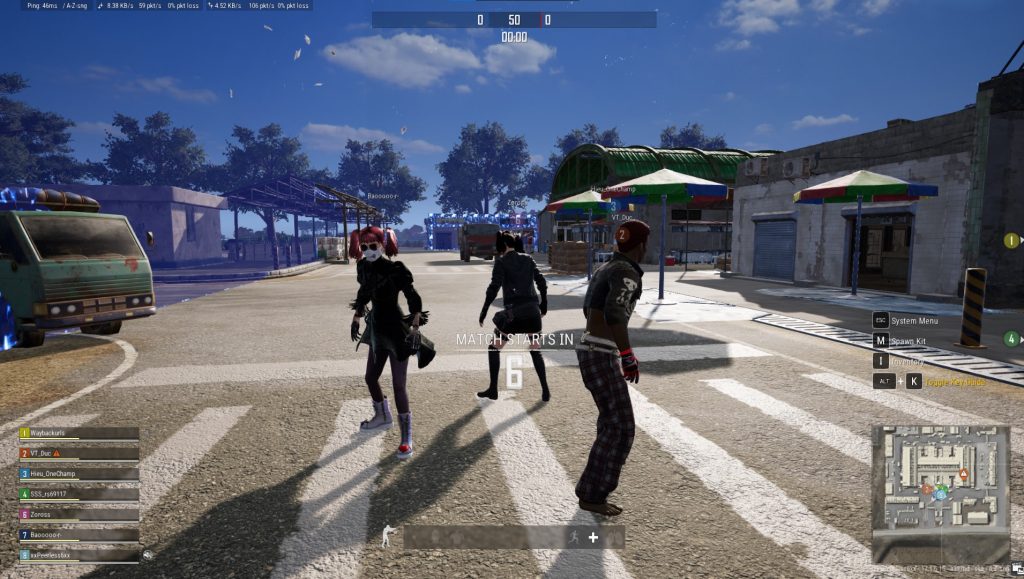 Is a game mode in which players are divided into teams and pitted against one another. This differs from the traditional Free For All (FFA) gameplay option, in which players are free to murder anybody they want.
It is a game option in which you can play in groups of two, three, or four players, or play solo and take on everyone in the game.
Squad FPP is based on the standard game mode (as described above), except instead of being in third person, it is entirely in first.
Custom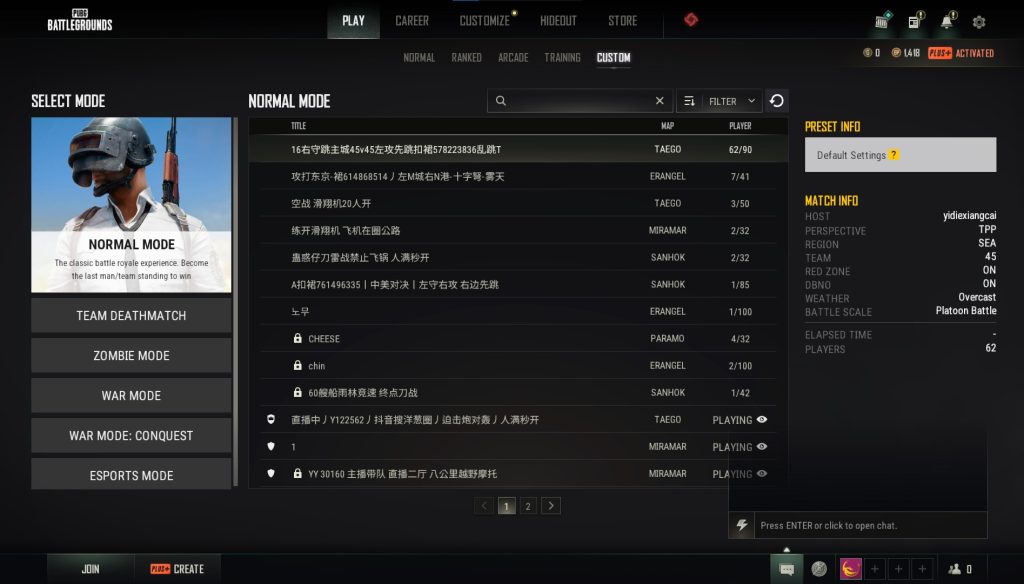 Players can start custom games at any moment. Partners can construct whatever BR battle they desire, from a BR Zombie mode to a custom preset with snipers only to melee exclusively. They can influence every aspect of the map including when air drops appear, the speed of the circles, and whether or not Red zones are enabled or disabled.
Normal, Zombies, War, and eSports modes are some of the custom games available.
Normal mode: Play as the last person (or squad) standing in a battle royale scenario.
Zombie Mode: Play as humans or zombies in the zombie mode. There can only be one victor.
A user-created mode that was revealed at the 2017 E3 Twitch stage. It's presently a work in progress official mode featuring player-controlled zombies that have bespoke zombie mocap animations and zombie clothing (because PUBG Corp hasn't included in the zombie mocap animations yet).
Because zombies are unable to take up weapons, they must rely on biting or striking survivors.
War Mode: Deathmatch with respawns in team deathmatch mode. The winning team is the one with the most kills and knocks.
War is a deathmatch-style military sim gameplay popularized from ARMA 3 BR in which players kill each other for 30 minutes (if you die, you respawn with a parachute) and then you can't respawn once the blue zone is locked in. It will conclude usually in a BR with the circles, bombing runs, and air drops after the blue zone locks.
eSports mode: PGI 2018's eSports regulation will be used.
Team Deathmatch: 8v8 FPP battles on 7 different battlefields based on your favorite maps. TDM combines conventional PUBG gunplay and mechanics with the excitement and adrenaline rush of respawning. In TDM, the boost gauge is filled by scoring kills and assists, and it restores your health once you haven't been hit for 5 seconds.
The side with the most kills in 10 minutes, or the first to reach 40 kills, wins the round, and two round victories secures the victory.
Known Issues and Solutions
Because PUBG is still not optimized, you will almost surely experience issues such as lag, freezing, crashing, or launch issues while playing PUBG. We'll go over some of the most common problems you could encounter with PUBG, as well as the troubleshooting steps you'll need to do to fix them.
Issue #1 Keeps Crashing
Crashing issues are usually caused by a software conflict, an outdated graphics driver card, or corrupted files. This issue can occur anytime during the gameplay and can be a frustrating experience. The following are fixes that you need to follow to resolve the issue.
Update graphics driver
Simply type Device Manager in the search bar on your desktop and then click the Device Manager icon that appears in the results. This will open the device manager.
Click the Display adapters icon. The list of display adapters will be expanded.
Right-click the dedicated graphics card you are using and then select Update driver. This will allow you to update your driver.
Choose Search automatically for drivers. This will search online for any new drivers and install it on your computer.
Issue #2 Won't launch issue
One of the issues you may encounter when playing PUBG Battlegrounds on your computer is that it won't launch. When you try to start it, it may just not respond. The problem is mostly software-related, most likely due to corrupted files, corrupted system files, and missing files.
Verify PUBG files
Open Steam client.
In your Steam launcher, click Library.
Find PUBG then right-click PUBG in your Library and select Properties.
Choose the Local Files tab and click Verify integrity of game files. This will let you verify PUBG.
Temporarily disable antivirus and firewall
Turning off Antivirus
Press Windows Start menu key.
Click Settings.
Click update & security.
Click Windows Security.
Click Virus & Threat protection.
Click Manage settings.
Turn off real-time protection.
Adding the PUBG to the antivirus exclusion list
Click the Start Menu button.
Click Settings.
Click Update & Security.
Click Window Security.
Click Virus & threat protection.
Click Manage settings.
Click Add or remove exclusions.
Click Add an exclusion.
Click Folder.
Locate and select thePUBG folder.
Adding as an Exception through Windows Firewall exceptions
Type Windows Firewall in the search bar on your desktop and then click the icon that appears in the results.
Choose Allow an app or feature through Windows Defender Firewall.
Scroll down until you find PUBG, then check all boxes.
Click the OK button.
Issue #3 FPS drop
If you have set the graphics setting to maximum and your graphics card is failing to handle the setting, you will almost certainly encounter FPS drops when playing PUBG.
Adjusting graphics settings
In the main menu, click the gear icon for options.
Select settings, then go to graphics advanced system settings.
Under overall graphics quality, adjust to a lower quality.
Frequently Asked Questions
Is CS GO harder than PUBG?

Yes because of the aggressive recoil patterns while PUBG has a medium recoil but easier.

Is PUBG a dead game 2020?

No, the game recently become free to play also, the game is very much alive.

Can I play PUBG for free?

Yes PUBG became free last year.

Which is the No. 1 gun in PUBG?

All of the air drop weapons are fantastic choices that you should use whenever you get the opportunity, but the AWM is without a doubt the best and most powerful gun.

Is PUBG free on Steam?

Yes it is free on Steam client.