Many PS4 users encounter all sorts of network connection issues everyday. While majority of the problems are fixed easily, some may require user intervention or more in-depth troubleshooting to fix. One such network connection issue is the PS4 error NW-31250-1. If you are getting this error but have no idea how to resolve it, continue reading this guide.
What does error code NW-31250-1 mean?
NW-31250-1 is an annoying DNS error that usually shows up when your PS4 is unable to connect to the PlayStation Network server, or when trying to play an online game. The full error message reads: "A DNS error has occurred. (NW-31250-1)."
As the error message suggests, this one may be attributed to a DNS-related issue but in my experience as well as that of others, it can also pop up when there's an on-going server problem that affects a particular PSN service you're trying to access, when you have incorrect network settings on your PS4, or when your internet connection is acting up.
Error NW-31250-1 can effectively block you from going online so you need to resolve it first if you plan on playing with your friends over the internet, or if you have to do something important using a PlayStation Network service such as Account Management.
Causes of error NW-31250-1 PS4 error
There are a number of specific reasons that we've identified as the causes for PS4 error NW-31250-1. Let's talk about each of them briefly below.
PSN server outage or maintenance.
If you're only getting the DNS error NW-31250-1 when trying to access a particular PlayStation Network service like look into your account details (Account Management), or visit the PlayStation Store while the rest are working as usual, it's possible that the cause of the problem might be PSN server-related. Sometimes, a set of servers that caters to a particular service like PlayStation Store may encounter an unexpected glitch, or may be taken offline temporarily due to an outage or maintenance.
Game server issues.
Sometimes, a similar scenario may happen but instead of having a PSN service issue, error NW-31250-1 may show up instead when trying to play an online game. This means that the servers for that particular game may have an outage or undergoing maintenance at the moment.
Incorrect PS4 Network Settings.
If you recently changed some settings in your PS4, it's possible that there may be some incorrect options that you've selected such as MTU settings or DNS settings. If you can still remember the specific things that you modified, resetting them back to the previous configuration might be an easy fix.
DNS-related issues.
Like other types of servers, DNS servers may also go down. DNS stands for Domain Name System and is often described as a "phonebook" that your computer or console uses to look up the IP address of a domain that you're trying to load.
For example, if you're trying to access the PlayStation Store, which has a specific IP address in the internet world but your DNS servers are down, your PS4 may return the error NW-31250-1.
Fixing DNS server issues is relatively easy and is often done by manually changing the default DNS server provided by your Internet Service Provider to that of another.
Home internet connection is slow or intermittent.
If your internet connection at home is not working normally, or if there's an ISP-related issues that affects your broadband line, your PS4 may have an issue with NW-31250-1 error code.
Make sure that you check for any possible home network connection issues such as:
slow connection problem,
low bandwidth, or
intermittent connection issue.
Router has become unresponsive.
At times, the main reason for a connection issue in a PS4 may have a simple cause such as an unresponsive or frozen router. To lessen the chances of internet connection issues in your network, make sure that you restart your router at least once every few days.
Wireless connection issues.
If you rely on wifi connection, it's also possible that the main reason why you may have slow or intermittent internet connection on your PS4 may be your wifi. Wireless connection is less reliable than a wired setup as wifi signal can be disrupted by a lot of factors.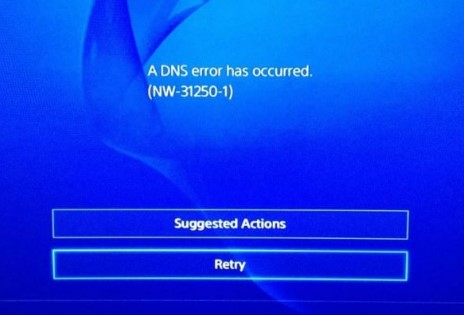 How to fix PS4 NW-31250-1 error?
Fixing the PS4 NW-31250-1 error code is relatively simple and easy. Here are the potential solutions that you can try to fix this problem:
Fix #1: Check for server issues.
One of the most common reason for error NW-31250-1 is server issues. Depending on what activity triggers the error, you can either check for PSN server status or game server status. So, if you are getting the DNS error NW-31250-1 when accessing a PSN service, you can consider visiting the official PSN server status page.
If the problem appears only when trying to play a particular online game, consider checking the server status of the game by visiting their official support page. For example, if you can't seem to load Call Of Duty Warzone, you want to check the Activision page to see if there's an on-going server issue at the moment.
Fix #2: Run a speed test on your PS4.
Performing a connection status check on your PS4 is simple and very useful in this situation. To do that, you just have to go into network settings and run a speed test. The test result should show several information such as your download and upload speed, IP address, NAT type, and PSN status.
If your download and/or upload speed are way below your subscribed internet speed, you may have a slow connection issue on your PS4.
It's also possible that your network may be busy at this time due to high load or low bandwidth. This can occur if there are several devices using the internet at the same time. To see if this is the case, try to disconnect mobile devices or other computers and consoles from your wifi or router and then run a speed test again. If the situation improves upon doing that, you may have a slow connection or low bandwidth issue.
Fix #3: Power cycle the router.
Sometimes, all it takes to fix a PS4 error such as the DNS error NW-31250-1 is a simple reboot of the router. Make sure that you turn off the router and unplug it from the power source for at least 5 minutes. Doing so may clear the network bug that affects the devices and improve the connection status.
Fix #4: Update router firmware.
Another simple trick in this case is to check if your modem or router requires an update to its firmware. If you don't know how to check for updates, refer to the documentation/manual or contact the router manufacturer. Alternatively, you can get help from your Internet Service Provider if the device comes from them.
Fix #5: Open router ports.
Make sure that your router allows your PlayStation 4 to connect to the PlayStation Network servers. You can do so by opening certain ports within the router settings, a process also known as port forwarding.
If you have no idea how to do port forwarding, contact your ISP or get help from the router manufacturer.
Fix #6: Check the DNS settings.
DNS error NW-31250-1 can be caused by incorrect DNS server configuration in your PS4. It's also possible that the DNS servers provided by your ISP are down. To fix the problem, you can manually change your PS4 DNS servers.
Fix #7: Check for wifi issues.
If you only use wifi on your PS4, make sure that you check possible wifi issues.
Or, you can try to see if the issue is due to wifi signal interference by switching to a wired connection.
OTHER INTERESTING ARTICLES:
Visit our TheDroidGuy Youtube Channel for more troubleshooting videos and tutorials.