One of the annoying connection problems in the PS4 is the NW-31456-9 error. If you are getting this error on your console and you have no idea how to fix it, this article should help.
What does PS4 error code NW-31456-9 mean?
NW-31456-9 is a connection error code that usually shows up when a PS4 tries to connect to PlayStation Network or play an online mode of a game. The full message reads: "Cannot connect to the server within the time limit. There might have been a problem in connecting to the network, or PlayStation Network or the server of the service provider might be temporarily busy. (NW-31456-9)"
When you're getting the error NW-31456-9, your PlayStation 4 will be unlikely to connect to a game server, do any online transaction in the PlayStation Store, access any services in the PlayStation Network.
Causes of NW-31456-9 error code in PS4
There have been several known reasons for error NW-31456-9 in the PS4. Let's talk about each of these causes briefly below.
PSN services are down.
Some users may encounter the PS4 error NW-31456-9 when accessing a certain PlayStation Network service only. For instance, I personally experienced this error before when I was trying to check my account details on my console. Turned out there was an on-going outage with some PSN services including its Account Management service.
Getting the error NW-31456-9 on your console does not necessarily mean that you will be totally disconnected from the internet so you should consider checking other online services to see if they're up and running.
Game server outage or maintenance.
Another possibility is that the game servers you are trying to connect to at the moment may be down. Just like with PSN services, you may get the PS4 NW-31456-9 error only when trying to play your favorite online game. In this case, it may be caused by a fault in a game and not necessarily in your console or your internet connection.
Incorrect network settings on your PS4.
Other people may get the PS4 NW-31456-9 due to incorrect settings. By default, your PS4 should be configured to the best available settings out of the box. However, if you recently did some changes manually, such as changing the MTU settings or DNS settings after you setting up an internet connection, it's possible that you may have selected the wrong options.
Software issues.
If your PS4 recently tried to install an update and that did not went through or finish properly, it's possible that the software may have been corrupted, or there may be certain settings that causes a network issue.
Home internet connection problems.
Your own internet connection can sometimes play a role in this error code. Make sure that you check for slow connection and intermittent connection issues within your network.
Changing the DNS settings in your router or in the console may also lead to PS4 error NW-31456-9.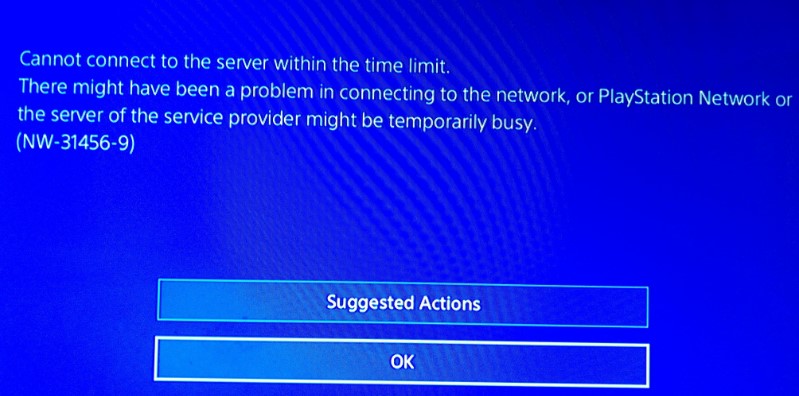 How to fix PS4 NW-31456-9 error
There are several effective solutions that you can try to fix NW-31456-9 error code. Learn about each of these fixes below.
Fix #1: Check for PSN services outage.
If you're only getting this error when trying to access a particular PSN service such as Account Management or the PlayStation Store but you can play online, Sony's system may be experiencing issues. Visit the official PlayStation server status page to check.
Fix #2: Verify if the online game is experiencing server troubles.
If PSN services are fine but you can't seem to play an online game, there may an on-going outage, maintenance, or traffic issues with that particular game. You can visit the official website of the game to find out.
For example, if you can't seem to play your favorite battle-royale Call of Duty Warzone game, you can check their official website for any server issues.
Fix #3: Power cycle the router.
At times, PS4 connection error codes may be caused by an unresponsive modem or router. Make sure that you reboot the device by turning it off and unplugging it from the power source for 30 seconds.
Fix #4: Set MTU Settings correctly.
Some players claimed to have fixed NW-31456-9 error code by making sure that they use 1473 option for their MTU settings. Here's how to do that:
Go to your PS4 Home screen.
Select Settings.
Select Network.
Select Set Up Internet Connection.
Select either WiFi or LAN Cable depending on your setup.
Select Custom.
Select 1473 for MTU Settings.
Fix #5: Change DNS servers manually.
As mentioned above, this error may also be caused by a DNS-related issue. You can manually change your DNS settings to see if that will work.
Fix #6: Use a LAN cable connection.
If you rely on wifi for your PS4 internet connection, try switching to a wired setup to see if that will make a difference. Wi-fi connection is less reliable than a wired connection and is prone to signal interference. Using a direct LAN cable connection might solve this error for you.
Fix #7: Factory reset.
If you are positive that there's no server issues and all the network settings have been changed to the correct ones already, it's possible that the cause of the problem might be something deeper within the software. To fix it, you need to perform a PS4 factory reset.
OTHER INTERESTING ARTICLES:
Visit our TheDroidGuy Youtube Channel for more troubleshooting videos and tutorials.