The PS4, released way back in 2013, has proven to be a solid gaming console. Despite its excellent reputation though, the PS4 is never a perfect system and in fact, lots of users encounter issues with it every day. If you are experiencing a problem with your own console and the usual set of basic troubleshooting steps don't help, you may need to do a PS4 factory reset.
What is a PS4 factory reset?
Factory reset, sometimes called a master reset or hard reset, is a way to restore the system software of your PS4 to its factory or original state. In order to perform a factory reset, you can either go to the console's System settings menu or boot your PS4 in Safe Mode.
Factory reset entails deleting all user added data so it is, in a way, works similarly to reformatting a hard drive when in a PC environment. This means that all information that are not part of the original system software stored in your PS4 hard drive will be deleted.
When do you factory reset your PS4?
If you are new to PS4 gaming, you may be wondering why you may want to factory reset. There are several reasons why a factory reset may be performed. Let's talk about each of them briefly below.
PS4 has become slow.
If your PS4 is already several years old, as in the case of Day 1 console versions, the system may already be showing its age at this time causing significant slow downs and random performance issues. It does not necessarily mean that the entire console is about to die but the hard drive may simply have a cluttered database.
Performance issues due to file clutter in your system's storage device can be fixed by wiping the hard drive clean with a hard reset.
There's a problem that basic troubleshooting can't fix.
For some people, especially those experiencing issues on their PS4, a factory reset may be their only remaining solution if the basic set of troubleshooting steps can't help.
Certain errors may also require that you reset your PS4 or reinstall system software.
You want to clean up and start fresh.
Some PS4 users want to constantly optimize their console for their games and thus, they may opt to declutter their system so they may opt to reinstall the system software regularly. The best way to do this is to perform a master or hard reset.
Games keep crashing.
If your games are crashing for no apparent reason, it may be time to try a factory reset to make sure that it's not caused by a corrupted or bad operating system. Crashes on PS4 are usually the result of software issues so a reset will usually help.
Corrupted game data.
Sometimes, game data may become corrupted if a system update is not installed properly, or when there's an on-going hardware malfunction like a broken hard drive. If your games are crashing because of any of these issues, or if your PS4 has started slowing down, you may have a possible corrupted game data issue. In this situation, you may need to initialize PS4 console to fix the problem by restoring the system software to its factory settings.
Donating or selling.
Even if your console does not have any problem, another reason why you may want to restore default settings on your PS4 is when you are giving it away or selling it. You want to make sure that all user data is cleared from your PS4 to avoid compromising your personal information.
Before doing a factory reset on your PlayStation 4
One important thing that you must do before restoring your PS4 factory settings, especially if you're planning to sell it afterwards, is to deactivate your PlayStation Network account. Deactivating your account won't delete it from the system but rather to simply disassociate it from a specific PS4. If you nominated your console as Primary PS4, you'll need to do this crucial step.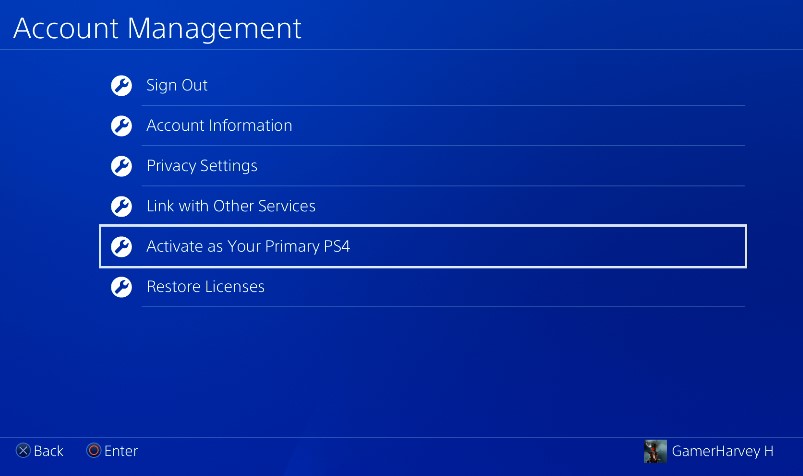 Here's what you must do:
Go to your PS4 Home screen.
Go to Settings.
Scroll down and select Account Management.
Select Activate as Your Primary PS4.
Select Deactivate.
On the next screen, select Yes to confirm this action.
Click OK when it's done.
Wait for your PS4 to restart.
Once you've deactivated your PSN account on the console, proceed to the next section to know how to factory reset your PS4.
How to factory reset your PS4?
There are two methods to factory reset your PS4. The first one is by going under the Settings menu and the other is by restarting the console to Safe Mode.
Method 1: Factory reset your PS4 via Settings Menu
Go to your PS4 Home screen.
Go to Settings.
Scroll down to Initialization and select it.
Select Initialize PS4.
You'll get two options: Quick and Full. Quick is less secure than Full so if you plan on giving away or selling your PS4, make sure to use Full option. The latter takes a longer time to finish but is more secure in wiping the hard drive.
Once you choose one, select Initialize to confirm the action.
Then, hit Yes on the next screen to confirm again.
Once the initialization is complete, the setup guide will be shown on the screen. Be sure that you have a USB cable handy as you need that to connect your wireless controller to your PS4.
Method 2: Factory reset your PS4 via Safe Mode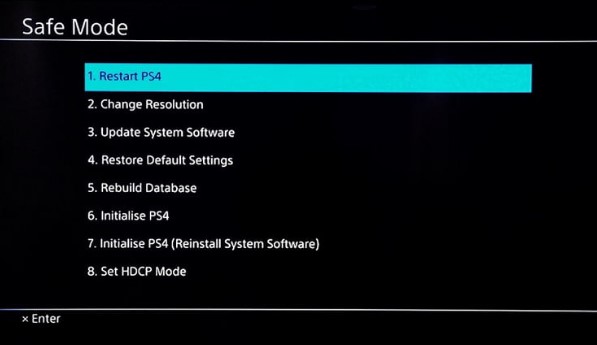 Turn off the PS4.
Once the console has powered down, press and hold the Power button in front.Make sure to hold the Power button for about 7 seconds until you hear two beeps–the first beep should occur after you press the button and second after 7 seconds.
After the second beep, release the Power button.
Select Option 6 [Initialize PS4].
Follow the rest of the instructions just like in Method 1.
If you're having an issue with your console's PS4 operating system, we recommend that you pick Option 7 [Reinstall System Software] instead of Option 6 [Initialize PS4]. This is an even bigger wipe than the regular initialization option and can take longer. However, it's more effective in fixing hard to fix software issues so if you have the time, select reinstall system software to restore default settings.
Once the wipe is complete, your PS4 should exit safe mode automatically and bring you back to the initial setup screen.
Other interesting articles:
Visit our TheDroidGuy Youtube Channel for more troubleshooting videos and tutorials.