Knowing how to conduct an internet connection test on your PS4 can come handy if you have a network problem, or if you want to know some aspects of your console's network setup. This brief guide will show you how to perform this test in a few steps.
Why test your PS4 internet connection?
There can be a few reasons why you want to run an internet connection test on your PS4.
To conduct a speed test.
If you want to know the download and upload speeds on your PS4, then this test is necessary.
Keep in mind that the download and upload speed results are only estimates depending on your connected servers and network traffic. The speed test results when you do an internet test on another device that's connected to your home network may show differently.
At times, you may also want to get the connection speed details for other purposes even if you're not having a problem at all.
To know other network details related to your PS4 connection.
And speaking of other details, running an internet connection test gives you other network information such as the IP address of your PS4, internet connection status, PlayStation Network status, or the NAT type.
When diagnosing a network problem.
Performing the internet connection test on your PS4 may be important if you are troubleshooting no connection, wifi problems, or slow connection issues. In fact, this is one of the important steps that you must do in order to identify the cause of any network problem that you might encounter on your console. For example, if you're having a hard time joining a multiplayer session in your game, it can be due to a NAT issue. You'll need to perform this test to know whether the NAT type is Type 1 (open), 2 (moderate), or 3 (strict). At other times, game multiplayer issues may be caused by an outage in PlayStation Network, which you can also get out of this test.
How to run test internet connection on PS4.
Time Needed : 2 minutes
In order to perform an internet connection test on your PS4, follow the steps below.
Open the Settings menu.

Go the Home screen and open the Settings menu from there.

Select Network.

Go to Network.

Run the connection test.

Select Test Internet Connection.
It may take a few seconds for the test to finish. Just wait for it.
The table below should explain what each of the details mean.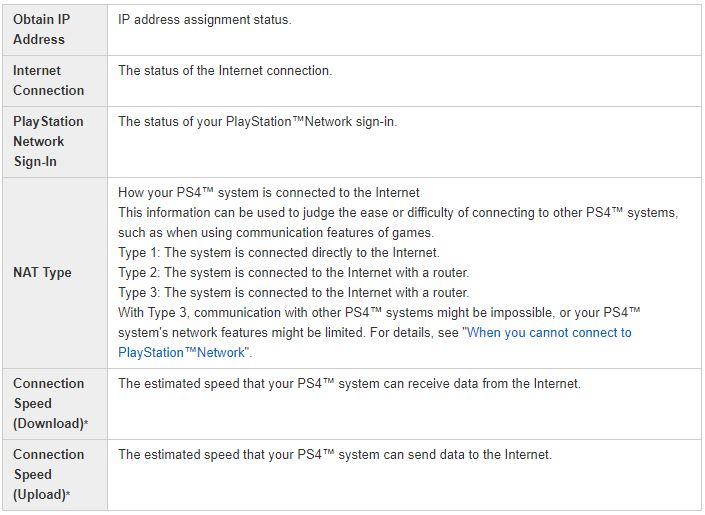 Suggested readings:
Get help from us.
Having Issues with your phone? Feel free to contact us using this form. We'll try to help. We also create videos for those wanting to follow visual instructions. Visit our TheDroidGuy Youtube Channel for troubleshooting.