The latest game from Infinity Ward and Activision is the Call of Duty Modern Warfare 2 (2022). The game is undoubtedly a massive hit not just because of its hugely popular online multiplayer but also because of its interesting Campaign mode.
While the game seems to be working properly for most people at the time of this writing, there are a number of players experiencing problems such crashing issue, black screen, performance trouble, and other bugs.
However, the large proportion of these players with problems are dealing crashes on campaign mode only on different platforms.
If you are one of them and you have no idea what to do, check out the following methods in guide to learn how to fix this crashing problem.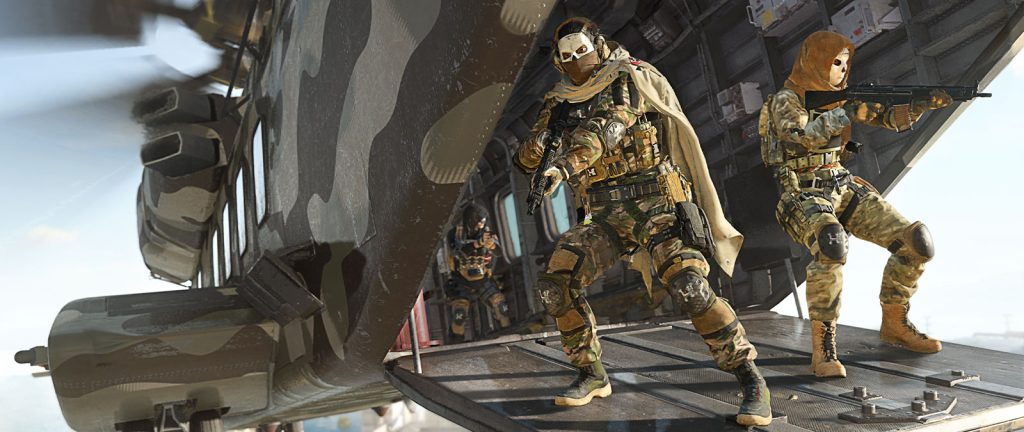 How to fix COD Modern Warfare 2 Campaign keeps crashing?
If you are unable to load the campaign mode of Call of Duty Modern Warfare 2, or if there's an error that keeps showing up when you continue with a saved checkpoint, here are the potential fixes that you must do:
Fix #1: Power cycle your PC or console.
The first solution that will likely help in this situation is simple: restart. You must refresh your PC or console before loading the game again. This can sometimes help eliminate minor bugs that causes the game to crash or to fail to load.
If you're playing COD Modern Warfare 2 on PC, simply turn it off and restart it.
For those playing the game on a console, make sure that you not only restart the device but also clear its system cache. To do that, you must turn off your Xbox or PlayStation first, unplug the power cable from the power source or outlet, and wait for 20 seconds before reconnecting everything.
This process will help clear the system cache and hopefully gets rid of the bug that causes COD Modern Warfare 2 campaign mode to fail.
Fix #2: Update the game.
If you mainly play the Campaign Mode of the game, you may skip updating the game if you miss the notification of your game launcher to update. Make sure that you manually check for the latest update to COD Modern Warfare 2 at this time and to install any pending update at this point.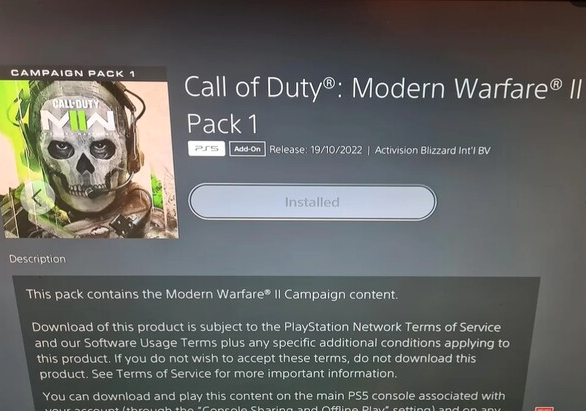 Game launchers have a mechanism to remind players to update their games but you can always check anytime for updates as well. For instance, if you're playing Modern Warfare 2 on Steam, there should be an UPDATE button in place of the PLAY button for the game. All you have to do is to simply click on the Update button and wait for the installation to finish.
Other game launchers should have similar steps to update.
Fix #3: Install GPU driver updates.
Updating the graphics drivers is an important maintenance step for any PC player. GPU manufacturers (NVIDIA, AMD and Intel) regularly release game updates to keep bugs at a minimum, especially when it comes to newly-released games.
The quickest and easiest way to install the most up-to-date GPU drivers is to use the corresponding application from your hardware manufacturer, such as NVIDIA's GeForce Experience or AMD's Radeon Settings.
Drivers are also available for direct download from the AMD and NVIDIA websites.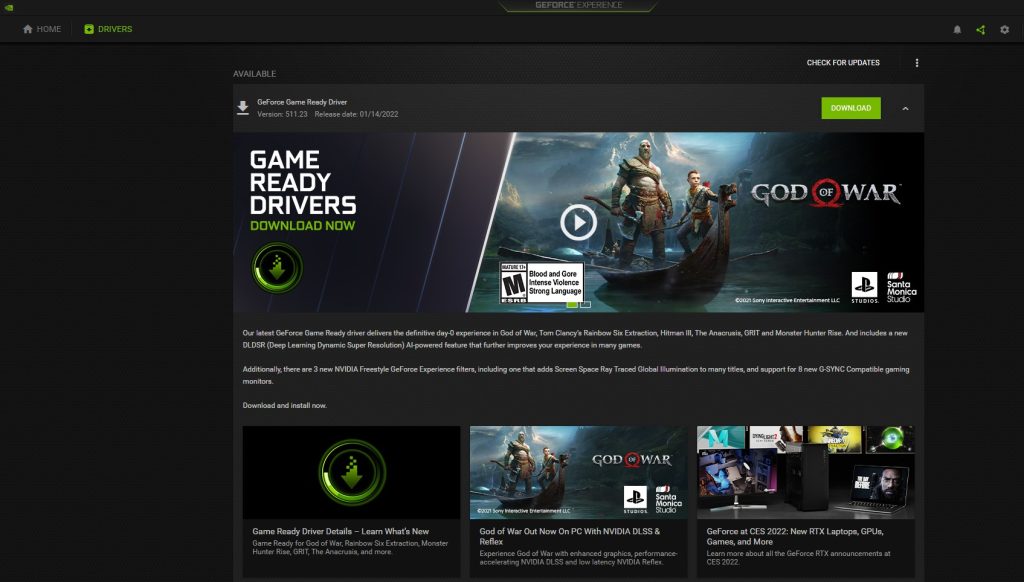 Alternatively, you can also pull the Device Manager and update your graphics card driver from there. Here's how:
Press the Windows key on the keyboard.
Type in "control panel" and select Control Panel.
Change the View by dropdown to Small icons and click on Device Manager.
Once the Device Manager is opened, click the dropdown for Display adapters.
Find your Display adapter and right-click on it.
Select Update driver.
Select Search automatically for graphics driver.
Once you've ensured that your graphics card driver is the latest version, launch the Modern Warfare 2 campaign again and see if it's now working normally.
Fix #4: Repair game files.
Many COD Modern Warfare 2 players encounter random crashing issue due to missing or corrupted game files. If your game crashes still after updating the drivers, the next thing that you want to look into should be the game's local files.
Having broken files is not unheard of in Steam and this is why they have a tool that you can use to check the integrity of your game files.
If you're playing COD Modern Warfare 2 via Steam, here's what you must do:
Open Steam.
Go to your Steam library and right click on Call of Duty Modern Warfare 2.
Select Properties.
Go to Local Files tab.
Click on Verify Integrity of Game Files.
After you verify integrity of game files, restart Steam and launch Call of Duty Modern Warfare 2 again.
For those playing via the Battle.net launcher, here's how to repair the game's files:
Open the Battle.net app.
Find the Call of Duty Modern Warfare 2 icon and open the game.
Select Options.
Select Scan and Repair.
Click Start Scan.
If you bought the Modern Warfare 2 game from the Xbox app in Windows or Microsoft Store, here's what you need to do:
Open the Xbox app.
In the left panel, check the Installed games and click on the three dots beside Call of Duty Modern Warfare 2.
Click on Manage.
Go to the FILES tab.
At the bottom, click on the VERIFY AND REPAIR button.
Fix #5: Check saved game files.
Repairing and verifying game files is a feature not available for console players. However, you can manually check if there's a corrupted saved file that causes the Modern Warfare 2 campaign mode to crash.
Fixing broken COD Modern Warfare 2 game files on PlayStation
A bad or damaged game file is just as common in the PlayStation console as it is in the PC version. If you keep experiencing a crashing issue on Modern Warfare 2 campaign, one of the things that you must do is to update the game version.
The other thing that you can do is to rebuild your console's database. You must enter Safe Mode before attempting to restore the database on a PS4 or PS5. After entering Safe Mode, choose the Rebuild Database option from the menu.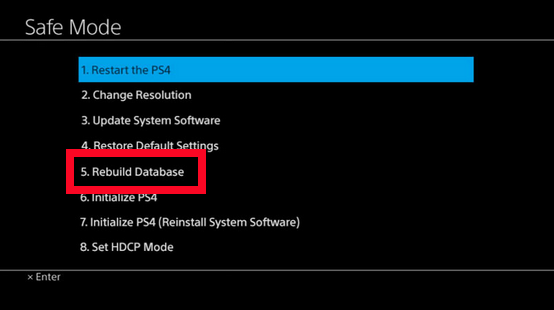 Turn off the console.
Once the console has powered down, press and hold the Power button in front.Make sure to hold the Power button for about 7 seconds until you hear two beeps–the first beep should occur after you press the button and second after 7 seconds.
After the second beep, release the Power button.
Connect your controller to the console via the USB cable. Then press the PS button on the controller, and you will enter Safe Mode.
Select Option 5 [Rebuild Database].
Select OK to confirm.
Fixing broken COD Modern Warfare 2 game files on Xbox
If you're playing this game on Xbox, you may have issues with damaged files, but there are a few things you may do to fix them. The first is to get rid of the saved file, which may be corrupted. This is a common solution for the Modern Warfare 2 campaign on Call of Duty that won't load or keeps crashing. Here's what you need to do:
Press the Xbox button.
At the Home tab open My games & apps.
Select See all.
Highlight the game title then press the Menu button on the controller.
Select Manage game and add-ons.
Select Saved data.
Select Delete all.
Another option is to erase everything from the persistent storage. Xbox One and Xbox Series X|S users will need to take a somewhat different approach.
On Xbox One:
Press the Xbox One button on your controller
Select Settings.
Go to Devices & connections and select Blu-ray.
Select Persistent Storage.
Select Clear Persistent Storage.
On Xbox Series X|S:
Press the Xbox button on your controller.
Go to the right and select Profile & System.
Select Settings.
Select Devices & Connections.
Select Blu-Ray.
Select Persistent Storage.
Select Clear Persistent Storage.
Fix #5: Try running the game in lower graphics settings.
Aside from random or persistent crashing issue, the other downside to playing COD Modern Warfare 2 on high graphics settings is performance issues and even black screen issues. These problems can become especially pronounced if your PC barely meets the minimum system requirements, or if the hardware is old.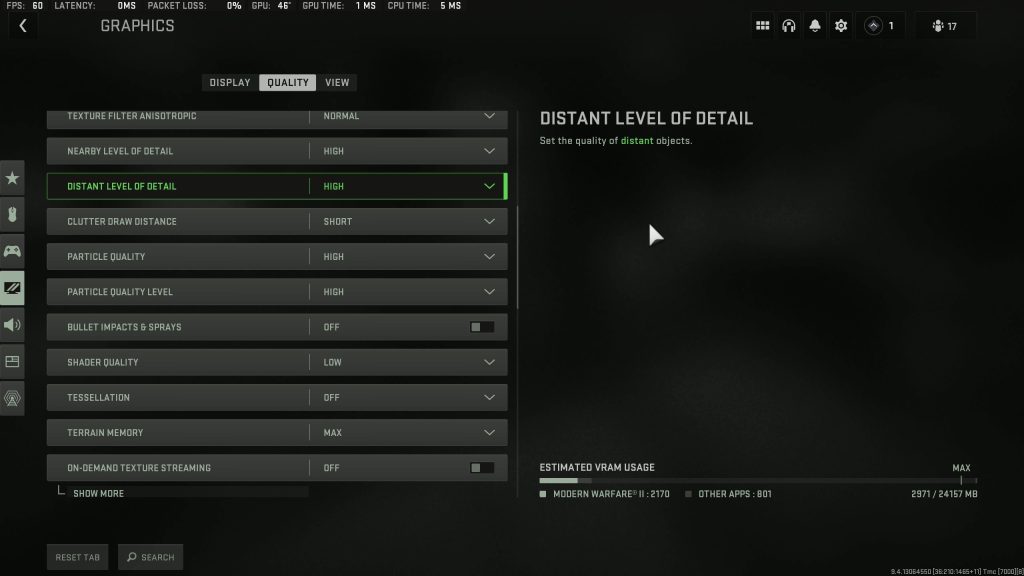 To check if that's the case, try changing the current graphics settings to lower values before playing the game again.
Fix #6: Disable audio drivers.
Streamers and video makers frequently run into problems with the game crashing on them because they use a large number of third-party audio drivers and other such things that interfere with the game and cause problems such as crashes and performance problems.
If you are using third party audio drivers, consider uninstalling them from the system before clicking the Play button for Modern Warfare 2 again.
FAQs
Why does the Call Of Duty Modern Warfare 2 campaign keep crashing?

Game crashes can happen due to a variety of reasons. If you're only experiencing a crashing issue when loading or playing the Campaign mode, it's possible that the cause of the problem is bad or corrupted game files.
For some players, the campaign mode crashes is caused by outdated video or audio drivers. Check out the solutions above to see what you need to do.

Can campaign mode crashes on Call of Duty Modern Warfare 2 be fixed?

Yes. Generally, campaign mode crashes are due to bad local game files so updating the game or verifying the integrity of game files will most likely help.