Do you encounter Persona 5 royal crashes on PC? Several factors can cause this issue such as an outdated graphics card, missing game files, fullscreen optimizations conflict, or your computer does not meet the system requirements to run the game. To fix Persona 5 Royal crashes, you will need to perform several troubleshooting steps.
Persona 5 is a role-playing video game developed by Atlus. It is now available for the PC in Steam, Xbox Game pass PC, and the Nintendo Switch. Persona 5 Royal takes place in modern-day Tokyo and follows the protagonist known as joker who transfers to a new school after being falsely accused of hitting a person. During the school year, he and other students awaken to a unique power, becoming the Phantom Thieves of Hearts, a group of covert vigilantes. They travel to the Metaverse, a mystical place created by humanity's inner desires, to steal ill intent from adults' hearts. As in previous iconic fast paced JRPG in the series, the team fights Shadows with tangible manifestations of their psyche known as Personas. Along with social modeling settings, the game combines role-playing and dungeon-crawling aspects.
Fixing Persona 5 Royal PC Version Game Crashes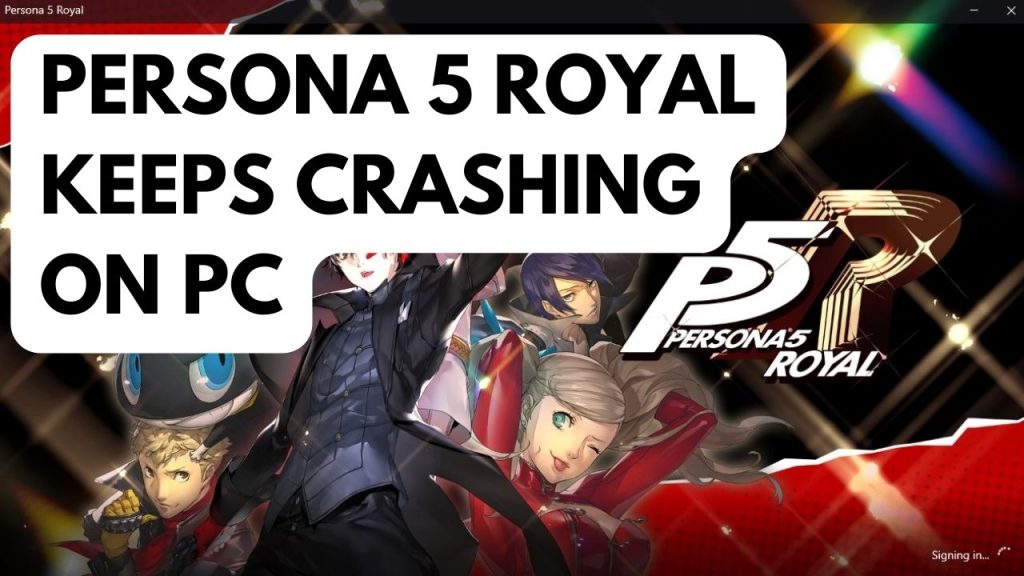 If you are playing Persons 5 Royal on your PC then you may encounter crashing issues in the middle of the game or while opening the game. This can be a frustrating experience especially if you are in the middle of the game and have not save your game.
Here's how to fix Persona 5 Royal Pc Version crashing issue.
Fix #1 Check Persona 5 Royal System Requirements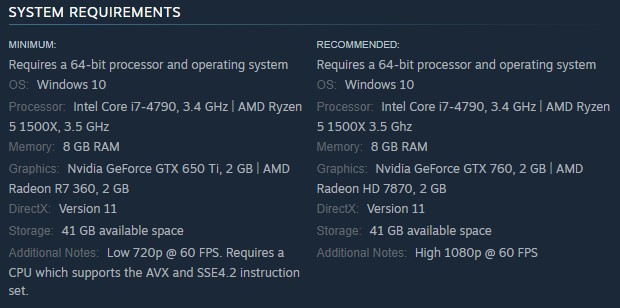 Make sure that your PC meets the system requirements of Persona 5 Royal. If your PC does not meet the requirements then you will definitely have crashing issue with the game. Below are the minimum system requirements and recommended system requirements of the game.
Minimum System Requirements
OS: Windows 10
Processor: Intel Core i7-4790, 3.4 GHz | AMD Ryzen 5 1500X, 3.5 GHz
Memory: 8 GB RAM
Graphics: Nvidia GeForce GTX 650 Ti, 2 GB | AMD Radeon R7 360, 2 GB
DirectX: Version 11
Storage: 41 GB available space
Additional Notes: Low 720p @ 60 FPS. Requires a CPU which supports the AVX and SSE4.2 instruction set.
Recommended System Requirements
OS: Windows 10
Processor: Intel Core i7-4790, 3.4 GHz | AMD Ryzen 5 1500X 3.5 Ghz
Memory: 8 GB RAM
Graphics: Nvidia GeForce GTX 760, 2 GB | AMD Radeon HD 7870, 2 GB
DirectX: Version 11
Storage: 41 GB available space
Additional Notes: High 1080p @ 60 FPS
Fix #2 Update GPU Driver
The next method is to make sure that your GPU or dedicated graphics card is running the latest drivers. It's crucial to upgrade your graphics driver because it will fix the crashing problems with the recently launched Persona 5 Royal. To improve game performance and fix technical issues and performance-related issues, install the newest GPU drivers.
Time Needed : 3 minutes
Updating GPU
Simply type Device Manager in the search bar on your desktop and then click the icon that appears in the results.


This will open the device manager.


Click the Display adapters icon.


The Display adapter will be expanded.


Right-click the preferred graphics processor or dedicated GPU you are using to play the game and then select Update driver.


This will allow you to update your driver.


Choose Search automatically for drivers.


This will search online for any new drivers and will automatically download it then install it on your computer.

After you have updated your GPU, try to play Persona 5 Royal and check if you are still encountering game crashes.
Fix #3 Disable fullscreen optimizations
Fullscreen Optimization was created to provide gamers the best of both FSE and borderless windowed mode. This enable Persona 5 Royal to run at full speed, occupy the entire screen, support overlays, and navigate between tabs quickly. Sometimes a few technical issues you are experiencing in Personal 5 Royal can be cause by fullscreen optimizations compatibility issues, disable fullscreen optimizations and try to check if the game is running properly after you have disable it.
Disabling fullscreen optimizations
Step 1: Go to Persona 5 exe file and right-click the game exe file, and click Properties. This will let you go to Compatibility tab.
Step 2: Click on the Compatibility Tab and checkmark the checkbox beside Disable Full Screen Optimizations.
Step 3: Click Apply and OK.
After you disable the optimizations, try to check if the Persona 5 Royal crashing issue is resolved.
Fix #4 Adjust graphic settings
If you are still getting the crashing issue, then you have to adjust the graphics settings of the game if you do not have high performance nvidia processor or amd GPU. To resolve the issue you can adjust your graphics settings so that Persona 5 Royal will not crashed. You can do this using the NVIDIA control panel if you have NVIDIA GPU, or use the AMD software if you have an AMD GPU. You can also adjust using the in game settings.
Nvidia users
Right-click on desktop
Click Nvidia control panel
Click Manage 3D Settings
Click Program Settings
Find "Persona 5 Royal", you can manually add the games if it's not in the list, then make the following changes.
Monitor Tech: G-Sync (If available)
Maximum Pre-rendered frames: 2
Threaded optimization: On
Power Management: Prefer Maximum Performance
Texture Filtering – Quality: Performance
Low Latency Mode: Low
AMD users
Open the AMD Software then make the following graphics changes.
Anti-Aliasing Mode: Use Application settings
Anti-aliasing Method: Multisampling
Morphological Filtering: Off
Anisotropic Filtering Mode: Use application settings
Texture Filtering Quality: Performance
Surface Format Optimization: On
Wait for V-sync: Off
OpenGL Triple Buffering: Off
Shader Cache: AMD optimized
Tessellation Mode: Override application settings
Maximum Tessellation Level: Off
GPU Workload: Graphics
Chill: Off
Frame Rate Target Control: Disabled
Adjust via in game settings
Graphic Quality: Low
Shadow Quality: Low
Framerate Limit: 30
Anti-Aliasing: None
Depth of Field: High
Fix #5 Update Windows
You need to make also that your computer has the latest version of Windows updates installed. These updates will usually have improvements, Windows security patches, and bug fixes that will fix the Persona 5 Royal crashing issue you are experiencing.
Updating Windows
Step 1: Right click the Start button.
Step 2: Select Settings.
Step 3: Select Windows Update found on the bottom left menu of the new window that appears.
Step 4: Select Check for updates to update to the latest version.
Fix #6 Close Background programs
Your computer may experience issues if you are playing Persona 5 Royal while running a lot of resource-intensive background programs because it won't have the resources to run the game properly. Make sure no other unnecessary programs are running on the PC to avoid software conflicts and give the game more CPU, GPU, and RAM to work with. Your memory and disk usage will both increase, as will the strain on your GPU. Close these background processes by using the task manager.
Closing background pprograms
Step 1: Right click on the Start button. This can be found on the left pane of the screen.
Step 2: Select Task Manager. This will open task manager.
Step 3: On the pop up window, Click processes tab. This will allow you to show the running program.
Step 4: Right-click on the running program then select end task. This will allow you to close unused program.
Fix #7 Temporarily disable Windows Defender firewall and anti virus software
An antivirus program that routinely scans the game folder for viruses and a firewall that continuously disables the game are two potential causes of Persona 5 Royal crashing issue. Play the game while your antivirus application is temporarily disabled to determine if that is the problem. Add the game to your antivirus's exclusion list if the game does not crash. Additionally, confirm that the firewall has the game authorized. Remember to enable back your antivirus software.
Turning off virus and threat protection
Step 1: Press Windows Start menu key.
Step 2: Click Windows Settings.
Step 3: Click update & security.
Step 4: Click Windows Security.
Step 5: Click Virus and Threat protection.
Step 6: Click Manage settings.
Step 7: Turn off real-time protection.
Adding the game to the antivirus exclusion list
Step 1: Press the Start Menu button.
Step 2: Click Settings.
Step 3: Click Update & Security.
Step 4: Click Window Security.
Step 5: Click Virus & threat protection.
Step 6: Click Manage setting.
Step 7: Click Add or remove exclusions.
Step 8: Click Add an exclusion.
Step 9: Click Folder.
Step 10: Locate and select the game folder.
Adding as an Exception through Firewall
Step 1: Type Firewall in the search bar on your desktop and then click the icon that appears in the results.
Step 2: Choose Allow an app or feature through Defender Firewall.
Step 3: Scroll down until you find the game, then check all boxes.
Step 4: Click the OK button.
Fix #8 Verify Game Files in the Local Files Tab of Steam
Persona 5 Royal will crash if any one of the files in the installation folder is damaged or has missing files. Use the repair tool from the Steam client to verify integrity of game files and see if any files need to be fixed. The servers will immediately download, install, and replace the corrupted and missing files.
Verifying files
Step 1: Open Steam client.
Step 2: In your Steam launcher, click Game Library.
Step 3: Find Persona 5 Royal then right-click and select Properties.
Step 4: Choose the Local Files tab and click Verify integrity of game files.