This post will help you manage the Mozilla Maintenance Service on Firefox 2021. Read on to learn what this service does and how to manage it on the latest version of Firefox browser for Windows.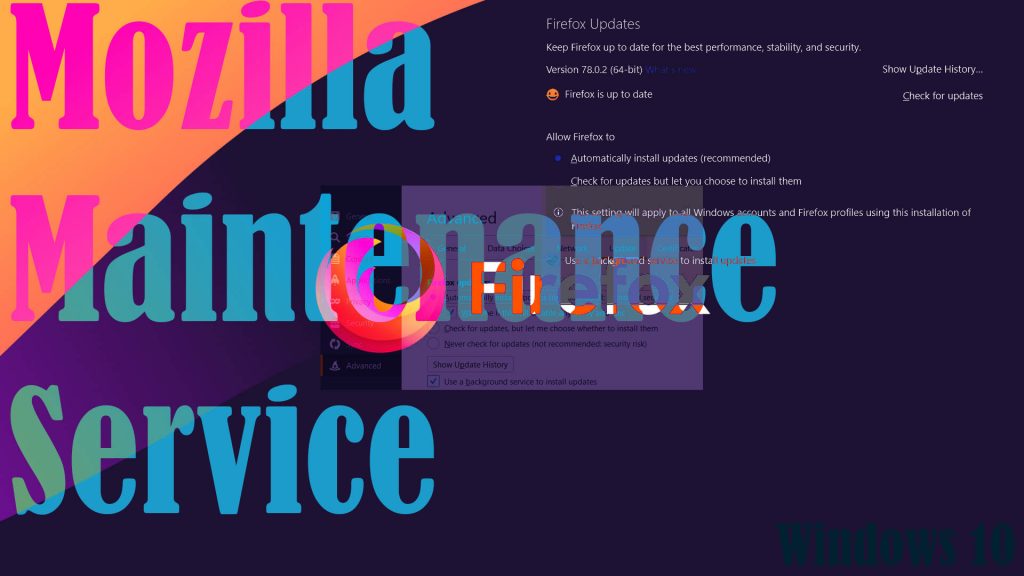 What is Mozilla Maintenance Service and how does it work?
Mozilla Maintenance Service is an optional service installed on Firefox and Thunderbird. It allows app updates to occur in the background without prompting the user to click Yes in the Windows User Account Control dialog box. In other words, the update will be downloaded and installed in the background without needing the user's permission.
After downloading an app update, the Mozilla Maintenance Service asks permission from Windows to apply the update. Once the updating process starts, the service quits.
Updates that are automatically installed in the background through the Mozilla Maintenance service are for the Firefox browser and Thunderbird app. The Mozilla Maintenance service is run by the maintenanceservice.exe file.
Disabling Mozilla Maintenance Service in Firefox
If you don't want your Firefox browser to silently download and install application updates in the background, then you can disable the Mozilla Maintenance Service on the Firefox browser. Here's how:
Open the Firefox browser on your computer and then click on the Firefox menu.
Select Options then click General.
From the General section, scroll down to the Allow Firefox to section where you see Firefox Updates.
Click to uncheck the option to Use a background service to install updates.
When the box is unchecked, click OK to save the recent changes.
The Mozilla Maintenance Service is now disabled on the browser and so new updates will no longer be installed in the background without the user's permission.
Removing Mozilla Firefox Maintenance via Control Panel
Although it is recommended to leave the Mozilla Maintenance Service enabled so that all important browser updates are installed, you can still disable it if you want. Doing so will prevent any unwanted browser updates from being installed automatically.
If you prefer manual installation of new updates, then you can just remove the service from your system.
Aside from the above method, the Maintenance service can also be disabled or removed using the built-in uninstall command from the Control Panel. Just follow these steps:
Launch the Start menu then click Settings.
Click Apps then select Apps & Features.
On the succeeding window, find and then click Mozilla Maintenance Service from the list of programs.
Once the service is highlighted, click the Uninstall option.
The service will then be removed from the list of programs and applications.
If you change your mind and would like to use the Mozilla Maintenance Service back, then you may do so by performing a full clean reinstall of the Firefox browser on your computer.
Hope this helps!
Please visit our YouTube channel to view different troubleshooting and tutorial videos that might be helpful to you.
You Might Also Want To Read: