Are you experiencing the Google Discover feed not working issue? There are several factors that can cause this problem such as a poor internet connection, software issue, setting issue, or a corrupted cache and data in the Google app. to fix this you will need to perform several troubleshooting steps.
The Google Discover feed is a feature that appears on the Google app for Android phone or iOS device. Yuo will be able to get the latest updates for your interests,such as favorite sports team or the latest tech news, without searching for them. You can choose the types of updates you want to see in Discover in the Google app or when you're browsing the web on your phone. Its main purpose is to help you discover content from around the web that pertains to your interests.
How do I enable Discover feed on Google?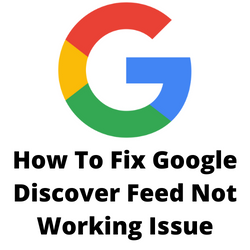 One of the features that you will find quite useful on your Android phone or even your iPhone is Google Discover. This allows you to discover various updated topics that might interest you. Yuo will be able to customize this by setting what topics you are interested in and even unfollowing certain topics.
Threre are times that you might dicover that your Google feed does not seem to update. This can be a frustrating experience especially if you want to know the latest updates from the topics you follow.
Here's what you can do to fix the Google Discover feed not working issue.
Solution 1: Check your internet connection
The first thing you need to do when exeperiencing the Google Discover feed not working issue is to check the internet connection of your phone. Your smartphone should have a good internet connection in order for your Google feed to update.
You can check if your phone has a bad internet connection by checking the internet speed with the help of online speed checkers such as speedtest.net.
Checking your internet speed
Open a browser. You can use any browser you want. I will be using Chrome for this example.
Go to speedtest.net. This is an online speed test tool that is free to use.
Click on Go. This will start the speed test.
In order to prevent any Google Discover feed issues on your device your internet connection should have a good download and upload speed results.
If you have an unstable internet connection then you can check if the problem is caused by your networking equipment.
Turn off your iPhone or Android phone.
Unplug your Modem and Router from the power source.
Wait for a minute then plug your modem and router back into the power source.
Wait until the lights turn back on.
Turn on your iPhone or Android phone.
Reconnect your smartphone to the internet.
Here's what you can do to get a stable Wi-Fi internet connection.
Try to disconnect other devices connected to the Wi-Fi router while you use the Google app . This will allow the device to use the maximum internet bandwidth.
Move the device closer to the router when accessing your Google Discover feed. This will allow the device to get a much stronger Wi-Fi signal.
If you have a dual band router try to connect to the 5Ghz band instead of the 2.4 GHz band.
There are instances when the problem can be caused by the Wi-Fi network your mobile phone is connected to. To check if this is the case try turning off the Wi-Fi switch of your phone then enable mobile data switch.
Mobile users should make sure that a good 4G or 5G mobile data signal is present in order for the Google Discover feed to refresh automatically.
In case you are able to fix Google Discover feed not working issue while on mobile data internet access then something might be wrong with the Wi-Fi network. You need to contact your internet service provider regarding this matter.
Solution 2: Reboot your phone
One factor that can cause the Google Discover feed not working issue is a software glitch. This could be a glitch in the Android or iOS software version you are using or a even a glitch in the Google app itself.
If the Google Discover feed not refreshing issue is caused by a software glitch then this is just temporary and can easily be fixed by restarting the smartphone.
After you have restarted the phone try to check if the IGoogle feed not working issue still occurs.
Solution 3: Enable Discover in Google app
There's a possibility that you might have accidentaly turned off the Google Feed on your phone. To fix Google Discover not showing or updating you will need to turn on the Google Feed toggle switch.
Turn on Google Feed
Open the Google app.
Tap your profile picture on the top right side.
Select Settings.
Tap General.
Toggle Discover switch to on.
Solution 4: Check for restricted data usage
When you are connecting to the internet using your mobile data sometimes you will want to restrict background data usage of certain apps to prevent you from using up all your data credits. If you have restricted data usage on your Android device then make sure that the Google app has permission to access backround data.
Enable Google app to access data in the background
Open Settings.
Open Apps.
Search for the Google app then tap on it.
Tap on mobile data.
Turn on the switch for allow background data usage.
After the background data toggle has been enabled try o check if the Discover feed is now working.
Solution 5: Reset app preferences
If there are some settings in your phone that's interfering with the way the Google app works then you will need to try resetting app preferences in order for the Google app to work properly again.
Reset app preferences
Open Settings app.
Tap Apps.
Tap the three dort icon.
Tap Reset app preferences.
Solution 6: Clear Google app cache and data
The Google app usually saves the most commonly used data in the background since this allows it to immediately load pages and that you visit frequently. There are times when this data can get corrupted which can cause update issues on your Google news feed . Try to clear Google app's cache to fix this problem.
Clear cache of Google app Android device
Long press on the Google app icon and go to the app info menu.
Tap on Storage & cache.
Select Clear storage and Clear cache
Solution 7: Try using the Google app without an active account
One other way to fix Google feed not working issue is to try using Google app without an account. This way you can check if the problem is caused by the currently active account listed.
Use Google app without an account
Launch the Google app.
Tap on the profile icon on the top right.
Select use without an account.
Go to the Discover feed an tap turn on.
If your Google feed works then there might be an issue with the connected account.
Frequently Asked Questions
What is Google Discover feed?

Google Discover feed appears in the home page page of the Google app and shows you the latest information on your interests.

Why can't I access Google feed?

This can usually be caused by a poor internet connection, the Discover feed has been turned off, or a software glitch.

How do I follow new topics on Google Discover?

On your Android phone or tablet, open the Google app.
At the top right, tap your Profile picture or initial and then Settings and then Interests and then Your interests.
Under "Based on your activity," to follow new topics, tap Add.

How do I stop getting stories from specific topics or sources?

Open your Google app.
At the bottom right of the card, tap More
Select Not interested in [Topic] or Don't show content from [Source].

Can use Google Discover without an account?

You can still use Google dioscover without an account.