Are you experiencing the Peacock not working issue? There are several factors that can cause this problem such as a slow internet connection, server outage, corrupted app cache, or an outdated software update. To fix this you will need to perform several troubleshooting steps.
Peacock TV is a streaming service created by the Television and Streaming division of NBC Universal that mainly carries most of the NBCUniversal content. It holds a vast library of shows ranging from comedies, dramas, live sports, original content, and Universal Studios films. The free plan allows subscribers access to a limited amount of shows that's ad supported while the premium plan gives all access and an ad free experience. As of now this service is only available in the United States, United Kingdom, Ireland, Austria, Germany, and Italy.
Why Peacock is not working?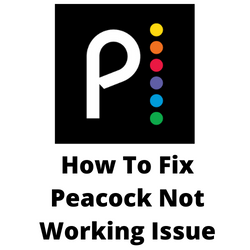 One of the issues that you might experience when using the Peacock TV app is when it doesn't appear to work. You might have the app installed in your streaming device while watching on your Samsung TV and you can't seem to access the service. This can be a frustrating experience especially if you want to watch your favorite show.
Here's what you need to do to fix the Peacock not working issue.
Solution 1: Check the internet connection
The first thing that you need to do is to make sure that the streaming device with the Peacock TV app installed does not have a slow internet connection. The Peacock app will need a fast internet connection to work properly.
You need to make sure that the Peacock app has access to a good internet connection by performing a speed test on the streaming device ( Android devices or Smart TV) it is installed to.
Checking your internet speed
Open a browser on your Smart TV or device the Peacock TV app is installed to.
Go to speedtest.net. This is an online speed test tool that is free to use.
Click on Go. This will start the speed test.
In order to prevent any Peacock TV app issues you should have a good download and upload speed result. The results should match your subscription plan from your internet service provider.
In order to watch Peacock shows a minimum speed of 3.0 Mbps is required.
If you have a slow internet connection then you can check if the network problem is caused by your equipment.
Turn off your streaming device.
Unplug your Modem and Router from the power source.
Wait for a minute then plug your modem and router back into the power source.
Wait until the lights turn back on.
Turn on the streaming device.
Reconnect your Fire TV Stick to the internet.
Here's what you can do to get a stable internet connection.
Try to disconnect other devices connected to the Wi-Fi router while you use the Peacock TV app. This will allow Peacock TV to use the maximum internet bandwidth.
Move the device closer to the router . This will allow the device to get a much stronger Wi-Fi signal.
If you have a dual band router try to connect to the 5Ghz band instead of the 2.4.
Solution 2: Check for Peacock service outage
Sometimes the problem can be caused by a service interruption due to a server outage. You will usually get an error message on your Smart TVs or the Peacock app might just be stuck in the home screen.
You an check the status of the Peacock TV server by using the DownDetector website. If an outage is reported then you will have to wait for this to be resolved.
Solution 3: Clear app cache
The Peacock app will usually store cached data to help improve its performance since this speeds up the opening of content users always access. Sometimes the app's cache can get corrupted which leads to various issues.
To fix this corrupted cache issue you will need to clear cache of the app.
Clear cache of Peacock app
Open the Settings ap
Tap Apps.
If necessary, tap See all apps.
Tap Peacock.
Tap Storage & cache.
Tap Clear cache.
Restart Peacock app then check if the issue is resolved.
Solution 4: Update the Peacock TV app
You will usually experience a Peacock problem if you are not using the latest version of the app. The latest app version will usually have several performance enhancements as well as bug fixes that can fix problems found in the old Peacock app version.
Updating the Peacock app
Open the Google Play Store
Tap on your Profile Icon.
Go to the Updates Available and locate Peacock TV in the list.
Check if there's any available update for Peacock TV. If there's any then download and install it.
After the Peacock app has been updated try checking if it now works.
Solution 5: Uninstall then reinstall the Peacock TV app
There's a possibility that the problem is already caused by a corrupted app installation. In order to fix this you need to uninstall the Peacock TV app then reinstall it in your device.
Uninstall Peacock TV
Close all Running Applications.
Go to Settings.
Locate and tap on the Apps
Select Peacock TV
Click on the option which says Uninstall
Install Peacock TV
Open the Google Play Store.
Type Peacock on the search box at the top
Click on Peacock TV.
Click Install.
Wait for the installation to finish.
With the newly installed app try to check if you can stream Peacock shows without any problems.
Solution 6: Restart the device
Even if your Peacock TV app does not have any issues but the device it is installed to has some problems then there's a possibility that you will not be able to use this service. Try to restart the device then check if the issue still occurs.
Solution 7: Log out of other devices
A single Peacock account can only be used on 6 different devices at the same time. Using all six devices at the same time however can slow down the app which is why you should try to log out of all devices and only use connect one or two devices at most.
logging out other devices
Go to your Peacock TV Account Page.
Select Devices.
Select Other Devices.
Remove the devices you wish to remove.
Try to check if you are still having issues with your Peacock TV app.
Frequently Asked Questions
Why does Peacock TV keep stopping?

If the shoes you watch on Peacock TV randomly stops constantly then this can be caused by a slow internet connection. You need to check your internet speed and if it is slow then you should troubleshoot the connection.

Why is Peacock not available in my region?

The Peacock service is still expanding and is currently only available in the United States, United Kingdom, Ireland, Austria, Germany, and Italy.

Why is Peacock not working on my Firestick?

This could be a problem with the app or the Firestick device. Try restarting the Firestick and make sure that it has a good internet connection. You should also try to reinstall the app on the Firestick and check if this fixes the problem.

Why is my Peacock TV app not working?

The app could be frozen. You can try to force stop the app then open it again. If this does not work then try to reinstall it.

Why can't I access all Peacock TV shows?

You need to subscribe to a premium plan in order to access all shows and get rid of the ads.