Hello Android community! Here's another article that covers some issues on the #GalaxyS6. For those who has submitted requests for help during the last few days but can't see them published here, keep watching for more articles in the next few days.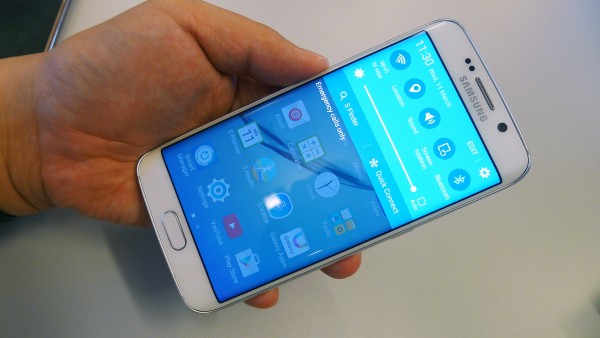 These are issues we tackle in this material today:
If you are looking for solutions to your own #Android issue, you can contact us by using the link provided at the bottom of this page, or you can install our free app from Google Play Store.
When describing your issue, please be as detailed as possible so we can easily pinpoint a relevant solution. If you can, kindly include the exact error messages you are getting to give us an idea where to start. If you have already tried some troubleshooting steps before emailing us, make sure to mention them so we can skip them in our answers.
---
Problem #1: Galaxy S6 keeps rebooting randomly after it fell | Galaxy S6 dropped and now won't turn on normally
So recently, after a ~2ft drop, my phone (Galaxy S6) started acting up. It would randomly and unexpectedly shut off, without going through a normal shutdown process; the screen would just go black. And once it shuts off like this, it is impossible to turn back on without coaxing. I found that plugging it in makes it register a charge, and when it registers a charge I can hold the power button normally and probably 10% of the time it'll boot, otherwise it would go into a bootloader loop until I unplug the device, for which it goes unresponsive again. I have tried clearing the cache, factory resetting, and booting from the recovery screen (half the time it would cut to black as soon as the blue "system update" screen comes on before the recovery page). Any help aside from "well shit get a new phone" would be greatly, greatly appreciated-as I am but a poor college student who can't afford a new phone. — Joseph
Solution: Hi Joseph. The software solutions did not help so the "shit" is the only resolution here. That factory reset did not change anything is an indicator that you're dealing with a hardware problem. The drop may have jarred the logic board that resulted to a few solder joints to become loose. You can't obviously fix a hardware malfunction by doing a software solution. There's no software "magic" that can be done other than the ones you already tried. We don't know (and no one can know unless a full hardware check is done) what the affected component is but it can be anything.  If you want to have a good working phone, find a way to have it repaired or replaced.
Problem #2: Galaxy S6 no longer charging
Hello. I am having an issue with my phone not charging. I have reset the phone twice and purchased a new Samsung charger and adapter. To give a little back story, two days ago, my phone started doing bizarre things, like opening into an app that I had manually closed, repeatedly toggling back and forth between apps when I had closed the app, the microphone didn't work when I tried to talk on the phone. Then I got a warning sign saying something about the OS but I can't remember what it said now. After reading your site I ended up doing a factory reset and the phone somewhat returned to normal.
Now, my phone won't charge. Every time I plug it into the charger it will toggle repeatedly and quickly to charging then not charging. I took it to a repair place yesterday and they recommended a new original charging cord and adapter. That said, the lack of charging got worse.
I have reset the phone twice to no avail. Do you have other suggestions? I do not have insurance on the phone, because I have used up my quota for the 12 month period. Not only that, I would rather look for a repair than getting a refurbished phone (such as the gem I am using now).
Also, I have no idea what Android version I'm using and don't really have enough phone charge to look it up. Thanks for any help. — Ellen
Solution: Hi Ellen. If using a new charger and charging cord and factory reset did not make any difference, then you should have the charging port of the phone checked. A bad charging port is usually the most common cause for most charging problems. If the phone no longer has Samsung warranty, bring the phone to a good repair shop so proper diagnostics can be done. And as what we tell Joseph above, no, there's nothing more that you can do on your end for this one (unless you want to attempt a charging port replacement yourself).
Also, if your phone was water damaged or was dropped prior to noticing the problem, other hardware issue may be present together with a bad charging port. In this case, you may end up having the phone replaced instead of it being repaired. Sometimes, multiple hardware failure can occur after exposing an electronic device to water, or after a nasty drop. The damage can more extensive as well at times so repair may not be practical as a solution. Make sure that a thorough hardware check is done in this case so the issues are identified.
Problem #3: Sprint Galaxy S6 randomly rebooting after installing Android update
Good morning. I just read your article and have found myself still frustrated with the update. I will be calling Sprint tomorrow morning with my complaints. I was hoping you may help me before then. I have followed most of the steps you listed minus the factory reset. The reason being is i have text messages from my mother that passed away I do not want to lose. I also recently had a son in July and every picture i took along with some of those closed to me that passed away were also not backed up and saved. Sprint pretty much could not help me because the phone restarts every 30 seconds or so. They refused to service my Galaxy S6 because of some policy crap due to the back of my phone having a small crack. I am concerned with losing the memories on that phone and i fear i may be running out of options.
I took my phone to an authorized technician so that i may replace the back cover in hopes Sprint will then try and help but given their attitude and how they acted towards the situation it seems they could care less. The pretty much say i should just "get and upgrade and do a factory reset on the galaxy S6, that there is no guaranteed they can help. One thing i know about technology is that for every problem there should be a solution. Sprint sent me an update that ruined my phone. Is there any way i can save these memories without a factory reset? Thank you. — Osvaldo
Solution: Hi Osvaldo. Sorry to disappoint you but if your phone keeps on rebooting every 30 seconds, you won't have enough time to back your files up. Try booting in safe mode to see if that will stabilize the system. Keep in mind that this procedure is intended to check if a third party app is causing the issue. If the problem is due to poor coding of the firmware instead, booting in safe mode will be useless. It's still worth trying though. Here's how to do it:
Press and hold the Volume Down and Power keys for 20 to 30 seconds.
Once you see the Samsung logo, release the Power key immediately but continue pressing the Volume Down key.
Your phone should continue booting up and you will be prompted to unlock your phone as usual.
You will know if the phone successfully booted in safe mode if the text "Safe mode" is displayed at the lower-left corner of the screen.
Problem #4: Galaxy S6 is not responding and won't turn on
Hi there. Thank you for creating such a forum where we can address our phone issues directly to you. I have my Samsung S6 Edge now for more than a year, never dropped it on the floor or in any liquid. Last week it started switching off and on by itself. Meaning, it started restarting or rebooting on its own. Today after I woke up, it was charged to full and I switched it on. It switched on and after an hour I found it switched off and very warm. I tried to switch it back on and it hasn't responded. Tried rebooting it as instructed on your Androids shooting issues on this site and it's not responding. That is holding volume up/home button & power key. Even though it's not turning on, it is still hot for the past hour and half. It showed full battery when I woke up having charged it overnight. Thank you. I hope to hear from you soon. Kind regards. — Julius
Solution: Hi Julius. We're pretty sure we make it a point in whatever article in our blog you read that if your phone remains unresponsive after trying all hardware button combinations, you must have find a way to have it repaired or replaced. There's only so much that you can do in fixing an issue like this on an S6 Edge. The problem may be on the battery or in the phone itself. Whatever it is, a full hardware check is needed to identify it. Contact Samsung and see if they can do that, or better still, simply replace the unit.
Problem #5: Galaxy S6 Edge+ not charging properly
My Samsung Galaxy S6 Edge+ shows that my phone is fast charging and have 1 hour 18 minutes to go to complete charging but when i come back in about 2 hours or so, my phone battery will be hanging at 1% or even totally die. i have used different phone chargers both the original phone charger and others, fast chargers and normal chargers. i have done a factory reset, i have done everything but this still continues. Sometimes it starts charging itself but more often than not, when i plug it in, i lose the remainder of battery life and it won't charge to fill up. Please what can i do because i charge my phone and when i need it i find out that it is totally useless. i have had this phone for more than 1 year now . Recommendations please? — Chika
Solution: Hi Chika. An issue like this can be caused have a hardware or software cause. To isolate if you have a software problem, do must do a few things.
First, you want wipe the cache partition. For minor firmware-related issues brought by apps and firmware updates, wiping the cache partition often does the trick. It's because this procedure will literally delete all cached files in the cache partition, which will force the system to create new ones during the next boot up.
This procedure is also very helpful in fixing issues like random reboots, boot loop, stuck during boot up, random freezes, and some charging issues after updates. Here's how you wipe the cache partition on your S6 Edge+:
Turn off the device.
Press and hold the following three buttons at the same time: Volume Up key, Home key, and Power key.
When the phone vibrates, release the Power key but continue to press and hold the Volume Up key and the Home key.
When the Android System Recovery screen appears, release the Volume Up and Home keys.
Press the Volume Down key to highlight 'wipe cache partition.'
Press the Power key to select.
When the wipe cache partition is complete, 'Reboot system now' is highlighted.
Press the Power key to restart the device.
Wiping the cache partition is meant to force the phone rebuild the system cache. If that won't change anything, the next step is booting your phone in safe mode while charging. Because third party apps will be prevented from running, this will help you check if one of your installed apps is to blame. Remember, safe mode only covers third party applications so apps from your carrier, Samsung, and Google that were there when you first unboxed your phone will continue to run (and mind you, even official apps can sometimes cause problems). Please refer to the steps above on how to boot your phone in safe mode.
If safe mode won't work either, you must do another round of factory reset and observe the phone for at least 24 hours. Make sure that you don't install or download anything during this period to ensure that the software is clean. You then have charge the phone so you'll see a difference. If battery power continues to drain abnormally, there must be a hardware issue that can't be addressed by doing software solutions. Call Samsung for repair or replacement. For reference, these are the steps on how to do a master reset:
Turn off your Samsung Galaxy S6 Edge.
Press and hold the Volume Up, Home and Power keys together.
When the device powers on and displays 'Power on logo', release all keys and the Android icon will appear on the screen.
Wait until the Android Recovery Screen appears after about 30 seconds.
Using the Volume Down key, highlight the option, 'wipe data/factory reset' and press the Power key to select it.
Press the Volume Down button again until the option 'Yes — delete all user data' is highlighted and then press the Power key to select it.
After the reset is complete, highlight 'Reboot system now' and hit the Power key to restart the phone.
Problem #6: Galaxy S6 showing multiple issues after installing Marshmallow update
Hi there. After the Marshmallow update that was rolled out to my phone on August 25, 2016, I have been having another series of issues. I have already performed the cache partition clean and I have factory reset the phone. Samsung says it is a provider issue and my provider blames Samsung. Basically, I can't get a straight answer from anyone. For the 7-10 days after the update, while I was on vacation and just after my return, I had issues with data coverage (I have LTE in my city) and I had charging issues – the phone wouldn't recognize the charger was plugged in, or would say there was a 'docking station' attached when nothing was attached to the phone at all. After a few simulated battery pulls, this appeared to resolve (though it was intermittent to begin with). Around labour day, it was discovered that people were messaging me and I wasn't responding. Turns out – my phone isn't getting these messages. Again – it is intermittent – but frequent. Sometimes, a message will come in and responses from my return message won't. These users are on other brands and version of devices and with other providers. When the 4th person mentioned this to me, I immediately did a factory reset as well. This has not solved the problem. I am unable to find my situation anywhere on the internet and was hoping that you could provide me with any assistance. I am exhausted with talking to my provider and Samsung as neither of them want to acknowledge that there is an issue. THANKS! — Dawn
Solution: Hi Dawn. Doing a factory reset becomes totally useless in this case if the main cause of the issue is an app. Make sure that you do another round of factory reset, observe the phone for a few days, and do not install any apps. This will give you enough time to compare phone behavior when apps are installed. The main point of this procedure is not only to check if an incompatible app is responsible, but also to see if the current firmware from your carrier is poorly coded. If the problems you mention above continues even without apps after a factory reset, contact your carrier and let them know about it. On the other hand, if the issues are absent, then one of your apps is to blame. Make sure you only install compatible apps and updated apps.
---
Engage with us
If you are one of the users who encounters a problem with your device, let us know. We offer solutions for Android-related problems for free so if you have an issue with your Android device, simply fill in the short questionnaire in this link and we will try to publish our answers in the next posts. We cannot guarantee a quick response so if your issue is time sensitive, please find another way to resolve your problem. 
If you find this post helpful, please help us by spreading the word to your friends. TheDroidGuy has social network presence as well so you may want to interact with our community in our Facebook and Google+ pages.