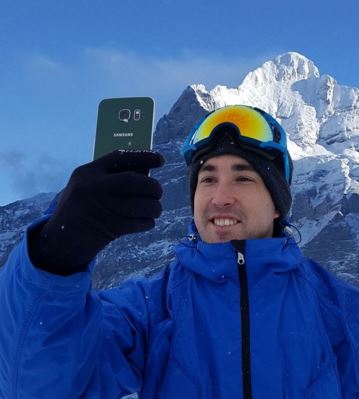 For those who emailed us about their #GalaxyS6 problems, kindly check this post as this may include your shared issue. More posts of similar nature will be published in the coming days to address other Galaxy S6 series issue so keep watching. If you want to check previously published issues, don't forget to visit this page.
If you are looking for solutions to your own #Android issue, you can contact us by using the link provided at the bottom of this page, or you can install our free app from Google Play Store.
---
Problem #1: Galaxy S6 Power Sharing app warning keeps popping up
Recently i have been getting these pop ups with a power sharing cable connected warning on them. It says i have connected a power sharing cable when there is clearly no cable in the phone and it has been draining that battery like crazy. It won't charge and i have already tried putting it into safe mode and following the instructions on your page multiple times.
Even in safe mode it shows the pop up and continues to drain battery i went to the app store and all Samsung Galaxy S6 come with the power sharing app installed with no uninstall button. I have also done a factory reset of the device twice without fail both times have not fixed my problem. Any help would be nice thanks. — Cam
Solution: Hi Cam. If booting in safe mode and factory reset led you nowhere, try to disable the Power Sharing app itself. Here's how:
Go to Settings.
Proceed to Applications.
Select Manage Applications.
Tap the All tab.
Look for Power Sharing app and tap it.
From App info page, look for Disable/Uninstall update button.
Problem #2: Galaxy S6 has several problems after cold weather exposure
Recently had my phone exposed to cold weather for about 2 hours. When i arrived inside and started using my phone i immediately started getting "power sharing" notifications claiming that a cable was just plugged in. I would get this notification several times a minute and i never once had this happen prior to the cold weather. 
Also, starting at the same time, i experienced heavy lag in typing, browsing, streaming and everything else.
It has trouble charging, but does eventually recognize a cable but no longer does fast charging. I'm still using the same stock charger i got with the device. It used to fast charge no problem.
All this happened simultaneously with no prior issue in about 3 months I've owned the phone. — Oliver
Solution: Hi Oliver. Just like heat exposure, leaving any electronic device in cold weather can result to all sorts of problems. The battery can be hit especially hard if left in cold environment for extended periods and so are other components. The microUSB port on your phone may have  collected enough amount of moisture that may have shorted out another connector.
While cold temperature exposure cannot cause a software problem directly, the resulting hardware malfunction can mess up with the operating system if they create a series of errors. For example, if the microUSB port is no longer working properly due to short circuit somewhere, the operating system may actually be affected because it will keep on receiving hardware errors that it may not be able to handle. The errors may occur over and over again, overwhelming the operating system and creating a bottleneck somewhere. This repeated processing of errors all happen in the background and can be resource-hungry task for the processor. This in turn can cause battery drain as well as slow performance issues. We think this is what's happening to your phone right now.
Try having the phone checked by Samsung so they can decide whether or not to repair the phone, or simply replace it for you.
Problem #3: Unable to unlock a Telus Galaxy S6 Edge
Hi there. Hi. I'm from Mauritius. I got a Samsung Galaxy S6 Edge locked to Telus (Canada). The IMEI : 358758060172153. The thing is that Telus themselves already gave the unlocking code that is "28684249".
I insert this but it's not working at all. I contacted several unlocking firms to get them paid to get it done but them said that it will be the same unlocking code "28684249" that they will provide.
Everytime I try, it said "Not Registered on Network"… what is it?
When I'm following the steps given, i still can't access these options, please help.
I still can't access these options when pressing *#197328640#
[1] UMTS > > [8] Phone Control > [6] NETWORK LOCK
when pressing *#197328640#, i got these..
I get these 7 options:
[1]Basic Info,
[2]AS Information,
[3] Nas info…
I did that as well, "Key Input Q- then Key Input 0000"  still don't work to get the 8 options.
Please help… — Fawaz
Solution: Hi Fawaz. Depending on whether the phone uses CDMA or GSM, unlocking your phone may require a specialized software and set of instructions that we can't provide. The first thing that you must do is to contact Telus for direct support with what software to use, or how to access options you are unable to go to right now. If your phone uses CDMA network while in Telus, you must need to connect the phone to a computer via a cable so that you can tweak some network information.
For GSM unlocking, the process is simpler. You only have to obtain an unlock code from either Telus or a third party company and enter the said code once the phone asks for it.
Now, the unlocking process is only limited to allowing your phone to connect to a certain network. You also have to make sure that your phone's hardware is compatible with the wireless carrier you use in Mauritius. For more information about compatibility, make sure that you contact your local wireless carrier.
Problem #4: Galaxy S6 keyboard issue
I used to use Swift Keyboard and now I use Google Keyboard but they both have the same issue of becoming unresponsive. The keyboard will remain stuck on the screen (will not disappear/minimize) when you press the "back" key. The only way I could remove it was by restarting the phone.
The phone's functionality was not interrupted i.e. I can still open Apps or press the menu screen button, use the "Back" key to exit from an App, turn the phone screen off/on but the keyboard will not disappear.
Have you heard of this problem with the keyboard function before? It does not happen all the time and I do not type fast so this is not the cause. — James
Solution: Hi James. This issue may be isolated to the said apps or not. Try to delete the Swift Keyboard or Google Keyboard apps cache and data. Here's how:
Go to Settings.
Proceed to Applications.
Select Manage Applications.
Tap the All tab.
Look for the app involved and tap it.
From App info page, tap the Clear Cache and Clear Data buttons.
If wiping the apps' cache and data won't help, make sure that you delete the system cache by doing the steps below:
Turn off the device.
Press and hold the following three buttons at the same time: Volume Up key, Home key, and Power key.
When the phone vibrates, release the Power key but continue to press and hold the Volume Up key and the Home key.
When the Android System Recovery screen appears, release the Volume Up and Home keys.
Press the Volume Down key to highlight 'wipe cache partition.'
Press the Power key to select.
When the wipe cache partition is complete, 'Reboot system now' is highlighted.
Press the Power key to restart the device.
Problem #5: Galaxy S6 Edge overheating and won't boot up properly
When trying to charge my Samsung Galaxy S6 Edge, an icon appears that shows the power is 0% and a cord and charger needs to be plugged into the wall. However, it still appears when trying to charge it. When pressing the power button back on to restart it, won't power up at all.  Could it be the cord or the charger or the cell phone itself that may be affected?
I bought it 6 months ago. Can it now be defective? Brought it to a cell phone repair shop and they put in a new battery, and it still wouldn't make a difference. It also said on the screen that the phone is over-heated. Do you think it now needs replacement? Please advise. Thank you for your help on this matter. Sincerely. — Larry
Solution: Hi Larry. If you've tried using another battery (which may have voided the replacement warranty already) on your S6 Edge without any positive result, the  problem is most likely phone-related. That means that some other motherboard components may have been damaged or encountering errors at this time. If you still the option to have the phone replaced, now is a good time to do request for it.
Problem #6: Galaxy S6 keeps getting a pop-up that blackens the screen
All of these started 2 days ago and have gotten increasingly worse.
At any time during use my screen will go black (looks like ad or popup) that has a small x on the bottom right that switched to the bottom left side). It cannot be clicked off, I have to lock & then unlock my screen.
During calls, screen will go black and the call will suddenly switch to speakerphone.
The phone will not charge on a cable only on my touch pad, but that is even intermittent.
The phone when on lock screen will turn on and stay on.
I uninstalled Samsung Gear VR
It's just buggy and do not know what to do. Any help is very much appreciated. — Russell
Solution: Hi Russell. Try wiping the phone clean via factory reset. This will fix possible firmware glitch, or malicious software that may had been introduced to your phone via third party apps or by clicking on infected links on your browser. For easy reference, here are the steps on how to perform a factory reset on your Galaxy S6:
Turn off your Samsung Galaxy S6 Edge.
Press and hold the Volume Up, Home and Power keys together.
When the device powers on and displays 'Power on logo', release all keys and the Android icon will appear on the screen.
Wait until the Android Recovery Screen appears after about 30 seconds.
Using the Volume Down key, highlight the option, 'wipe data/factory reset' and press the Power key to select it.
Press the Volume Down button again until the option 'Yes — delete all user data' is highlighted and then press the Power key to select it.
After the reset is complete, highlight 'Reboot system now' and hit the Power key to restart the phone.
Problem #7: Galaxy S6 random reboot and call-related issue
When I call my fiance ONLY, I hear a touch tone beep in my Bluetooth. It only happens when I talk to him. He doesn't hear the noise. I switched headsets. 
It sounds like the old corded phones.  When you push a number,  you hear that beep. That is the noise.  It is very loud and happens at least once a day. I don't know what to do.  Hopefully you can find anything that can be useful. Thanks for your time in advance.
Another issue. The phone likes to restart on its own. That has happened to both my fiance and I several times.
Thanks. — Nadia
Solution: Hi Nadia. If the touch tone beep only occurs when calling your fiance's number, the problem may be on his end. Try using another number or another phone and call your fiance's number to confirm this.
For the random restart issue on both of your phones, the first thing you must do is to isolate possible causes. Randomly restarting phone can be an indicator of either a software or hardware problem. To see if it's a software issue, consider booting the phone in safe mode for several hours or a full day to determine if a third party application is the culprit. You can also try uninstalling third party applications until the issue is gone. Keep in mind that there is no surgical way to pinpoint the exact cause. You can try all the solutions provided in this post to see if the cause of the random restart is software in nature.
If nothing changes after you do all the stuff mentioned here, try using another battery. Sometimes, a bad battery manifests itself in random reboots.
If all else fails, have the phone checked by your local repair shop, or by Samsung for possible hardware errors.
---
Engage with us
If you are one of the users who encounters a problem with your device, let us know. We offer solutions for Android-related problems for free so if you have an issue with your Android device, simply fill in the short questionnaire in this link and we will try to publish our answers in the next posts. We cannot guarantee a quick response so if your issue is time sensitive, please find another way to resolve your problem. 
When describing your issue, please be as detailed as possible so we can easily pinpoint a relevant solution. If you can, kindly include the exact error messages you are getting to give us an idea where to start. If you have already tried some troubleshooting steps before emailing us, make sure to mention them so we can skip them in our answers.
If you find this post helpful, please help us by spreading the word to your friends. TheDroidGuy has social network presence as well so you may want to interact with our community in our Facebook and Google+ pages.