Hello everyone! Welcome to another #GalaxyNote4 post and we hope you'll find it useful. We expect that you'll watch out for more of our Note 4 posts in the near future.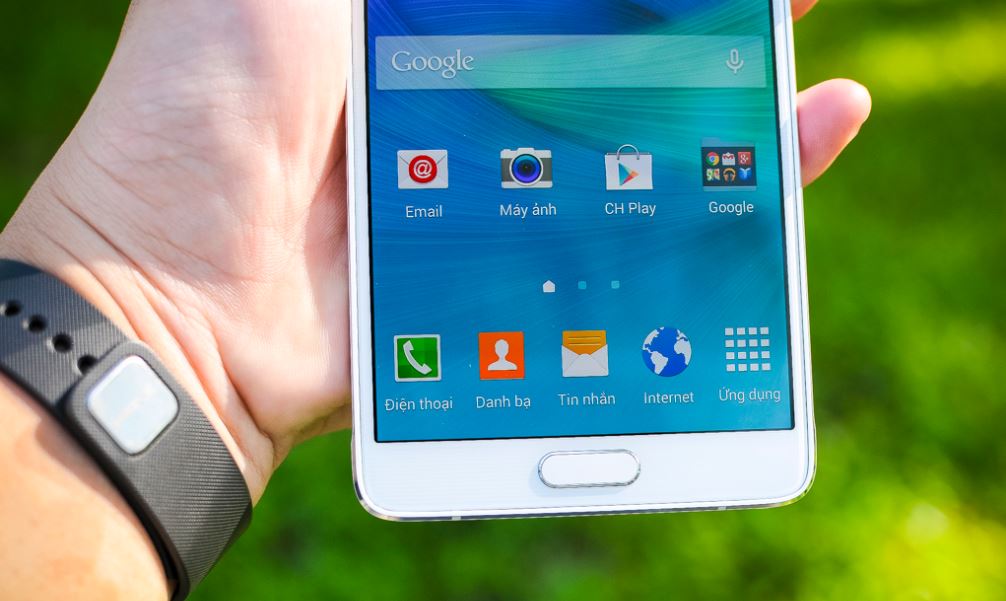 If you are looking for solutions to your own #Android issue, you can contact us by using the link provided at the bottom of this page.
When describing your issue, please be as detailed as possible so we can easily pinpoint a relevant solution. If you can, kindly include the exact error messages you are getting to give us an idea where to start. If you have already tried some troubleshooting steps before emailing us, make sure to mention them so we can skip them in our answers.
Below are specific topics we're bringing for you today:
Problem 1: Galaxy Note 4 won't charge, won't turn on
My Note 4 froze up last night (which isn't uncommon, if it tries to update it crashes or if it die I have to soft reboot at least once a week if not more). With only the red charging light on, wouldn't respond to anything.
So, I removed the battery and tried restarting it. Normally on a really bad day I will have to just leave the battery out a few hours and try the soft reboot again till it gets out of its reboot loop, then it will work good. But today, I have been trying for nearly 10 hours to get this thing to show me any sign of life and it will do nothing. No LED, no vibration, no safe mode, no recovery mode, nothing. I have a new battery with a good charge on it.
I've tried removing my SD card and starting it up after a soft reboot and I still get nothing. This isn't the first time that it's not made and life signs for a while, but not for this long after trying everything I know to get it started. I'm not 100% on what version it is, I'd look but the damn thing won't turn on. — Madison.thomas
Solution: Hi Madison.thomas. The main goal for you right now is to see if your phone can turn on, whether normally or to other modes. Unless it does, there's nothing much that you can do.
Try using another charger and USB cable first and see if that will work. If it won't turn back on with a different known working charger, you then want to connect it a computer and see if it will charge or show signs of life (LED light, vibration, etc). If that won't work either, get another battery and use it. If nothing changes, send the phone in so the hardware can be checked. A good technician should be able to tell you if the phone can still be saved or not. Keep in mind that there are many possible points of failure that can lead to what you're experiencing right now. A thorough hardware check is necessary to know where the problem lies.
If you haven't tried it, you can also see if your phone will boot to an alternate mode. If you can, you may be able to do follow up troubleshooting. Here are the steps on how to boot your Note 4 to any of these modes:
Boot in Recovery mode:
Charge the phone for at least 30 minutes.
Press and then hold the Home and Volume UP keys, then press and hold the Power key.
When the Samsung Galaxy logo shows on the screen, release the Power key but continue holding the Home and Volume Up keys.
When the Android logo shows, you may release both keys and leave the phone be for about 30 to 60 seconds.
Using the Volume Down key, navigate through the options and highlight 'wipe cache partition.'
You can either wipe the cache partition or do a factory reset when in this mode.
Boot in Download Mode:
Charge the phone for at least 30 minutes.
Press and then hold the Home and Volume DOWN keys, then press and hold the Power key.
When the Samsung Galaxy logo shows on the screen, release the Power key but continue holding the Home and Volume DOWN keys.
Wait until the Download screen appears.
If you can boot the phone in download mode but not in other modes, that means that your only way out may be to flash a stock or custom firmware.
Use Google to look for a guide on how to do it.
Boot in safe mode:
Charge the phone for at least 30 minutes.
Press and hold the Power button.
Once the Samsung Galaxy logo appears, release the Power key and immediately press and hold the Volume Down button.
Continue holding the button until the phone finishes rebooting.
Once you see the text "Safe mode" at the bottom left corner of the screen, release the Volume Down button.
The only difference of safe mode from normal mode is that the former prevents third party apps from running. If you can boot the phone in safe mode but not in normal mode, uninstall all apps until the issue (that prevents you from booting normally) is eliminated.
Problem 2: Galaxy Note 4 lags, randomly reboots after an update
So, here's the basics: AT&T Note 4, Official. Never had issues, never needed to root… Build MMB29M.N910AUCS2EQF1 June 1, 2017 Security Patch Update 6.0.1 All updates have always come OTA. Samsung 128GB SD. Here's the issue: When the MAY security update come out, I updated like I always do. Since then, my phone started locking up, randomly rebooting, all around pissing me off 🙁 I read about having Samsung Experience in Best Buy reapply the update, but our Best Buy no longer has Samsung. So I went to AT&T to see if they had capacity to do it, nope; just a moron sales-boy who was clueless, just wanted me to pay $225 for my deductible and get an S8 (maybe if they offered the + I might have).
Went to a third party mobile repair and they quoted $35 up front but didn't guarantee they'd be able to "find the update cause they're in China" (true story). I've uninstalled apps and reinstalled systematically trying to find a culprit (to no avail). Tried using Kies and Smart Switch and they both error when I enter the model and serial. I did a factory reset from recovery and wiped caches, but the problem persisted. So I installed Wake Lock (darken) and that seemed to tide it and 'cure' the problem. June security update come out and I installed it. I had to remove and re-seat batteries, restart, pray to my fictitious gods and finally it got to the green App Optimizing and finished. I removed the wake lock but the problems persisted; so I reinstalled it and that's currently where I am… I have close to 20 years with computers, but am total n00b with Android. I see there are the security updates available and downloaded the May and June. At this point, would applying back to the May update have the possibility of helping even though I've now installed the June? If so, how? I read you copy it to the root of an SD Card and apply update through the recovery screen, is this correct? Should I factory reset/wipe caches before re-applying the update? If I need to re-image the phone (another possible fix I read), what file do I need to use to go about doing that? At this point, I'd like to A) limp by til the Note 8 comes out and B) get this back up and running so my kids can inherit it for their games when I get the Note 8… Any help or direction would be greatly appreciated. — Scott
Solution: Hi Scott. "Older" devices like the Galaxy Note 4 encountering problems with Android Nougat is a real possibility. In fact, an issue like yours always happen. Newer Android operating systems are usually validated with equally newer devices only. Although users can install newer Android versions, their experience may not be ideal because their smartphone hardware may be pushing their performance envelop too much. This means that newer Android versions may not be coded efficiently because developers have only newer devices in mind when building it. In this case, the operating system and some or most installed apps may be hogging system resources too much, resulting to shortage of memory (RAM). This, in turn, can lead to freezing, crashing, and overall slow system performance. To fix an issue like this, (a) you must either remove problematic apps (if you can identify them), or (b) ensure that all apps are always kept in check. Installing the Darken's Wake Lock app may have done the second option by forcing apps to fall asleep most of the time. Unfortunately, this is just a workaround and not a permanent fix. If you want your device to work normally again, you must downgrade the operating system.
Installing Android operating system manually is called flashing. If you want to do it, you must do some research outside of our blog on how to do it as we don't provide flashing guides. We don't suggest updating via an SD card because some platforms don't support it. Try flashing via Odin instead.
You'll need to flash the Android version running on your phone before the May update. Unfortunately, we have no way of knowing the exact firmware version for your device. What you need to do is flash each AT&T firmware version (starting with most probably Android Lollipop 6.0) individually and observe how it works.
Problem 3: Galaxy Note 4 UNFORTUNATELY EMERGENCY MANAGER SERVICES HAS STOPPED error, screen remains grey
Hi. I was turning UltraPower saving mode on my phone and phone died with 32% of the battery. Now when I turned my phone on everything was ok but after a minute I had a message on the screen saying UNFORTUNATELY EMERGENCY MANAGER SERVICES HAS STOPPED and screen went grey. I tried soft reset from troubleshooting page but this didn't help at all. Now phone is very slow and screen is still grey. Help please. Thanks. — Kostas
Solution: Hi Kostas. Soft reset can only help so much. You must do more drastic solutions if you want to fix the issue for good.
The first move you want to do in this case is to clear Emergency Manager app's data. Here's how:
Open the Settings menu either through your notification shade (drop-down) or through the Settings app in your app drawer.
Navigate down to "Apps". This may be renamed to something like Applications or Application Manager in OEM skinned versions of Android 6 or 7.
Once in there, click on an application.
You'll now see a list of stuff that gives you information about the app, including Storage, Permissions, Memory Use, and more. These are all clickable items. You'll want to click on Storage.
You should now clearly see the Clear Cache and Clear Data buttons for the application.
If that won't help either, do a factory reset. This will delete all user data so make sure  to create a backup of your photos, videos, etc. To factory reset your Note 4, follow these steps:
Turn off the Galaxy Note 4 completely.
Press and hold the Volume Up and the Home keys together, then press and hold the Power key.
When the Note 4 vibrates, release both the Home and Power keys but continue holding the Volume Up key.
When the Android System Recovery shows on the screen, release the Vol Up key.
Using the Volume Down key, highlight 'wipe data / factory reset' and press the Power key to select it.
Now highlight 'Yes — delete all user data' using the Vol Down key and press the Power key to begin the reset.
When the master reset is complete, highlight 'Reboot system now' and hit the Power key.
The Note 4 will restart but it will be longer than usual. When it reaches the Home screen, then begin your setup.
Problem 4: Galaxy Note 4 won't stay on, stuck in boot loop
I have a Samsung Galaxy Note 4 and recently as about 3 months ago i had got a new battery. The old one didn't keep a charge after a while (the old one was the battery that came with the phone). Now my phone started to just turn off on its own, which i would have to just simply turn it back on but now it won't turn back on at all. it will go to the charging icon and then shows it needs to be charged (when clearly it has a full charge). It will keep looping until i try to turn it on again to which it does but will only stay on when plugged in with the fast charging. Anything else, it will stay in loop at the icon battery screen. — Albert
Solution: Hi Albert. We don't think it's a software issue at all so doing any software troubleshooting won't matter at all. If you've already tried to factory reset the phone without any positive result though, you can also try to flash the bootloader and see how it goes. Below are the general steps on how to flash a bootloader. The exact steps may vary depending on your phone model so be sure to follow a more accurate guide from other sources.
Look for the correct firmware for your phone model and download it. Make sure that you select the right one. It should be the same exact firmware that ran previously on your device. We assume that you list down the firmware version somewhere. If you did not take note of it before, there's a chance that you may pick the wrong one. As you may know now, using an incorrect firmware can cause complications so good luck with that.
Let's now say that you have identified the correct firmware. You then want to download it to your computer. The firmware file should have a bunch of files in it like AP_, BL_, CSC_, etc.
Look for the file that starts with a label BL; this should be the corresponding bootloader file for this firmware. Once you've identified the bootloader file, copy it to your computer's desktop or to any other folder that you can easily access.
Proceed with the rest of the flashing procedure using the Odin program.
In Odin, click on the BL tab and make sure to use the bootloader file you've identified earlier.
Now, make sure that the "Device Added" status and its "ID:COM box" has turned blue before hitting the START button. This will initiate the flashing of your phone's bootloader.
Restart the phone once the procedure is finished.
If your phone continues to boot loop or won't turn on at all, try a new battery. Otherwise, just send it in or have it replaced.
Problem 5: Galaxy Note 4 can't detect O2 network
Hi. I have recently bought a Samsung Galaxy Note 4, 4G SIM Free mobile on Amazon UK but am having problems with no signal coming through; I'll explain further.
(I live in the UK) I stopped my contract with EE and have gone over to pay monthly on O2. The change from EE to o2 was smooth and the Note 4 seemed to be working no problem. I had a signal on the device and was able to make and receive phone calls as well as text messages for a few weeks. The following could be coincidence but i will add it, i received my final bill from EE and also around the same time received a text message from O2 stating they were updating 3G and 4G in our area. It was at this time that the device stopped receiving any signal and now just shows a circle with a line through it. As I've said this could be a coincidence and not relevant.
I have put another O2 SIM card that works from another Note 4 i own into the device and it also stops working, so i think it may be the phone itself and not the SIM. To double check, i have actually got a second SIM from O2 shop which does the same thing and didn't resolve the issue. We took the device to an "O2 Guru" to have a look at. He went into the "Mobile Networks" and added a new "Access point Names" for O2, with all the relevant access point information but with no luck. It was at this point that i have noticed the "Network Mode" shows "LTE/WCDMA/GSM." My other Note 4 shows "4G/3G/2G" at this point??
I have also noticed that in the contacts list there is an entry "AT&T Service Contacts," which i believe is an American Network.
The device is currently running Lollipop 5.1.1 and it does not give the option to upgrade to Marshmallow. I'm wondering if this is the mobile trying to connect to AT&T and not being able to, so no upgrade? The device Model Number is "SM-N910F" which is the correct model number for Europe. AT&T, from what i have found online, is "SM-N910A" so i'm not to sure if/why there would be a conflict with AT&T.
In the phone status it shows "Mobile Network State" as Disconnected. Obviously i have tried the basics of a soft reset and factory reset but with no luck. I find it strange that it seemed to be working for a few weeks and now won't receive any signal at all. I've wondered if it simply needs to be updated to Marshmallow and that will solve the problem, but as of yet I've not looked into what i need to do to force an update and didn't want to try anything until i have asked someone who may be able to help further. When i first got the SIM card the store worker put their own SIM into the phone to make sure it was unlocked and there was no problem.
I hope this is enough information for you and makes some sort of sense. If there is anything else that is needed then please don't hesitate to send an email. I'm at a bit of a loss so any help will be appreciated. Thanks again. — Joe
Solution: Hi Joe. There's only so much an end-user like you can do about this problem. Checking the APN settings is good but not really relevant in fixing the problem since the phone's issue is failure to receive any network signal. We are assuming of course that the phone has not been blocked by your previous carrier and that it's been network unlocked since you were able to use it in O2 network for a few weeks. The most that you can do is perform a factory reset. There's no other software trick that you can do on your end.
If factory reset won't fix the problem, you must work with your current carrier to fix it. We understand O2 UK uses GSM technology so popping in an active SIM card from them should work in an unlocked phone. Because nothing is happening when you insert a SIM card, we can only assume that there's something that must be activated in the device so it detects the network. We also assume that your phone's radio is compatible with O2's operating frequencies. To be sure though, kindly ask them if the current phone model you have is compatible with their frequencies.
Sometimes, installing an update can fix network problems so consider manually flashing the device with updated Android version if O2 technical support team can't figure out a fix.
Problem 6: Cannot mirror Galaxy Note 4 to TV via HDMI adaptor
I am simply trying to show the content of my Note 4 on my TV by using a genuine Samsung HDMI to micro HDMI adapter but try as I will I cannot get anything — no sound, no picture, zippo. TV is Panasonic TX L 37S10B which is about 8 years old. It has 3 HDMI sockets and I've tried all of them. Chromecast works fine and I can even show the content of my Dell laptop on the TV. I have tried all the suggestions; soft reboot (taking battery out)and checked for updates. Samsung can't understand why and my local Panasonic service centre is also mystified. Are all HDMI sockets the same? Interestingly my Motorola Moto G won't work neither will my Huawei Media pad which might suggest it's a TV issue. But then again i've tried the Note 4 on my daughter's Sony TV which is only 3 years old and it still won't work.
Also I have tried it with and without the power charger connected. There seems to be no logical reason why it won't work but i'm leaning towards it being a phone issue. It's driving me nuts! Incidentaly the main reason I want to use it this way is to show RTE International player which is not on Chromecast. Hoping you can help before I tear out all my (remaining) hair! Thanks. — Barrie
Solution: Hi Barrie. An HDMI adapter is just like any other plug and play device. As long as compatibility is not an issue for ALL devices involved, it should work. That your setup does not work means that any of the following is true:
You may be trying to view a digital rights management-protected content, which cannot be displayed using the HDTV Adaptor.
Your TV is not capable of viewing videos or other media stored on your phone using the HDTV Adaptor.
The HDMI cable you're using may be defective or incompatible.
Your TV may not display an image when connecting the HDTV Adaptor to your phone.
Problem 7: Galaxy Note 4 won't sync emails automatically, Whatsapp keeps getting delayed notifications
My phone has been having the following problems since it updated to v6.0. which was about two months ago:
I have to manually sync my email.
My Whatsapp was receiving mails slowly.
Text files keep appearing in my files. Eg: crash-20170623.txt (I had deleted some over the two months since the update and they are still appearing, like every time I turn on my phone)
 I already did a factory reset on my phone but the problems kept reoccurring. I just did a soft reset but it did not work. — Rossevelt
Solution: Hi Rossevelt. If cache partition wipe and factory reset did not fix the problem, either of the following must be causing the problems:
there's a problematic apps installed
the firmware version you installed is poorly coded for your device
To check if it's an app issue, do another round of factory reset and check how your phone works without any apps at all. After a factory reset, configure your email account in the native email app and see if syncing works fine. Then install Whatsapp app only and see how it receives notifications. We don't understand what exactly you mean by your third concern but you if you're referring to cached or temporary files, they should be normal. Don't delete anything you're not sure of. It's one way of causing problems in a system. Such text file may be a critical piece of cache so just leave everything unless you know that it shouldn't be in the system.
If your issues remain during observation period, the reason must be buried deep within the operating system, which means that you can't do anything about it. You must either revert to the previous Android version (by flashing), or just live with it and hope that a new update will patch the bugs.
Problem 8: Galaxy Note 4 won't install system update
I have just purchased a new Galaxy Note 4 from an overseas vendor. Everything is working ok except it won't system update. It just says network or server error try again later. I have wifi enabled and is working ok as I have downloaded apps ok. I have tried a hard factory reset to no avail. I have tried updating via Samsung smart switch on my PC but still no joy. I have fitted my SIM from my old phone, but it still won't update. The current Andoid version is 5.1.1. I hope you can help. Regards. PS. I live in Australia. — Peter
Solution: Hi Peter. Is your Note 4 built for another carrier, or an international version? A huge majority of Samsung phones are ordered by carriers so even if they're of the same model, like a Note 4, they can still vary. For example, Telstra's Note 4 should run a Telstra software and not that of Vodafone. This means that if your phone, for instance, is a Telstra version but you are in a Vodafone network, you can't expect to receive an update at all. That's because Vodafone will only release an update to a Note 4 running their own software. Installing a non-Vodafone software to a Telstra phone is not only possible, but it can also damage it. If you can see any carrier logo when you restart the phone, you won't be able to update the device at all.
However, if you only see Samsung and the name Galaxy Note 4 when restarting, that means it may be an international version and you may be able to update it with Smart Switch app (apparently this is not the case).
If you really want to update, you can only do so by manually doing it via flashing. If you haven't heard of the word, we suggest that you do a lot of reading about it first to acquaint yourself. Flashing a device with an incorrect firmware version can be devastating, so is following an incorrect guide. Try to invest time and effort in researching about the topic to prepare yourself. It's not rocket science so you should be able to do it fairly easily.
---