One of the prevalent errors faced by many people when playing Final Fantasy XIV on a Windows PC is the one depicted with the code i2501. Read on to learn how to deal with Square Enix error code: i20501 while playing FFXIV in Windows 10.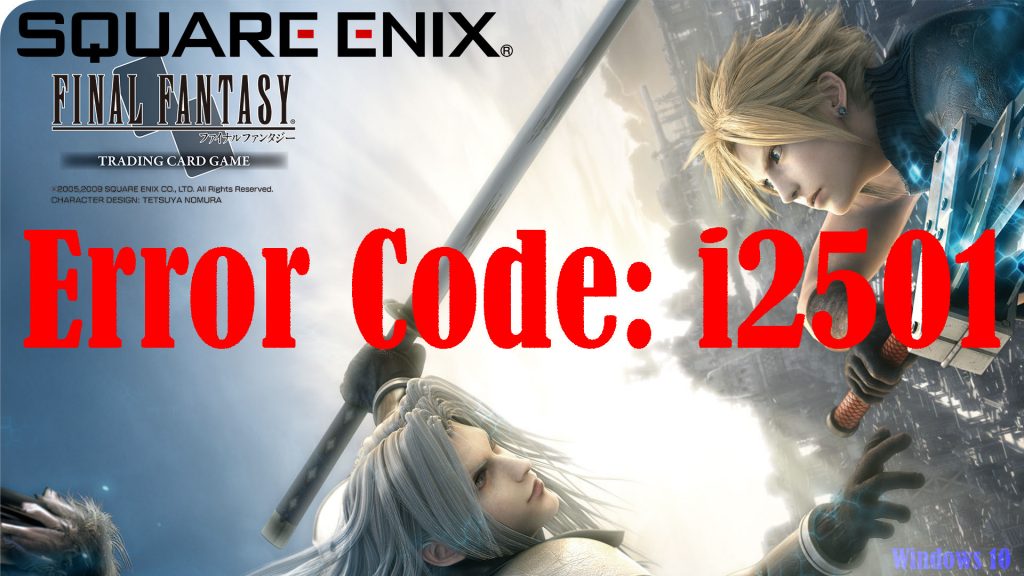 Square Enix is the firm behind the popular role-playing video game franchises such as Final Fantasy, Dragon Quest, Shadow of the Tomb Raider and Kingdom Hearts, among others. Of all its properties, the Final Fantasy franchise emerges among the best-selling with over a hundred ten million units total worldwide sales as of June 2014.
What causes Square Enix Error Code i2501?
Majority of those who have encountered this error code are Final Fantasy players from Asia and the Middle East. But this has likewise prompted other FFXIV players from the rest of the supported countries. Usually, you'll be prompted with an error message saying that:
"You cannot use this function. Please contact the SQUARE ENIX Support Center for additional details. Error Code: i2501"
Based on the nature of the error prompt, the problem has something to do with payment processing in the user's Square Enix account. In some cases, other players encountered the same error when attempting to launch or while playing the game on their computers.
There are many factors that can be linked to this error. But more likely, it's an indication of incorrect payment details entered by the player that's inflicting payment rejection by the financial institution of the card. It's also possible that the user is not physically present in the country where the card was issued. Among the possible culprits include network connection problems, browser issues as well as unsupported/flagged IP addresses. VPNs and Proxy servers in use are also among the possible causes.
Troubleshooting Square Enix Error Code i2501 on Windows 10
Performing the following procedures will help eliminate the common triggers including the ones mentioned above. It's going to be a trial and error approach unless you've already figured out the root cause.
First solution: Power cycle modem/router.
Just like other electronic devices, modems and routers also encounter random firmware glitches. When this happens, internet connectivity issues are triggered. If this is the first time you encounter the error, then it could be just due to some random internet problems. To rule out connectivity issues from the underlying causes, power cycle or reboot your modem/wireless router to refresh your internet connection. Here's how it's done:
Turn off the modem/router by pressing its power button.
While the device is completely powered off, unplug its adapter from the source.
Wait for about 30 seconds to 1 minute and then plug it back in.
Allow your device to re-establish network connection and once it's connected, check if the Square Enix error code disappears.
Performing this tweak is usually the first recommended solution by Internet service providers whenever internet problems arise.
Second solution: Go Incognito.
Some of those who faced this Square Enix error have managed to fix it by switching their browser to incognito mode. This will likely fix the problem if flagged or unsupported IP addresses are to blame.
If you're using Chrome as your browser, you can go incognito with these steps:
Open the Chrome browser app.
Navigate to the upper-right and then click the More icon (triple dots) then select New Incognito Windows from the menu options.
The succeeding window that opens is already in Incognito mode as it says You've gone Incognito. Now, retry processing the payment and see if the error occurs.
Third solution: Disable VPN and Proxy servers (if applicable).
If you're using a VPN or proxy server for your internet connection, try to turn it off and switch to a Wi-Fi network. Doing so will help rule out the possibility that the Square Enix anti-scan system is barring your request to access its payment server. The Square Enix anti-scam system might likewise have rejected your payment made through VPNs or Proxies as its own way to protect the payments.
To turn off VPNs in Windows 10, just follow these steps:
Open the Settings app.
On the Settings app menu, click Network & Internet on the left pane.
Click VPN on the right pane then select the VPN connection that you'd like to disable.
Once the VPN connection is selected, click Disconnect.
To disable Proxy networks, just go back to Settings-> Network & Internet menu. Once you get there, click Proxy. Navigate to the Automatic proxy setup then click the slider below Automatically detect settings to turn the feature OFF. Also turn off the switch under Use a proxy server.
After disabling VPN connection and Proxy server, retry processing the payment and see if it's already working as intended.
Other Suggestions
Clearing the browser's cache and cookies can also help fix the error if it's attributed to some errant cache or residual data stored in the browser.
You can also try disabling ad-blocker extension to remove any access restrictions to certain websites and including web-based online payment services.
If none of the above workarounds worked and you're still getting the same Square Enix error code i2501, then you may escalate the problem to the Support department of Square Enix. Just go to their official website and then click the button to Get Support.
Hope this helps!
Please visit our YouTube channel to view different troubleshooting and tutorial videos that might be helpful to you.
You Might Also Want To Read: