Text messaging is among the basic services any mobile phone can do. A smartphone as good as the #Samsung Galaxy J3 (#GalaxyJ3) should be able to transmit or receive text messages without a hitch but it seems like many owners encountered issues while sending SMS and MMS.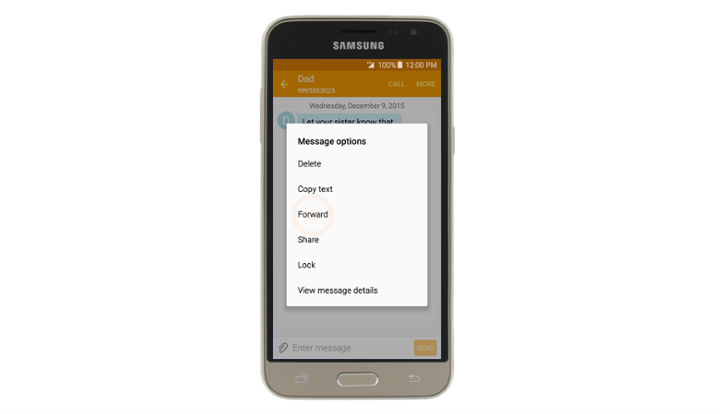 When the phone is properly provisioned, it can connect to your provider's network and gets both SMS and MMS services. The former is easier to send as it's smaller in size and only text data while the latter may be a combination of texts and pictures or any other special characters that are already considered as pictures. It requires the phone to be connected to your provider's mobile data network.
In this post, I will tackle issues reported by some Galaxy J3 owners wherein their units cannot send text messages, picture messages or anything similar. I will walk you through in troubleshooting your phone especially if the problem occurred without apparent reason or cause. Read on to understand more about these problems and learn how to troubleshoot your phone that's suffering from them.
Troubleshooting Galaxy J3 that can't send / receive SMS
Your phone must be connected to your service provider's cellular network to be able to send and receive SMS or text messages. This feature works like a charm on basic phones "dumb phones" so it's a bit alarming or embarrassing that a "smartphone" has issues sending simple texts. With that being said, here are the things you can do to troubleshoot your device.
Step 1: Try to reboot your phone especially if it's the first time the problem happened
For first time occurrence, you have to do the most basic troubleshooting procedure–system reboot. This will refresh the phone's memory and may load all the necessary services during boot up.
There is actually a chance that this problem is temporary and was caused by either a firmware or hardware glitch. That's why, it's imperative you try to fix the problem by rebooting your phone.
There are also times when this problem is accompanied by freezing, lagging or hanging. When the phone becomes unresponsive due to this problem, then you need to take the battery out and then press and hold the Power key for 1 minute before turning it back on. That should force reboot the phone and may fix the problem.
Step 2: Check the signal indicator to see if the phone is getting a decent reception
Signal reception is everything as far as text messaging is concerned. Without a decent signal reception, it is almost impossible to send and/or receive text messages. The best way to tell if the problem is caused by the absence of signal is by looking at the reception indicator at the top-right corner of the screen. You can immediately tell if you're in an area where there is poor reception or if there's a problem with your phone.
If the phone isn't receiving signal, reboot it and then try to see if the Flight Mode is enabled. After verify thing and the phone is still not getting any signal, try to boot your device into safe mode. I encountered some issues wherein some third-party apps can cause loss of signal. So, try to boot your device in safe mode:
Press and hold the Power button (located on the right) until Phone options is displayed then release.
Select and hold Power off until the Reboot to Safe Mode prompt appears then release.
Tap RESTART. Note: This restart process may take up to one minute to complete.
Upon restart, Safe mode appears in the lower left of the unlock/home screen.
Step 3: Perform Master Reset on your Galaxy J3
If your phone is still not getting decent signal after booting up in safe mode, then it's time you did the master reset. The process will bring the phone back to its default settings but it will also delete all your files and data so make sure you back them up before anything else.
Power off your Galaxy J3. Press and hold the Power key, tap Power off and then touch POWER OFF to confirm.
Press and hold the Volume Up button and then press and hold the Home key. While holding both, press and hold the Power key.
When the Android logo appears on the screen, release all three keys. It may take a minute before the Android recovery screen appears.
While on Android recovery screen, use the Volume Down key to highlight options, in this case, highlight the option 'wipe data/factory reset.'
Press the Power key to choose the highlighted option.
Press the Volume Down key until 'Yes — delete all user data' option is highlighted.
Press the Power key to confirm the reset.
Once the reset is complete, press the Power key to choose 'Reboot system now.'
The phone will restart a little longer than usual and the reset is finished.
After the reset and the phone is still not getting signals, then it must be an issue with the firmware or the hardware. You should visit the store and have it checked.
On the other hand, if there's signal available and you still can't send / receive text messages after the reset, you should contact your service provider as the phone may need to be re-provisioned or maybe there's an issue with the SIM card or your account. Remember, your provider can provider better help if the problem is with the network, your account or with the SIM card.
Troubleshooting Galaxy J3 that can't send / receive MMS
Transmitting MMS or text messages with attached pictures requires mobile data that's why when the phone fails to send or receive MMS, it's a bit more complicated than SMS issues. This feature came to life because of internet and users can now send larger amount of data. Many users rely on this service to send pictures so if you're currently bugged by this problem, go through the steps below to know how to troubleshoot your Galaxy J3 that cannot send/receive MMS.
Step 1: Verify mobile data is enabled on your phone
Mobile data is everything when it comes to MMS so it must be the first thing you have to check. Of course, you have to make sure that there's no bars in your account and that you have credits or data left to be used. You can do so by calling your service provider and verifying your account's status.
To enable mobile data on you J3, follow these steps:
From the home screen, swipe down the Status bar.
Tap the Settings icon.
Scroll to and tap Data usage.
To enable Mobile data, tap the Mobile data switch ON.
The mobile data is now enabled.
After enabling mobile data, compose a new text message and attach a picture so that it will be converted into MMS and then send it to your own phone number. If it goes through and you can receive it, then problem solved, otherwise, continue with your troubleshooting.
Step 2: Verify that correct APN settings are set in your device
If you've already enabled the mobile data and you still can't send and receive MMS, then it could be the APN Settings that have issues. Access Point Names are necessary so your phone can connect to the data network of your provider. If a single character is missing or incorrectly entered, your device may still not be able to connect to the network and your service would be interrupted or disrupted. To check your APN, follow these steps:
From any Home screen, tap the Menu key.
Tap Settings.
Tap Mobile networks.
Tap Access Point Names.
Touch the APN that represents your provider and check if everything is correctly entered.
If you don't have info about the APN, then call your provider and ask for it and then compare it to the one set on your phone.
Better yet, ask the rep to help you set up a new APN on your phone if possible.
Step 3: Reset your phone and build it from scratch
If the problem still persists after steps 1 and 2, then you need to reset your Galaxy J3 and build it up from scratch again. Something might have gone totally wrong and it would take a lot of time finding what the culprit is. So, backup your data and files and then do the master reset:
Back up data on the internal memory. If you have signed into a Google account on the device, you have activated Anti-theft and will need your Google credentials to finish the Master reset.
Turn off your Galaxy J3.
Press and hold the Volume Up button and the Home key, then press and hold the Power key.
When the device logo screen displays, release only the Power key
When the Android logo displays, release all keys ('Installing system update' will show for about 30 – 60 seconds before showing the Android system recovery menu options).
Press the Volume down key several times key to highlight 'wipe data / factory reset.'
Press Power button to select.
Press the Volume down key until 'Yes — delete all user data' is highlighted.
Press Power button to select and start the master reset.
When the master reset is complete, 'Reboot system now' is highlighted.
Press the Power key to restart the device.
After the reset, verify the APN and turn on mobile data and then try to send MMS again. If it still fails, bring the phone to the store and let your provider take care of it.