Tackled in this post is a League of Legends error tied to a problematic login session. Read on to learn what to do if you're prompted with "There was an unexpected error with the login session" while playing League of Legends on your Windows 10 computer.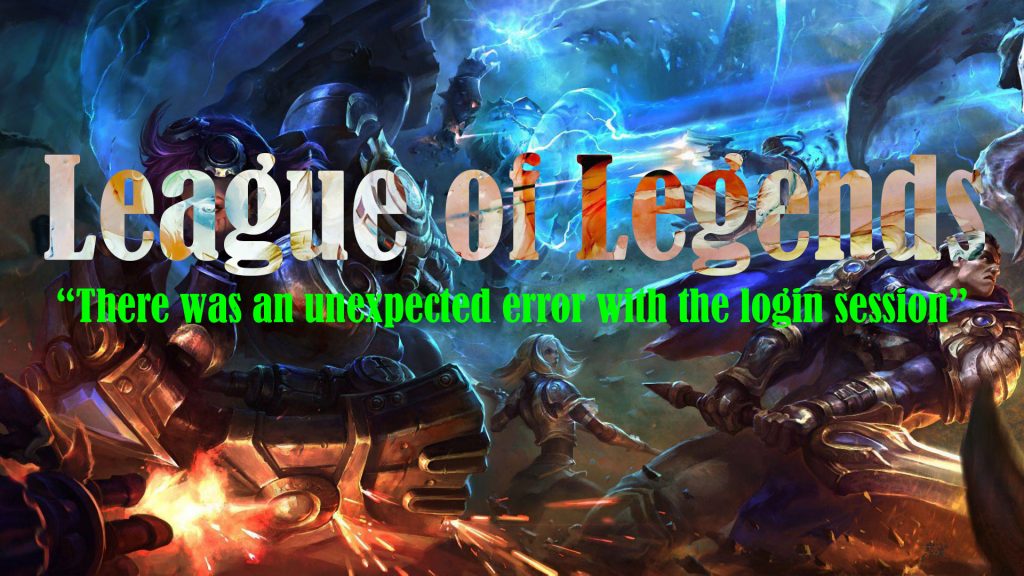 League of Legends is tagged among the world's most popular video games. Developed by Riot Games, LoL highlights a team-based competitive game mode for clever players working together to bring down the enemy Nexus. Overall, LoL is an invigorating game but likewise unblemished.
Just like other video games, there will be instances when League of Legends would fail to work as intended. And when that happens, you've got to do something to rectify the glitch and carry on with the game.
What causes the "There was an unexpected error with the login session" error on LoL?
As the message implies, the League of Legends prompts the "There was an unexpected error with the login session. Please try again" error when the server is congested. This is often the case when the login queue is experiencing heavy traffic.
Other factors that can trigger occurrence of relevant errors would include invalid or incorrect login credentials, network-related issues and random software glitches.
Troubleshooting LoL error "There was an unexpected error with the login session" in Windows
Mapped out below are a few suggested workarounds that you can try when dealing with login-related issues in League of Legends. Any of these methods can help eliminate the common culprits.
First solution: Sign out then restart the game.
If you've previously logged into your game client and suddenly you're getting the login session error, this could be just due to some random glitch that made your login session expired. The easiest way to deal with this problem is to sign out of your account then restart your game. Here's how:
While on your game client, press the Alt + F4 keys simultaneously and then click the option to Sign Out.
After signing out, exit or close the game client.
Give it a few moments and then relaunch your game client.
Enter your account credentials to sign back in. Be sure to enter the correct login information.
After logging back in, relaunch your game and see if the error is gone.
Second solution: End the game client and LoL processes via Task Manager.
If the first method doesn't solve the problem, try ending the game client and other processes relevant to the League of Legends application. Here's how:
Open the Task Manager through the Start Menu or using the Ctrl + Shift + Esc shortcuts.
While on the Task Manager window, click on the Processes tab.
Then, locate and close all instances of RiotClientServices.exe and all other LeagueofLegends.exe.
Aside from Riot Client and LoL-related instances, also consider ending the program named KillerServiceNetwork.exe. This program is also known to prioritize bandwidth to online streamers and thereby reduces the bandwidth for League of Legends. As a result, you'll get disconnected from the server.
Once you're done closing all relevant instances and processes, exit Task Manager then relaunch the Riot Games client, launch the game and login again.
Third solution: Refresh the Internet and restart your computer.
To rule out network-related errors that caused internet problems disrupting online sessions, try to refresh your internet connection. You can do this by simply disconnecting from your Wi-Fi network for a few seconds and then reconnecting.
Forgetting and adding the Wi-Fi network again is also another way of optimizing the computer's internet functions and thereby eliminating random Wi-Fi issues including slow and intermittent connection.
The ultimate solution is to power cycle the wireless router or modem. This is done by turning the modem/router off then unplugging it from the power source for about 30 seconds to 1 minute. After the elapsed time, turn the modem/router back on and wait for your computer to reestablish Wi-Fi internet connection.
Once reconnected, relaunch the Riot client and the League of Legends game then login to see if the problem is gone.
If that doesn't do any good, restart your computer. This will help clear out any errant login cache that might have caused login session error to occur on League of Legends.
Other Suggestion
Many problems attributed to PC video games are fixed using user-defined solutions. These unofficial fixes are often discovered by tenacious players in a desperate attempt to get back into their games. Having said that, some users have managed to deal with the League of Legends login session error by performing this tweak:
Quit the game client and load it up as you normally do.
If prompted, enter your account credentials to log in.
Once you see the small window in which you could close the game before the login error prompts, click the X button. Doing so will close the client.
After clicking the X button, you should see an option to exit or sign out. Select Sign Out.
That should prompt the client to restart and logging in should work by then.
If nothing seems to work and the error continues, try checking the LoL server status. There might be some ongoing outage or server maintenance that's making the server unavailable at the moment.
Hope this helps!
Please visit our YouTube channel to view different troubleshooting and tutorial videos that might be helpful to you.
You Might Also Want To Read: