One of the error codes that many Call Of Duty Vanguard players are reporting thus far is the error code VIVACIOUS. This error is not unique to COD Vanguard and it's been reported by some players of COD Modern Warfare and Warzone last year. Fortunately, error code VIVACIOUS can be fixed relatively easily and this guide will show you how to do that.
How to fix Error Code VIVACIOUS in Call Of Duty Vanguard
There can be several factors that can cause this problem so there's also a bunch of possible things that you can do to fix VIVACIOUS error code. Keep in mind that this problem can occur in both the PC and console (either PlayStation or Xbox) although majority of people reporting it came from the PC side.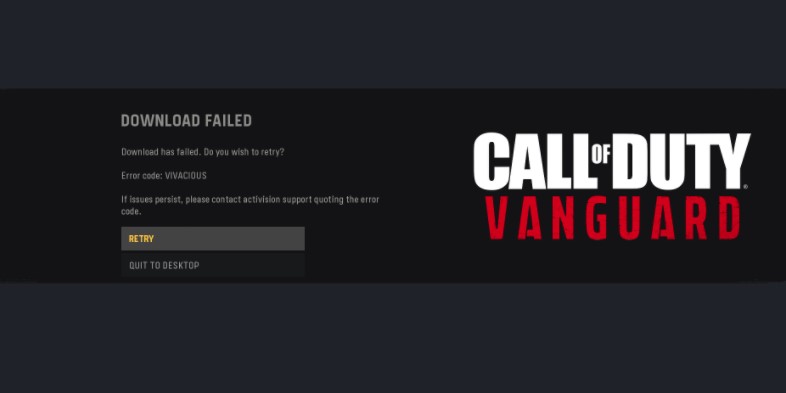 That said, most of the solutions in this guide applies to the issue for PC. If you're a console player with the same issue with COD Vanguard, you want to ensure that it's not a server or connection issue on your end.
Below are the solutions that you can do to fix this problem.
Fix #1: Check the online servers status.
The first thing that you want to do is to ensure that there's no on-going online servers issues. You don't want to waste your time troubleshooting on your end when the main reason for the error is something beyond your control.
The best way to check the server status of Call Of Duty Vanguard is to go to Activision Online services website.
Fix #2: Restart the game.
If there's no known server problems at this time, your next move is to ensure that you refresh the game. To do that, just close the game normally then relaunch it.
Alternatively, you can close both the game and the Battle.net launcher before opening the game again.
Fix #3: Power cycle your network devices.
If the Call Of Duty Vanguard error code VIVACIOUS remains after quickly restarting the game, it's time that you start checking if there's an issue with your own connection. To begin, you want to power cycle your modem or router for a few seconds. Sometimes, this solution is an easy way to fix network problems or any errors for an online game. Just unplug your router from the power source and wait for 30 seconds before turning it back on.
This solution must be performed whether you're experiencing COD Vanguard error code VIVACIOUS in PC or console.
If you have the error code in your console, make sure that you also restart it together with your network devices. The idea is to turn off your modem or router after your console shuts down to refresh the connection.
Fix #4: Disconnect other devices from the network.
For some people, the main reason why they're getting the Call of Duty Vanguard error code VIVACIOUS is low bandwidth. This can occur if there are too many devices using the internet at the same time at home.
If the COD Vanguard error code VIVACIOUS seems to only occur at night when there are more people connecting to the internet, your network is likely to blame. You can either wait until everyone has stopped using their devices, or you can simply disconnect them from the network altogether.
Fix #5: Use a VPN.
Some players have fixed COD Vanguard VIVACIOUS error code by using a VPN. This may be necessary if your Internet Service Provider is blocking or throttling your connection to Activision, or if you're in a country with poor connection to the online servers.
Fix #6: Scan and Repair.
In case the main reason for the problem is game files related, there are 2 things that you can do: use the Scan and Repair option, or reinstall.
Before you delete and install the game again, be sure to use the built-in Scan and Repair option in Battle.net launcher. Here's what you need to do:
Open the Battle.net launcher.
Go to your Games library.
Click the icon of COD Vanguard.
Click the gear or cog icon beside the blue PLAY button.
Select Scan and Repair.
Click on Begin Scan.
Wait for the system to finish scanning and repairing the files.
Launch COD Vanguard and check if the VIVACIOUS error code remains.
Fix #7: Reinstall Call Of Duty Vanguard.
If error code VIVACIOUS has not disappeared and it continues to show up after using the Scan and Repair option, the final option for you is to delete and install the game again. 
OTHER INTERESTING ARTICLES:
Visit our TheDroidGuy Youtube Channel for more troubleshooting videos and tutorials.