Ever wonder if there's a way for you to completely make your Twitch presence disappear? In this article, we'll show you the steps on how to totally delete your Twitch account, or do the more moderate option of disabling it.
What is Twitch?
Twitch is the premier live-streaming platform for gamers. If you're a serious gamer and wanting to stream your games, doing it on Twitch is the cool option that can use.
If you already have a Twitch account but want to delete it for whatever reason, this article is for you.
Reasons why you may want to delete your Twitch account?
There can be a number of reasons why someone would want to delete their Twitch account. Keep in mind that "deleting" is different from "disabling" in this case. In most situations, these are the reasons why one would want to permanently delete a Twitch account.
Wanting to quit Twitch for good.
While Twitch is definitely an excellent platform, especially if you are having fun or even earning when you're streaming your games, it's not for everybody. After some time, a few streamers may realize that Twitch is really not for them. While you can continue using Twitch even if you're not actively streaming, you may opt to have your account purged from Twitch servers if you decide to not use their service permanently.
Having more than one Twitch account.
If you have an extra Twitch account, it would definitely make sense to get rid of the one you're not planning to use.
Getting a break from social media.
Twitch is considered a social network platform and if you feel you've simply have too much exposure, you may opt to delete your Twitch account.
Things to know before deleting your Twitch account
Before you go ahead to delete your account, there are a couple of highly recommended things that you should do.
Let your followers know.
If you are an active Twitch streamer but now wanting to delete your account, it would be a goodwill act for you to inform the people that follow your account about your plan. Disabling your Twitch account can be permanent so letting your fans or followers know that you are dropping the platform for good is not a bad idea.
Unlink your other accounts.
Twitch allows you to connect other social network accounts in order to better reach your audience. If you've previously connected your Twitter, Facebook, or any other accounts, make sure that you disconnect them.
If you also connect other gaming platforms like Steam, Xbox, PlayStation, etc. ensure that these are unlinked as well.
Remove other identifiable personal information.
Some people may prioritize engagement with their fans over privacy. When creating a Twitch account, you have an option to put your real name and other personal information. If you are decided to delete your Twitch account, you should consider purging all your personal information before confirming the account deletion.
How to permanently delete Twitch account?
Below are the steps to delete your account from Twitch servers. Do remember, Twitch gives you a 90-day grace period to recover your account in case you'll change your mind. After the 90-day period, the account deletion request becomes final and cannot be undone.
If you want to go ahead and delete your Twitch account, follow these steps:

On your computer or smartphone, open a web browser and go to Twitch delete user page.
Click on Log In button at the upper right.
Enter your Twitch username and password.
Click on Delete Account button.
How to reactivate a deleted Twitch account?
If you previously deleted your account by mistake, or if you changed your mind and want to restore it, all you have to do is to go to Twitch.tv login page and enter your username and password. Then, simply click on Reactivate button to restore it.
Is there a difference between deleting and disabling a Twitch account?
You may not realize it but Twitch gives you two options when it comes to managing your account. One is by letting you disable your account and the other by deleting it permanently.
There's a big difference between deleting your account and simply disabling it. Disabling your account means that you are permanently telling Twitch to erase all your data from their system. As mentioned above, Twitch considers that some users may change their mind after deleting their account so they provide a 90-day grace period. If you want to reactivate your account before this timer expires, everything that's associated with that account will be restored as if nothing happened. If you let the 90-day period pass without reactivating your account, then the account deletion process is final and you cannot recover your account at a later date.
On the other hand, disabling your account is more moderate option if you don't want to completely part ways with Twitch. If you disable your account, Twitch will temporarily make your account disappear from the public but all your information will still be stored. In this state, your account can be reactivated anytime and there's no grace period that you must be worried about.
How to disable your Twitch account?
If you want the disable account option instead of account deletion, then these are the steps that you must do:
Open a web browser and go to Twitch.tv login page.
Log in to your Twitch account.
Click on your Profile icon at the upper right.
Go to Settings.
Under Profile tab, go to Disabling your Twitch Account section.
Click on Disable Account link.
Click on Disable Account button to confirm.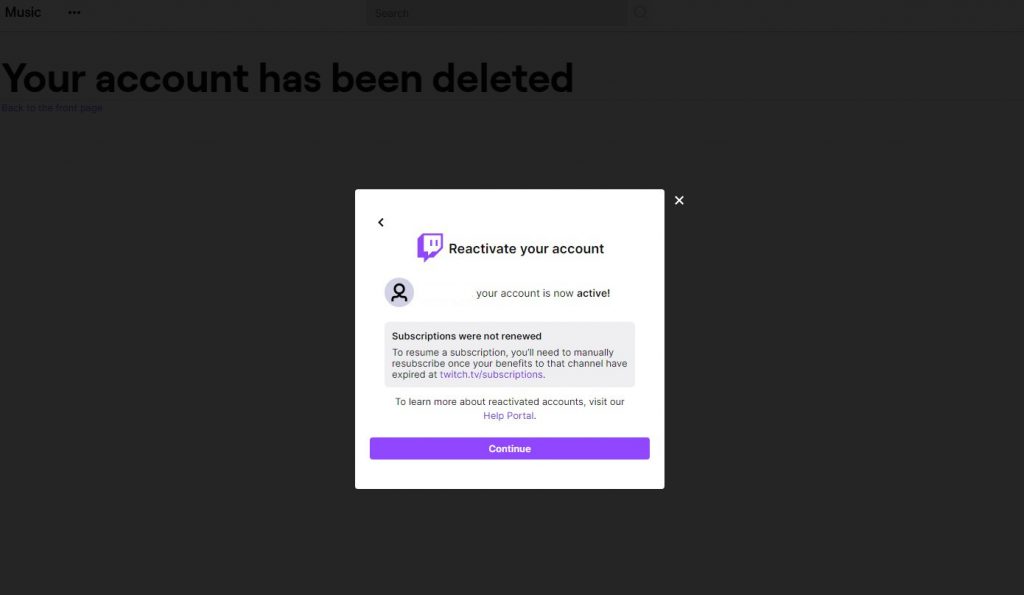 How to reactivate a disabled Twitch account?
Just like in reactivating a deleted account, you simply have to log back in to Twitch.tv, enter your credentials, then hit the Reactivate button to restore your account.
FURTHER READING:
Visit our TheDroidGuy Youtube Channel for more troubleshooting videos and tutorials.