Are you experiencing the "connection interrupted" when playing Call Of Duty Black Ops Cold War? Well, you're not alone. Even after months since the final game's release, this problem continues to affect many players. If you have no idea how to fix this error, this article should help.
What is "connection interrupted" error in Call Of Duty Black Ops Cold War?
One of the annoying errors in Call Of Duty Black Ops Cold War is "connection interrupted" pop-up that shows on the screen in the middle of the game. There are tons of players complaining about this problem ever since the Call Of Duty Black Ops Cold War game beta was released. The problem appears to have carried over even after the final version of the game was released until now.
Connection Interrupted error is usually an indication that Black Ops Cold War has lost connection to the server. There have been cases though wherein the problem appears to be stemming from issues within the game itself and not because something disrupted the internet connection.
Causes of connection interrupted error in Black Ops Cold War
There are several known reasons why "connection interrupted" error keeps popping up on your screen. We list all of these causes below.
Server troubles.
Popular shooter games like Call Of Duty Black Ops Cold War are far from perfect, especially the multiplayer aspect of the game. Server issues can range from unexpected outages, overcapacity, to scheduled maintenance. If you've been playing other online Call Of Duty games before COD Black Ops Cold War, you'll know that server problems can be expected from time to time. Game servers may go down due to a technical reason but at other times, simply too many people playing at the same time can also be the cause.
There are of course instances when game servers are taken offline for a short period of time because of a scheduled maintenance.
Home network issues.
Your own home internet connection must be considered as well. If you play Call Of Duty Black Ops Cold War when everyone is at home and using your internet, your console or PC may not have enough bandwidth to allow it to maintain a solid connection to the server.
The state of your network equipment as well as the quality of your broadband line may also affect how your network performs during an online game.
Wifi signal is weak or keeps dropping.
If you're getting the connection interrupted error while using wifi, it's possible that your PC or console may be encountering signal interference. Try switching to a wired setup to see if there's a difference.
Corrupted game files.
For some players, the main reason for connection interrupted error may be due to the poor state of their console's or PC's software or game files. If there's no on-going server troubles and your internet connection works normally, you should consider checking if the game has game files issue.
Account issues.
For some, the main reason why they are unable to play online is not because of bad servers but an issue with their account.
If you are having a problem signing in to your Activision account or to your specific platform account (PlayStation or Xbox), that can be the main reason why you have this error.
If you are able to sign in to your account but connection interrupted error persists, there may be an issue with platform's network (PlayStation Network Or Xbox Live).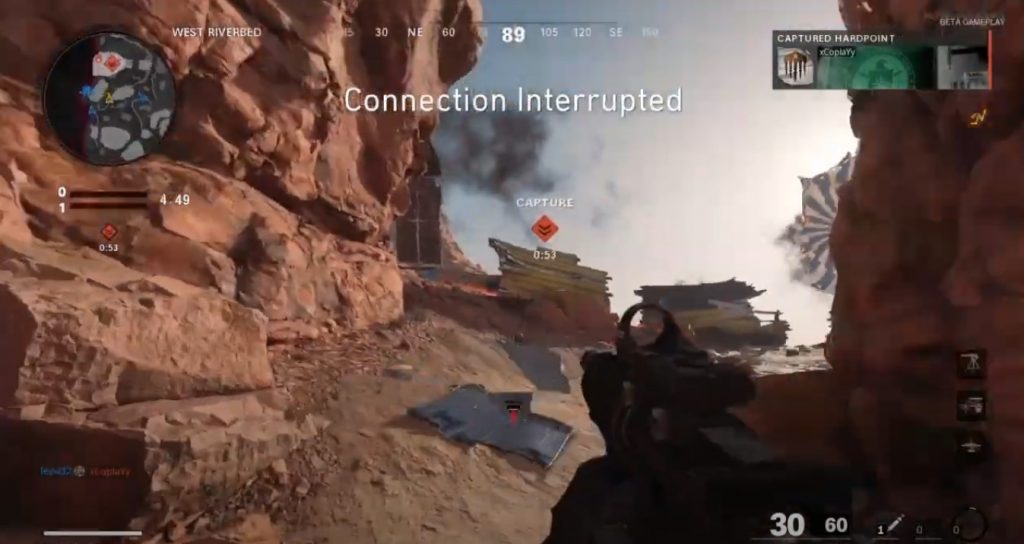 How to fix COD Black Ops Cold War connection interrupted error
Fixing connection interrupted error is typically easy. Below are the solutions that you can try to fix it.
Fix #1: Keep the game updated.
Although the game won't allow you play online if it's not running the latest version, you should still double check if you need to install any update before starting it back up.
While you're at it, also make sure that you check for updates for your console or PC software.
If you play Call Of Duty Black Ops Cold War on PC, make sure that you also check for the latest drivers for your graphics card.
Fix #2: Verify game servers are working.
Many players encounter this error due to server issues. Make sure that you check if Activision servers are up-and-running.
Fix #3: Power cycle the router.
This simple troubleshooting step may be enough to clear the bug in your connection. Just turn the router off normally, unplug it from the power source for 30 seconds, then plug it back in. Once all the lights on the router are back on, try playing COD Black Ops Cold War again and check for the problem.
Fix #4: Run a speed test.
If your internet connection is slow, your PC, PlayStation, or Xbox may disconnect and fail to reconnect to the servers.
If you're playing on a computer, open a web browser run a speed test to know your download and upload speeds. Online multiplayer games need stable download and upload (preferably above 10Mbps and lower than 100ms ping). If your connection can't handle these speeds, this may be the reason for the problem.
To see if you have a low-bandwidth issue, try disconnecting other devices from your network when you're playing. If your internet connection speed improves, that means that other devices are hogging the bandwidth.
Fix #5: Avoid wifi connection.
If you rely on wireless connection, try to see if connecting your PC or console to the router by a LAN cable will fix your problem. Wifi connection is less reliable than wired.
Also, wifi signal can be interrupted by other wireless devices, which may cause the connection to drop intermittently.
Fix #6: Delete and reinstall the game.
If you're positive that there are no server problems and your home internet works properly (not disconnecting and fast), it's possible that the problem may lie with your game files. Try observing the game for a few days to see if the problem goes away on its own.
If connection interrupted error persists, then you want to delete the game and install it from scratch.
Keep in mind that there's no guarantee that reinstallation will work but you should try it only as the last resort. Don't forget, the game download is massive and it may take hours for you to redownload all components and updates.
OTHER INTERESTING ARTICLES:
Visit our TheDroidGuy Youtube Channel for more troubleshooting videos and tutorials.