Are you getting the 2618-0516 error code on your Nintendo Switch? This error comes with the following message: "Unable to connect to the other console(s). NAT Traversal Process Has Failed. Please try again later. If the problem persists, your network conditions may not be suited to stable online play.
In this article, we'll show you how to resolve this problem so read on.
What does 2618-0516 error mean?
Error code 2618-0516 indicates that your Nintendo Switch cannot connect to an online service or can't establish a solid connection when playing online with other players.
According to Nintendo, this error is typically caused by a NAT (Network Address Translation) issue, but in my experience, it can also occur if the game you're playing has an on-going server issue. This occurred to me before when playing Animal Crossing New Horizons and when I checked, my NAT type has never changed. I could play online fine with other players on another game but Animal Crossing New Horizons kept returning this same error code.
What are the causes of Nintendo Switch error code 2618-0516?
There are a few things that can result to Nintendo Switch error code 2618-0516.
NAT Type issue.
Ideally, you should have NAT Type A on your Nintendo Switch in order to avoid getting errors and connectivity issues, especially when you play with other online players a lot. However, NAT Type B, which is the most common NAT Type for most users, is also fine.
If the NAT Type on your console is anything else than these two (C, D, and F), then you must do some interventions to get at least NAT Type B.
Unresponsive router.
A glitchy network equipment may lead to connectivity issues. Make sure that you reboot your router regularly to clear its memory and possible bugs that may have developed.
Routers that are left running for a long time may become unresponsive and cause slow downs in a home network.
Outdated router firmware.
If needed, make sure to also update your router's firmware periodically as well. Maintaining a good working software environment in your router does not only potentially fix problems, it may also help make your network more secure.
Server issues.
On the other side of this error is a possible server issue. As mentioned above, I had the unfortunate chance to encounter when 2618-0516 Animal Crossing before. I was simply messing around in my own island and did not even visit another player's island, which would normally trigger the system to check if your NAT type is compatible.
If your own NAT Type is either A or B but you continue to have this error code, you may be having a server issue.
Slow internet connection.
Playing online with a slow internet connection may also lead to certain connection errors. Make sure that you run a speed test to check if your download and upload speeds are fine. Do this if you are planning on playing with another player over the internet.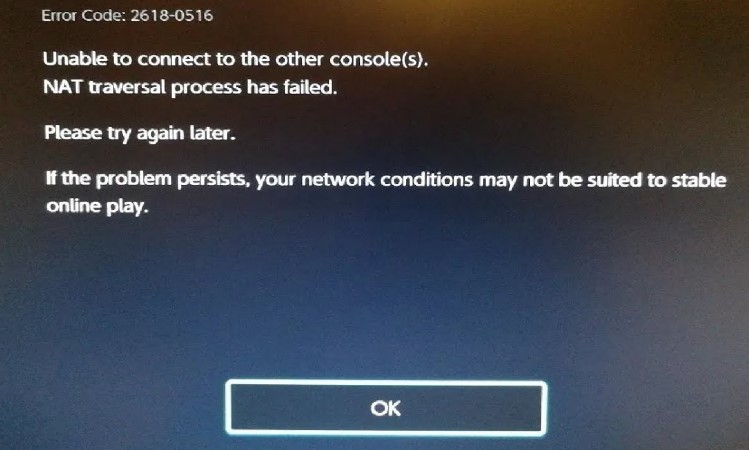 How to fix Nintendo Switch 2618-0516 error?
Fixing error code 2618-0516 is not straightforward so there are a number of things that you must do before you may know that the problem is fixed. Below are some of the troubleshooting steps that you must take.
Fix #1: Reboot your Nintendo Switch.
Many minor connectivity errors on Nintenod Switch are fixed by doing a simple restart. So, make sure that you refresh the device by turning it off normally. Just press the Power button at the top, select Power Options, and hit Restart.
Fix #2: Power cycle the router.
The other simple step that might help fix the 2618-0516 error code is to reboot the router. To do that, just turn the router off normally, unplug it from the power source for 30 seconds, and then start it back up.
Fix #3: Verify your Nintendo Switch NAT Type.
Most of the time, the main reason for Nintendo Switch error code 2618-0516 is the NAT Type. If you have no idea how to check this important information, you'll need to test your internet connection.
To know more about NAT types in your Nintendo Switch and how to get a NAT Type A, read this article: '
How To Get NAT Type A On Nintendo Switch | Port Forwarding
Fix #4: Check for server troubles.
If error code only occurs when you're playing a certain game, the next good thing that you can do is to check the server status of that game. To do so, you'll need to visit the official Nintendo server status website.
Fix #5: Use a different DNS.
Some players have reportedly fixed 2618-0516 error by changing their ISP-provided DNS with a different one. If the problem has not been fixed at this point, we suggest that you try using a new set of DNS to see if it will help.
Fix #6: Contact your ISP.
If you need support to check your router settings, change your NAT Type, or if the error persists after doing all the solutions in this guide, we suggest that you ask help from your Internet Service Provider so they can troubleshoot your home network. It's possible that your network setup may not be suited for Nintendo Switch online play and since knowing that requires knowledge that only your Internet company can provide, they're the best support team that can resolve this issue for you.
FURTHER READING:
Visit our TheDroidGuy Youtube Channel for more troubleshooting videos and tutorials.