We've been receiving reports of some Call Of Duty Black Ops Cold War players encountering the UI Error 27711. In this article, we'll explain to you what this error means and what you can do to fix it.
What does UI Error 27711 in Call Of Duty Black Ops Cold War mean?
UI Error 27711 is a Call Of Duty Black Ops Cold War error that occurs when one tries to open an in-game menu. There's no specific menu when the error message shows up. Sometimes, it can come up randomly while trying to load up multiplayer modes, or when browsing the game settings menu.
The COD Black Ops Cold War UI Error 27711 impacts all platforms (PC, PlayStation, and Xbox). The latest generation consoles (PlayStation 5 and Xbox Series S | X) are not spared from the error as well.
As far as we know, not everyone experiences UI Error 27711 so it can mean that certain game versions or system software conditions may trigger this user interface error.
Causes of UI Error 27711 when playing COD Black Ops Cold War
We've identied several possible causes of Black Ops Cold War UI Error 27711. Let's discuss each of them below.
Random game bug.
For most players, this error code is caused by a random glitch in the Black Ops Cold War client and may go away on its own. If you experienced getting this error before and it has yet to return after not getting it for some time, it's likely a random bug.
Server issue.
Certain errors in COD Black Ops Cold War may be caused by issues with the game servers. If you noticed that UI Error 27711 only occurs when you load Multiplayer or Zombies but not when you are offline, or when playing the Campaign, the reason for your problem may be coming from the server side of things.
Corrupted game data.
UI Error 27711 may also be caused by damaged or corrupted game files. If the Black Ops Cold War UI Error shows up and there's no on-going server issues at all, it might be due to an issue with the game itself. Sometimes, an incomplete update may lead to problems such as this.
Software issue.
Third party applications may interfere with some games and cause problems. A similar situation may occur if your computer's system software or OS is running an outdated or corrupted version.
Battle.net issue (PC).
Another possibility that PC players need to consider is the state of their game launcher, the Blizzard application or Battle.net launcher. Sometimes, this application may become unresponsive, outdated, or run erratically due to other apps or malware and cause problems.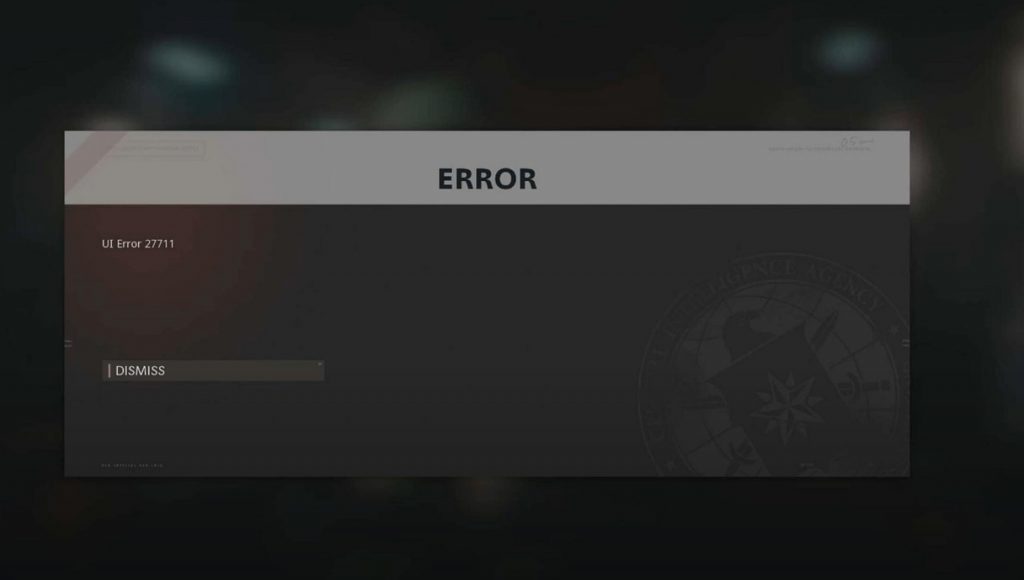 How to fix COD Black Ops Cold War UI Error 27711
Here are the possible fixes that you can do if you are getting the COD Black Ops Cold War UI Error 27711.
Fix #1: Update the game.
Whether you're having an issue with your game or not, it's always a good practice to keep things updated all the time.
You want to ensure that the game client is updated. Although the game won't allow you to play any online modes such as Multiplayer or Zombies when it's outdated, some people may experience this error when offline, or playing the Campaign.
That said, you want to ensure that you let the game check for updates and see if that will help.
Fix #2: Restart COD Black Ops Cold War.
Another simple fix that you can try is to see if the UI Error 27711 disappears after you restart the game. This can be an effective simple solution if the error shows up randomly due to a minor game bug.
For those playing on a PC, you can try closing the game and the game launcher via Task Manager.
Fix #3: Check for updates to drivers and system software.
If you're a PC player, you also want to make sure that your computer's drivers and OS are all updated. Certain games may not work properly if there's a missing or outdated set of drivers in the system.
Fix #4: Check for damaged game files.
If UI Error 27711 remains at this point, your next move is to see if it's being caused by a bad game data.
For PC players, you can try to use the Blizzard Scan and Repair option first. Here's how you can do that:
Open the Battle.net or Blizzard launcher.
Select the game icon (COD: BOCW).
Click on Options (gear icon).
Click on Scan and Repair.
Click on Begin Scan.
Should the issue return after checking the integrity of the game files, you can then try to delete and reinstall the game.
If you are getting the error on a PlayStation (PS4 or PS5), doing a Rebuild Database option in Safe Mode may help. Same as PC players, you must do a reinstall if this solution won't change anything.
For those playing the game on an Xbox One or Xbox Series S|X, you should consider doing a game reinstall if the issue persists.
Fix #5: Troubleshoot your home network.
Some people may randomly encounter UI Error 27711 due to issues with their home internet. Try doing a speedtest on your PC or console to see if the error is due to a slow connection problem.
If you're using wifi, try switching to a LAN (wired) connection to fix the issue.
If you think that you may have a problem with your internet connection, which may be the main cause for this error, work with your Internet Service Provider to fix it.
OTHER INTERESTING ARTICLES:
Visit our TheDroidGuy Youtube Channel for more troubleshooting videos and tutorials.