Valheim is undoubtedly the best selling game in Steam right now. The game has already seen sales of up to 4 million copies sold as of February 24, 2021, despite only being released about 3 weeks ago. While it's definitely an awesome game, it's far from perfect and it has some teething issues. One such issues is the Valheim incompatible version error that affects a large number of players.
If you are getting this error and you have no idea how to fix it, this article should help.
What does "Incompatible Version" error mean?
Many Steam players are getting the annoying "incompatible version" error when trying to play Valheim with friends. This error prevents players from engaging in in a local multiplayer game. This means that if you play Valheim with your friends and one of you is the local host, this error can effectively put the game on hold as everyone will encounter the error on his or her system.
Largely, the incompatible version error is an indication that there's an issue with game versions in your group or local multiplayer network.
Causes of Incompatible version error in Valheim
The incompatible version error when playing Valheim is caused by a discrepancy in updates between the computers playing in the same local multiplayer network. This means that the problem is either due an outdated Valheim version of some PCs in the network, or that the remote server or local host is running some old or incompatible game files.
Keep in mind that the Valheim incompatible version error won't show up when you're playing by yourself. But since the game is best enjoyed with friends or with some strangers in an online co-op mode, you'll likely encounter this error if you or somebody else in your network has a set of outdated files.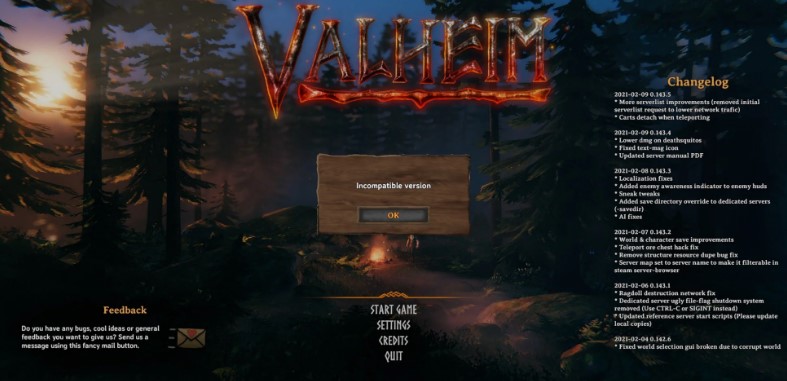 How to fix Valheim incompatible version error
Since the causes of Valheim incompatible version error are well-known at this time, there are a few solutions that we can suggest. Let's talk about each of them below.
Fix #1: Ensure that all PC in the network run the same game files version.
If you are the only one getting the incompatible version error, you must make sure that you update your Valheim game files. Here's how to do that:
Open Steam client.
Go to your Steam Game Library.
Find Valheim from the list and right click on it.
Select Properties.
Select Updates tab.
Under AUTOMATIC UPDATES, make sure that you select Always keep this game updated.
Close the Steam client and start it back up.
Try to run Valheim again and install any update that you might have missed earlier.
If other members in your network are facing the same error, let them update their game as well using the same steps above.
Fix #2: Update the local host (remote server).
If you're hosting a dedicated Valheim game server for you and your friends, you also want to make sure that this computer is updated to the latest version, especially if some members are getting the incompatible version error. Here's what you need to do:
Create a backup of your Valheim game files from the installation folder to prevent you from losing everything if there's a problem later on.
Get the SteamCMD file.
Once you've installed SteamCMD, create a new file in your Valheim installation folder and name it Update.bat.
In the newly created file, type the following: [SteamCMD directory] + login anonymous + force_install_dir [Valheim installation directory] + app_update 896660 validate + exit. Be sure to copy and paste the exact directories (in the brackets).
Once you've created the BAT file and saved it, you want to run it. Doing so will force the server to force check updates and install them.
OTHER INTERESTING ARTICLES:
Visit our TheDroidGuy Youtube Channel for more troubleshooting videos and tutorials.