One of the common connectivity issues with COD Black Ops Cold War is the "server queue" error. As the name implies, it has something to do with the waiting time before one can go and play online. If you are experiencing the COD Black Ops Cold War server queue error on your PC or console, this article should help.
What does Call Of Duty Black Ops Cold War "Server Queue" error mean?
If you're getting the Server Queue error when playing COD Black Ops Cold War, that can mean a few things. Either there are server issues on Activision's end, there's an abnormally high number of players waiting in line ahead of you, or you are experiencing a game or network problem on your end.
The full message reads: "Server Queue.Servers are experiencing high volume. You have been entered into the queue and will be placed into a game shortly."
The simplest error fix for this situation is to try playing COD Black Ops Cold War multiplayer at a later time until the queue is cleared but if you've waited for several hours or even days already, something abnormal may be causing it.
Long server queues may sometimes occur, especially for popular online games like the Call Of Duty titles but they should don't typically persist for very long.
Causes of server queue error in COD Black Ops Cold War
There are several possible reasons for Call Of Duty Black Ops Cold War server queue error. Let's discuss each of them below.
Game servers are down.
Server-side issues are often the most common reason for this error. With millions playing online, servers may sometimes fail to cope with sudden influx of players causing a temporary spike in the queue. However, if all servers are up-and-running, the problem should be resolved within minutes.
Server overcapacity hardly occurs these days but the problem is not totally eliminated. So, if you can't go online with Call Of Duty Black Ops Cold War due to server queue message, the first thing that you should do is to check if there's any on-going server problem.
Random game glitch.
Bugs are part and parcel of even well-built games. Developers cannot completely get rid of bugs and sometimes, online modes are the ones usually affected.
Home network internet connection issues.
A player's own internet connection at home may sometimes be the main reason for server queue error. This can happen if the connection keeps dropping, or when it's very slow.
Corrupted game data.
In a few cases, server queue stuck error was fixed by updating the game, clearing the console cache, or deleting and reinstalling COD Black Ops Cold War.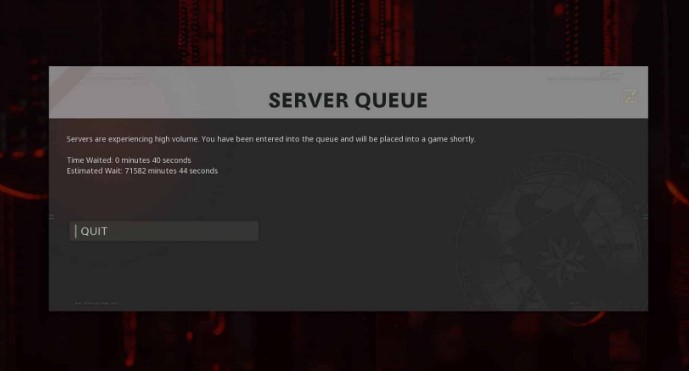 How to fix COD Black Ops Cold War "Server Queue" error
Fixing the server queue error in COD Black Ops Cold War is typically easy. These are the possible solutions that you can try if you are experiencing an unusually long wait time when trying to get online.
Fix #1: Check the game server status.
First, you want to make sure that there's no server problems in your region. You can do that by going to the official Activision server status page.
Fix #2: Restart COD Black Ops Cold War.
Sometimes, all it takes to fix minor connection bugs is to refresh the game. If you've confirmed that there's no server troubles at the moment, you next step is to close the game and run it back up.
Alternatively, you can opt to completely refresh your device by rebooting.
Fix #3: Power cycle the router.
Routers may sometimes freeze or become unresponsive if they're left to run for a long time. Make sure that you power cycle the router at least once every few days to avoid any network issues.
To do that, just turn the router off normally, then unplug it from the power source for 30 seconds. After that, turn it back on and check for the problem again.
Fix #4: Run a speed test.
You may encounter this error or long wait time if your PC or console does not have enough bandwidth, or has slow internet connection. To check if your COD Black Ops Cold WAr server issue is being caused by slow connection, try running a speedtest. If you're playing on a PC, you can open a web browser and check your computer's download and upload speeds using speedtest.net.
If you are on a console (PlayStation or Xbox), just go under Network Settings and run a speedtest from there.
If you're paying for a fast internet connection but your PC or console shows that your download and upload speeds are way below normal, it might be caused by too many devices connected to your network. Try to disconnect other devices while you're playing to see if that will improve the situation.
Fix #5: Refresh the game cache or check game files integrity.
Just in case your Black Ops Cold War game files are corrupted, there are two things that you can do — check the integrity of your game files (using Scan and Repair in the Blizzard launcher), and reinstall.
Here's how to run Scan and Repair:
Open the Battle.net or Blizzard launcher.
Select the game icon (COD: BOCW).
Click on Options (gear icon).
Click on Scan and Repair.
Click on Begin Scan.
If you play COD Black Ops Cold War on a PS4, you can also try to rebuild the database.
Fix #6: Delete and reinstall
If none of the solutions have worked so far, you can assume that there may be a problem with the game or your device's software. To see if it can be fixed on your end, try deleting and reinstalling the game. We've seen this as an effective way to fix Black Ops Cold War server queue error in the past.
OTHER INTERESTING ARTICLES:
Visit our TheDroidGuy Youtube Channel for more troubleshooting videos and tutorials.