Some players are reporting that Valheim crashing issues are becoming regular and there are even times when the game refuses to load up at all. In this article, we'll show you what you can do to deal with crashes in this game.
Causes for Valheim crashes on Steam
Some Valheim players are experiencing crashes either in the loading screen or in the middle of the game. These cases can be caused by any of the following:
Random game coding glitch.
No game is perfect and Valheim is a typical example. Although majority of early adapters of this game only have positive praise for it, Valheim comes with tons of issues. If Valheim is crashing on you without a clear pattern, it may be due to a randomly occurring error that your system can't resolve.
Corrupted game data.
Some games start crashing if their cache or critical game files become corrupted for some reason. File corruption usually occurs if a system or game update is not installed correctly, or when there are coding issues with the new version of your system software or game.
Steam client issues.
Valheim may keep crashing on you due to your Steam client. Just like any application, Steam client may encounter errors due to other apps, or when there's an issue with your software.
Outdated drivers.
Another possible reason for Valheim crashing issues is your drivers, especially the GPU driver. A driver is an important piece of software needed by your hardware such as your GPU so it can be used by Windows Operating System. If your graphics card has an outdated set of drivers, Windows may have trouble using it to run a new game.
Windows software issues.
PC gamers also have to make sure that their computer's system software are always updated. Just like drivers, Windows needs to be updated from time to time to eliminate bugs and improve the system.
Third party app interference.
For others, their games may be blocked from loading or may experience crashing due to other applications in the system. For instance, some players found it perplexing that their game crashes when their anti-virus is running. Others noted Valheim crashing issues when they employ popular third party applications like MSI Afterburner, which gives them real-time system performance while playing.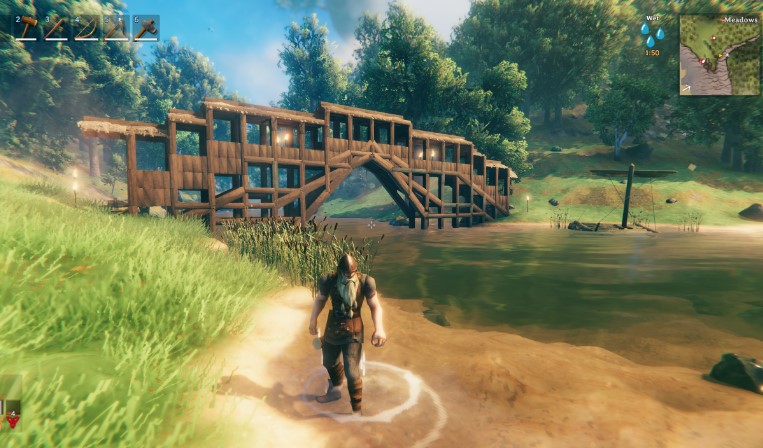 How to fix Valheim keeps crashing issue
If you're a Valheim gamer but find that the survival game keeps crashing on you for no apparent reason, one of the fixes in this list may help.
Fix #1: Restart the game.
One of the basic things that you must do when you discover Valheim crashing on you randomly is to ensure that you restart the game. Sometimes, this is enough to stop a random bug.
Fix #2: Restart Steam client.
If Valheim still crashes after you run the game off a restart, the next thing that you can do is refresh the Steam client. To do that, you can force close Steam and all its associated services using the Task Manager.
To pull up the Task Manager, just press CTRL+ALT+DEL on your keyboard. Then, in the Processes tab, find all the Steam-related applications and close them one by one.
Fix #3: Check for updates.
If force closing Steam won't fix the Valheim crashing issue at this point, the next step that you want to do is to ensure that you update the game the next time you launch it from Steam.
You also want to make sure that you keep the game updated all the time by doing these steps:
Open Steam client.
Go to your Steam Game Library.
Find Valheim from the list and right click on it.
Select Properties.
Select Updates tab.
Under AUTOMATIC UPDATES, make sure that you select Always keep this game updated.
Close the Steam client and start it back up.
Try to run the game again and install any update that you might have missed earlier.
Fix #4: Verify game files integrity.
In case the problem is caused by corrupted or outdated game data, the next thing that you want to do is to check the integrity of your Valheim game files. To do that, you'll need to go to Valheim Properties menu in Steam and click the Verify Integrity of Game Files option.
Fix #5: Update drivers and Windows.
One of the fixes to lessen the chances of bugs, PC players want to make sure that you PC runs the latest drivers and Windows 10 or older version. As mentioned above, an outdated driver version can lead to gaming issues so be sure that your set of solutions when fixing this problem involves updating all drivers. Updating your drivers and keeping Windows OS up-to-date is a simple way to get rid of Valheim crashing issues.
Fix #6: Check for third party interference.
Some PC players may encounter Valheim crashing issues due to other running applications. If you are using other programs when playing the game, try to see if any of them is the reason for the crashes using the method of elimination. Simply close any apps one by one until you find the culprit.
Fix #7: Delete and reinstall.
The final but drastic thing that you can do if Valheim crashing issue returns is to reinstall the game. This can work if the main reason for the problem is due to a unique bug in your software environment.
OTHER INTERESTING ARTICLES:
Visit our TheDroidGuy Youtube Channel for more troubleshooting videos and tutorials.