Some Xbox players are experiencing the "Blackout trial has ended" error when playing COD Black Ops Cold War at this time. In this guide, we'll explain to you why this problem occurs and what you can do to fix it.
What does Call Of Duty Black Ops Cold War Blackout trial has ended error mean?
"Blackout Trial has ended" error affects some Xbox players of Call Of Duty Black Ops Cold War. As the error suggests, the game's online service appears to be detecting the running COD Black Ops Cold War client as being a trial copy. The complete error reads:
"Purchase the full game to unlock immediate access to Blackout, Multiplayer and Zombies." The error then shows the option to either buy the full version of the game or to cancel.
The error is obviously problematic because it shows on systems that already run the full version of Call Of Duty Black Ops Cold War.
While the error initially started in December 2020, some COD Black Ops Cold War players are reportedly still getting it at this time.
Causes of COD Black Ops Cold War Blackout trial has ended error?
There are a few reasons why you may be getting the "Blackout trial has ended error" on your Xbox One or Xbox Series X console.
Game coding bug.
A large number of players started getting this error on their Xbox way back in December 2020 after installing a patch. Treyarch promptly released a fix for this known bug the following week but apparently, some people were still experiencing it. While the official fix via an update seems to have addressed the issue for majority of people, the error has not gone away for good for some reason.
Missing Call Of Duty BOCW content.
Some players have reported to us that they were able to fix this error by simply making sure that they download all content packs for this game.
Corrupted game files.
If you've already installed the latest update for COD Black Ops Cold War at this time but you continue to receive the Blackout trial error message, it's possible that the cause of the problem is corrupted game files. This can happen if the game cache or files become corrupted following an update.
Unknown software glitch.
Another possible reason for a persistent Blackout trial error can be the software state of your Xbox console. A few players have reported experiencing this error after attempting to modify the official Xbox software (COD Black Ops Cold War won't allow multiplayer or online modes with unofficial software).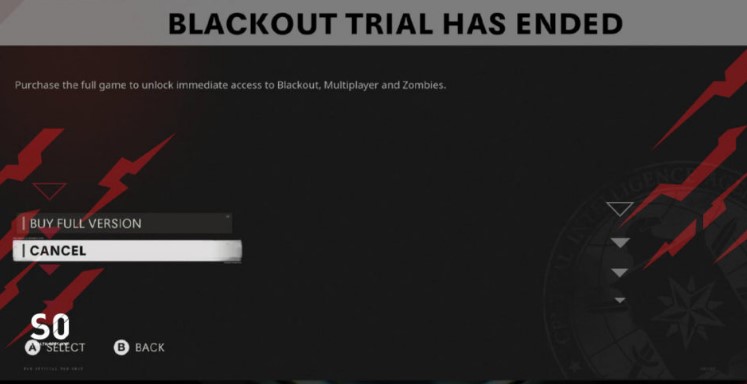 How to fix COD Black Ops Cold War Blackout trial has ended error
Fixing "Blackout trial has ended" bug is typically easy. Many people only has to update their game client to get rid of it. So, make sure that your Call Of Duty BOCW game is fully updated before you do anything to troubleshoot this error.
Fix #1: Download missing DLCs.
If COD: BOCW game client has already been updated, the next thing that you must do is to check if there's any missing content pack that you haven't downloaded and installed yet. Here's what you must do:
Go to your Xbox Dashboard.
Go to Game Library.
Select Manage Game and Add Ons.
Select COD Black Ops Cold War.
Install all content packs available for download
After installing the necessary content packs, restart COD: BOCW.
Check for the problem.
Fix #2: Clear game cache.
If the error returns after you've installed the missing content packs or DLCs, try to see if a console power cycle will fix the problem for you. To do that, you want to shut the console down normally. Once it's off, unplug it from the power source for 30 seconds. This should be enough time to clear the console's temporary memory and cache.
Afterwards, turn it back on and check for the problem again.
Fix #3: Wipe your Xbox console (factory reset).
It's highly unlikely that you'll continue to experience this error after a power cycle but if you do, the reason for it may be something deeper, probably an issue with your console's software. To fix it, you'll want to do a factory reset.
OTHER INTERESTING ARTICLES:
Visit our TheDroidGuy Youtube Channel for more troubleshooting videos and tutorials.