Are you getting the annoying 5476 error when playing COD Warzone on your PC or console? In this guide, we'll explain to you what this error means and what you can do to fix it.
What does Call Of Duty Warzone 5476 error mean?
Error code 5476 is a Call Of Duty error that affects Modern Warfare, Black Ops Cold War, and the popular battle-royale Warzone title. It's one of a long list of Dev error codes in Call Of Duty Warzone as well as other titles that affects all platforms (PC, PlayStation, and Xbox).
The exact error code shows up as a popup and in PC version, it tells players this line: "DEV ERROR 5476. To contact customer service support, go to http://support.activisioan.com/modernwarfare."
When getting dev error 5476, your PC or console can't play a multiplayer game. This means that in Warzone, you can't totally play the game with your friends as it blocks you from connecting to the server.
Causes of COD Warzone error code 5476
There are several reasons why you may be getting the dev error 5476 in your PC or console when playing COD Warzone. Let's discuss each of these causes below.
Random game glitch.
For a small number of COD Warzone players, this error may come and go and there's no clear pattern why it's showing up. It's possible that the reason for the problem may be a bug due to the unique software environment of your PC, PS4, or Xbox One.
Game content bug.
Many Call Of Duty Warzone players have started encountering the 5476 dev error when they set their in-game Calling Card, Skins & Emblems to random. I have not personally experienced this when playing Warzone on my PC but if you happen to be using the Random option for your Calling Card, Skins & Emblems, you can try to see if deselecting the random option will help.
Corrupted game files.
For those who can't seem to get rid of 5476 dev error on their PC, it's possible that the issue may be caused by corrupted game files. To fix dev error 5476, you have to check the integrity of the game files, or even do a clean reinstall.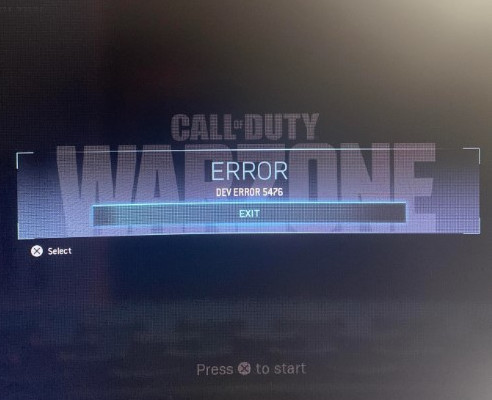 How to fix COD Warzone 5476 error?
Error code 5476 is one of the easiest Call Of Duty Warzone error codes to fix. Here are the solutions that you can do:
Fix #1: Check for game update.
Although COD Warzone won't let you play in multiplayer or online with other players when it's outdated, you should still consider checking for an update when you get the 5476 error out of the blue. To do that, simply restart the game.
If you play COD Warzone on PC, you may be able to fix a randomly showing dev error 5476 by closing the Blizzard or Battle.net client and starting it back up.
Fix #2: Deselect Random for Calling Card, Skins & Emblems.
As mentioned above, a large number of players have started experiencing dev error 5476 when playing Call Of Duty Warzone because of an apparently simple bug with one of the game's contents.
To fix dev error 5476, go into the game's settings and don't use Random for Calling Card, Skins & Emblems.
Fix #3: Verify game files.
If the first two solutions above has not fixed your 5476 error code, it's possible that the cause of the problem might be tied to the state of your game files. Sometimes, updates or incomplete installations may cause problems which result to corrupted game files. To see if that's the case, you can use the Scan and Repair option in the Blizzard client to fix your COD Warzone files. This option is not available if you play Warzone on a PlayStation or Xbox.
To repair a broken game: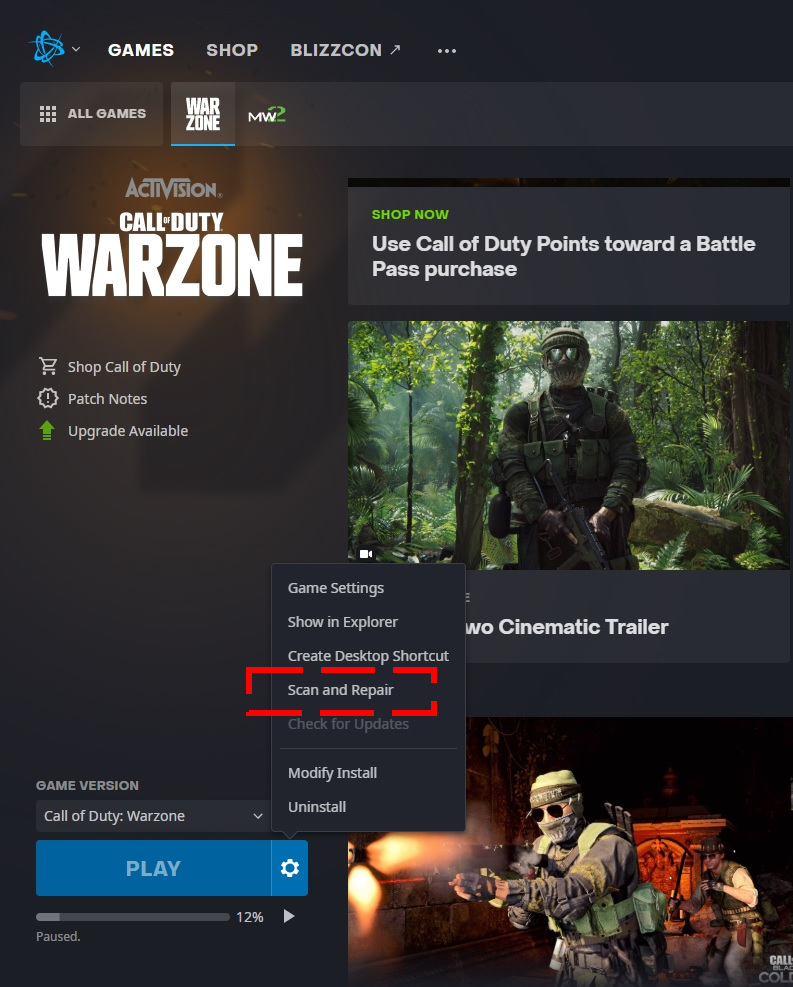 Open the Blizzard Battle.net desktop app.
Click the icon of the game you are trying to repair.
Click Options (gear icon).
Click on Scan and Repair.
Click Begin Scan.
Wait for the repair to finish.
If you play COD Warzone on a PS4 or PS5, you can also try to see if fixing the database of your system may help.
Fix #4: Delete and reinstall COD Warzone
If error 5476 still happens when playing Call Of Duty Warzone, you should consider deleting the game and installing it from scratch.
This is an effective solution if the main reason for the problem lies somewhere deep in your PC or console's software.
Be aware though that redownloading COD Warzone can take several hours due to its massive file size.
OTHER INTERESTING ARTICLES:
Visit our TheDroidGuy Youtube Channel for more troubleshooting videos and tutorials.