Are you experiencing the YouTube subscriptions not working issue? There are several factors that can cause this problem such as a poor internet connection, channel does not exist anymore, YouTube app issue, or even offline YouTube servers. To fix this you will need to perform several troubleshooting steps.
YouTube is a popular online video sharing service that allows users form all over the world to upload videos for others to watch. People can discover and learn a lot of things on YouTube such as from watching how to guides on cooking, repair, or even travel just to name a few. Today, more than 2.6 billion people use YouTube at least once a month.
Why do my YouTube subscriptions keep disappearing?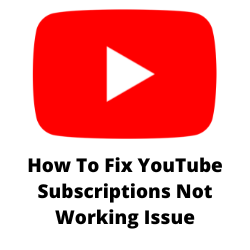 One of the issues that you might experience when trying to watch your favorite YouTube channels is the YouTube subscriptions not working issue. There are instances however when your subscriptions don't show up. This can be a frustrating experience especially if you want to watch the latest uploads from your favorite channels.
Here's what you can do to fix this YouTube subscriptions not working issue.
Solution 1: Check the internet connection
The first thing you will want to do in this case is to make sure that the internet is working. YouTube is a streaming service which needs the internet to work so that you will be able to watch the videos. Unless you previously downloaded the YouTube videos, you won't be able to watch any of the latest videos from your subscribed channels without the internet.
Checking your internet speed
Open a browser.
Go to speedtest.net. This is an online speed test tool that is free to use.
Click on Go. This will start the speed test.
In order to prevent any YouTube subscriptions not working issues you should have a good download and upload speed result. The results should match your subscription plan from your internet service provider.
If you have a slow internet then you can check if the network problem is caused by your equipment.
Turn off your computer or Android phone.
Unplug your Modem and Router from the power source.
Wait for a minute then plug your modem and router back into the power source.
Wait until the lights turn back on.
Turn on the computer or Android phone.
Reconnect your computer or Android phone to the internet.
Here's what you can do to get a stable internet if on a Wi-Fi connection.
Try to disconnect other devices connected to the Wi-Fi router while you watch YouTube videos. This will allow you to use the maximum internet bandwidth.
Move the computer or smartphone closer to the router . This will allow the device to get a much stronger Wi-Fi signal.
If you have a dual band router try to connect to the 5Ghz band instead of the 2.4.
Solution 2: Clear browsing data on browser interface
If the YouTube subscriptions not working issue occurs when you are on a computer browser then there's a possibility that the problem is caused by corrupted cached data in your browser. To fix this you should try deleting this cached data.
Clear data Chrome browser
Open Google Chrome.
At the top right, click More .
Click More tools then Clear browsing data.
A clear browsing data window will appear. At the top, choose a time range. To delete everything, select All time.
Next to "Cookies and other site data" and "Cached images and files," check the boxes.
Click Clear data.
Solution 3: Clear cached data of YouTube app
If you are using the YouTube app and you can't seem to find your YouTube subscriptions then you should try clearing the cached data of the app as this might be what's causing the problem.
Clear cache YouTube App
Open Settings.
Tap Apps. Select All apps.
Select YouTube from the list of available apps.
From the App info screen, open Storage.
Tap Clear cache.
After performing this troubleshooting step try to check if your YouTube subscriptions are now working.
Solution 4: Unsubscribe then resubscribe to the YouTube channel
Sometimes the problem could be caused by a glitch on the YouTube server. Your YouTube account might have been removed from the channel subscription or your subscribed channels are still present but you are not seeing any new videos.
In order to fix this you need to re-subscribe to the channel. If you are already subscribed to the channel then try to unsubscribe then re-subscribe to it again. This will refresh your information on the server and hopefully fix the YouTube subscriptions problem.
Solution 5: Update YouTube app
You need to make sure to use the latest version of YouTube app since this will come with several bug fixes and have new features. Updating the app to the latest version will most likely fix the YouTube subscriptions issue that you are experiencing.
Update YouTube on Android
Access Play Store app .
At the top right, tap the profile icon.
Tap Manage apps & device. Apps with an update available are labeled "Update available."
Tap Update.
Once the app is updated try to check if the YouTube app subscription issue still occurs.
Solution 6: YouTube pinned subscription
One of the features of YouTube is the ability to pin channels. Pinned channels are seen on top of your subscription list making them easily accessible. There are times when your favorite pinned channels will not show up. Here's what you can do to fix this.
Pin channels
On the left of your home page you will see the channels that you've subscribed to. Scroll down and click on See All.
You will see a list of all of the channels you've subscribed to. There will be a tiny pin next to the channels. Select the channels that you would like to pin.
3. After choosing the channels you would like to pin, wait a few minutes to save and update the changes.
Frequently Asked Questions
Why is my YouTube subscriptions list not working?

One of the common complaints of YouTube users is that they can't seem to find their subscribed channels on the home page. They can however see their Recommendations, Suggestions, and Most Popular tab. To fix this you will need to log in to your YouTube account. On the top right of your home page, click on the View button. From the drop-down menu that appears, click on Everything.

Why are irrelevant videos showing up on my recommendation list?

If you are seeing a lot of irrelevant videos or videos that you are not interested in then you can tell YouTube that you are not interested in these videos. Move your cursor over the irrelevant videos then click the three vertical dots under the video and then choose the Not interested option.

Why is my subscribed channel missing?

If one of your subscribed channels is missing then the owner might have taken it down. There's also a possibility that a corrupted cached data is preventing the subscribed channel from appearing. Try accessing the YouTube channel on another device and check if the same issue occurs.

Why is my YouTube subscription not updating with new videos?

If you are not notified of new videos coming from your YouTube subscriptions then you should try to fix this by resubscribing to the channel.
Go to the YouTube website.
Look for SUBSCRIPTIONS in the YouTube sidebar and then click on the problem channel.
Click on the SUBSCRIBED button.
Click the UNSUBSCRIBE option in the confirmation window.
Click the SUBSCRIBE button to re-subscribe to the channel.

My YouTube subscription list is not showing

You need to make sure you that you are logged in to the correct account. You should also try to select clear browsing data if you are accessing YouTube on a website or clear the app cache on mobile devices.