I will address a problem that any Samsung Galaxy S6 Edge (#Samsung #GalaxyS6Edge) owner might experience sooner or later. In the problem sent by one of our readers, it stated that the phone can't get past the Initial Setup Wizard, which is mandatory to all #Android units. It does sound like a minor issue but if you really don't know what to do or how to go about it, you will end up frustrated.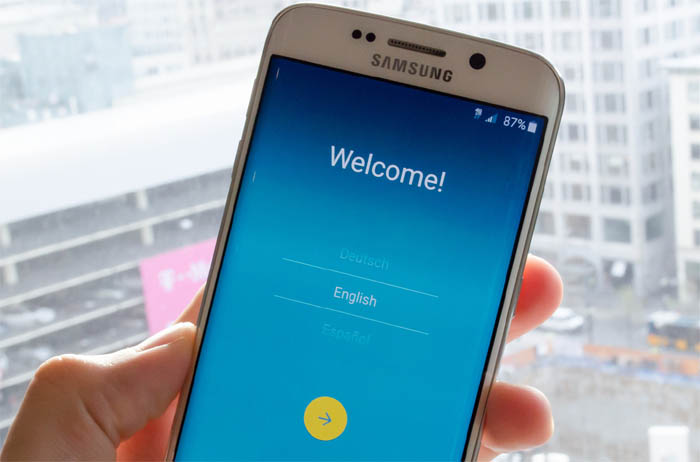 In the same problem, there are some concerns about the warranty, which I want to give my short opinion why the manufacturer won't honor it. Our reader, Jeff, is a Verizon subscriber and it must be through his provider that he could get a replacement unit if Samsung honored the warranty. Long story short, his S6 Edge wasn't replaced, although his provider gave him a service unit and a discounted bill.
Here's the actual message we received…
"I purchased my phone in April from Verizon and did a factory full factory reboot by putting on my case backwards and accidentally pushing down the button as I tried to pull the case off (yes, sounds stolen right!). Since I put the security measures on I figured it would be no big deal to re-set-up my phone despite losing information. My password did not work when I put it in. I went to Verizon, then a Best Buy galaxy specialist, they tried everything and suggested I send my phone in to Samsung. Samsung shipped the phone back to me unrepaired and said to take it up with my carrier to get a replacement. After 3 long weeks, Verizon tells me that they were able to speak with Samsung with no luck. Samsung stated that they would not "honor the warranty" since I turned on the security. Verizon discounted my bill and all, and I have a loaner phone that I might as well keep. However, I am left with "according to Samsung" an un-useable phone. I deleted my Samsung account and created a new one so any changes would not ping the account. Is there anyone out there who could make this phone usable again? The phone is a beautiful brick that won't go beyond the initial set-up wizard. Any suggestions?" — Jeff
Before we go any further, if you have other concerns with your phone, visit our troubleshooting page for Samsung Galaxy S6 Edge as we listed all problems we already addressed. Find issues related to yours and try the solutions we provided. If they won't work, then feel free to contact us by filling up our Android Questionnaire form. Make sure to provide all necessary details about your phone in the description field so that we can easily assess your concern and provide you with an accurate solution.
About the warranty, it's sad to know Verizon and/or Samsung didn't honor it; they may have seen some defects or signs that may have voided it. But the thing is they should have provided enough information or explained to you why they couldn't honor it. The reason that the warranty couldn't be honored because you "turned on the security" is pretty lame. I mean, if they were just looking for an alibi not to honor it, why not tell the truth or just be honest to you. After all, it's the company who can decide if you would be given a replacement unit or not.
Now, about the problem, it's actually very easy to fix as long as the firmware hasn't been tinkered with prior to this problem. Considering the fact that factory reset has already been carried out and resulted to this problem, it must be the firmware that has issues. That being said, you need to reset the phone again and this time use a different procedure…
Turn off your Samsung Galaxy S6 Edge.
Press and hold the Volume Up, Home and Power keys together.
When the device powers on and displays 'Power on logo', release all keys and the Android icon will appear on the screen.
Wait until the Android Recovery Screen appears after about 30 seconds.
Using the Volume Down key, highlight the option, 'wipe data/factory reset' and press the Power key to select it.
Press the Vol Down button again until the option 'Yes — delete all user data' is highlighted and then press the Power key to select it.
After the reset is complete, highlight 'Reboot system now' and hit the Power key to restart the phone.
Such procedure will do everything a Factory Reset does but it also reformats the data partition where all system files are saved deleting possible corrupt files that cause the problem. I believe this is all you need to bring the phone back to life.
However, in case the problem remains after the reset, then the firmware needs to be reinstalled and since you're done with Samsung techs at Best Buy, Verizon and Samsung, it's time to find someone in your locality who knows how to manually flash or install the firmware. Don't worry about warranty, it's already void and don't worry about ruining your phone, it's already messed up.
But you know what you can actually do the manual flashing of the firmware as it is very easy to do. All you need is a computer, the flashing tool called ODIN, the stock firmware for your phone model and you're good to go…
Download ODIN and install it to your computer.
Download the stock firmware for your phone.
Connect your device to your computer.
Install the firmware to your phone using ODIN.
Wait until installation is complete.
Yes, the procedure can be summarized in five steps and very self-explanatory. But of course, proceed at your own risk.
I hope this helps one way or the other. Thanks for reading. Wish you all the best!
Connect with us
We are always open to your problems, questions and suggestions, so feel free to contact us by filling up this form. We support every Android device available and we are serious in what we do. This is a free service we offer and we won't charge you a penny for it. But please note that we receive hundreds of emails every day and it's impossible for us to respond to every single one of them. But rest assured we read every message we receive. For those whom we've helped, please spread the word by sharing our posts to your friends or by simply liking our Facebook and Google+ page or follow us on Twitter.