A new video from Microsoft's developer event reveals how the Surface Duo can run apps like Google Maps on both screens.
It is said that initial demonstrations of Google Maps on the device failed, but the company quickly rectified its mistakes.
The Surface Duo was previously spotted on a Canadian train, suggesting that the development of this dual-screen smartphone had been expedited.
Microsoft has tried multiple smartphone products in the past and nothing has stuck on with the audiences to the extent of Android or iOS. Keeping this in mind, the company was said to be in the development of a radical new dual-screen device known as the Surface Duo running on Android. Well, after making an appearance on a Vancouver train recently, there's more information coming through on the smartphone courtesy of Microsoft's recent developer day event for dual-screen devices.
The company has posted a video from the event on its developer website, while also showcasing the Surface Duo in its entirety using Google Maps. Although Microsoft's initial demonstration is said to have failed, the company corrected its errors and posted a new demo subsequently. The video shows how the Surface Duo can leverage both sides of the display to use an app like Google Maps. Moreover, it shows how features like pinch to zoom can work across both screens, meaning you can have a finger each on either display to initiate this gesture.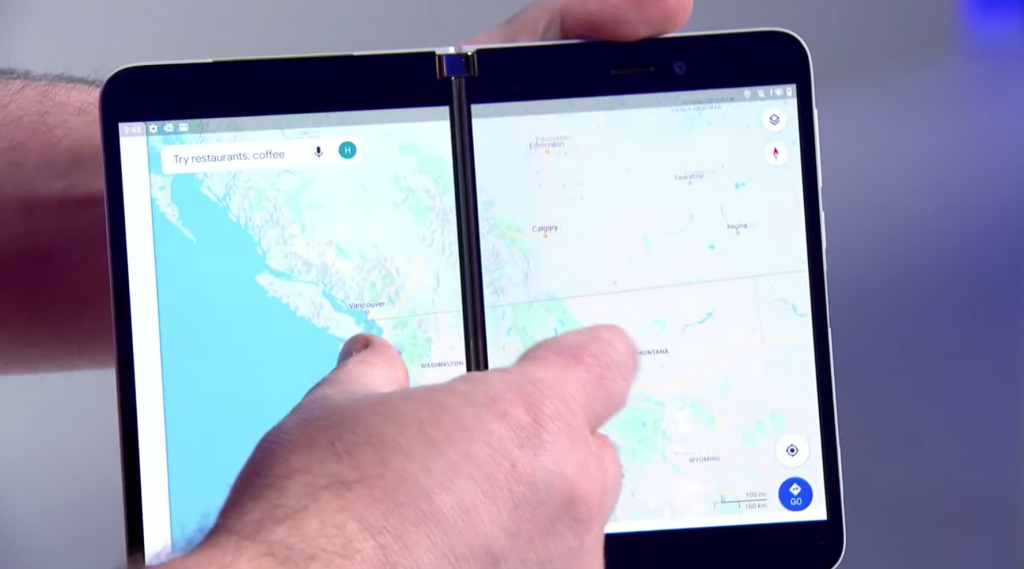 The video which was uploaded to YouTube by 9to5Google also reveals some stuttering on the screen while switching to the app drawer. This is to be expected given that the device is still in development. However, we're hoping that these glitches will be ironed out in time for the Surface Duo's commercial release later this year.
Microsoft is expected to offer more insight to developers on building dual-screen apps for the foldable, while also letting them leverage the additional real estate. The Surface Duo comes with two 5.6-inch displays that offer a combined display size of 8.3-inches. What's commendable, however, is the fact that the company has managed to make this device only 4.8mm thick.
Source: Microsoft
Via: 9to5Google