In this troubleshooting guide, we will show you how to fix the game Super Animal Royale that keeps crashing on your PC. Game crashes are usually not serious but you may have to do a few procedures. Continue reading to learn more.
Game crashes occur every now and then. There are times when you get an error message, but most of the time, the game in question just stops working and closes by itself. That's what many gamers encountered while playing the game Super Animal Royale.
According to some, the game just closes while they're in the middle of a match. Others reported that it freezes while they're still in the lobby. Whatever the case may be, you need to spend a little time troubleshooting the game as well as your computer. So if you're one of the gamers with this problem, here's what you should do: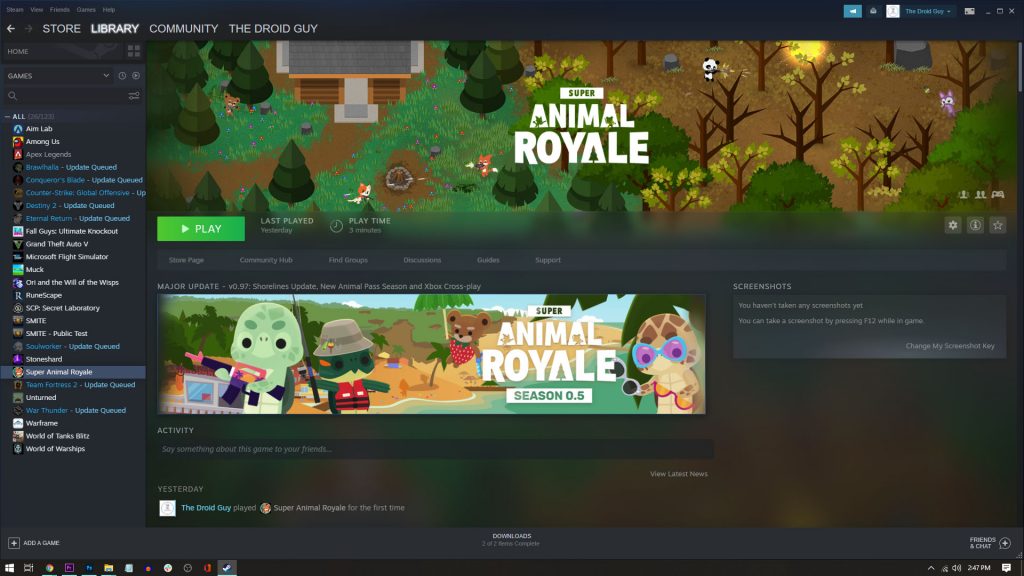 Fix #1: Force stop Super Animal Royale and reopen it
While the game doesn't really require a powerful computer, it's still capable of making your PC become unresponsive. So if it crashes or stops responding while you're playing, the first thing you must do is to force stop it. Here's how you do that:
Press the CTRL, ALT and Delete keys at the same time.
Click Task Manager.
Once the window pops up, look for Super Animal Royale and click on it.
Now click on the End task button at the lower-right corner of the window to close it.
After you've done that, reopen the game and try to find a match to see if it still crashes.
Fix #2: Make sure your graphics card driver is updated
There are times when a game gets affected by an obsolete GPU driver. That might be the case here so it's better to check if your computer has the latest drivers. Here's how you check for new graphics card driver:
Click the Start icon, type "file explorer" and click the File Explorer app.
On the left panel, right-click on This PC and click Properties.
Click Device Manager.
Expand Display adapters, right-click on your GPU and click Update driver.
Click Search automatically for drivers, and wait until your PC finishes the update.
After updating your GPU driver, run the game again to see if it still crashes.
Fix #3: Verify the integrity of the game files
Game cache and files may get corrupted and if that happens, crashes and freezes may occur. So if the first two solutions failed to fix the problem, the next thing you need to do is to verify the integrity of the game files. Here's how you do that:
Launch the Steam client.
Navigate to the Library tab, right-click on Super Animal Royale and click Properties.
Navigate to Local Files and then click Verify integrity of game files.
Wait until the verification is finished.
Once it's completed, launch Super Animal Royale again and see if the problem is fixed.
Fix #4: Uninstall the game and reinstall it
If all else fails, your last resort will be to remove Super Animal Royale from your computer to also erase all its game files and association with the system and other apps. When it comes to game crashes, this procedure can fix them. So here's how you do it:
Launch the Steam client.
Navigate to the Library tab and right-click on Super Animal Royale.
Hover over Manage, and click Uninstall.
Click Uninstall one more time to remove the game from your computer.
After the game is uninstalled, restart your PC.
Download the game and re-install it.
We hope that this troubleshooting guide can help you one way or the other.
Please support us by subscribing to our YouTube channel. Thanks for reading!
ALSO READ: