Total War Rome Remastered has finally arrived and as expected, many players are having the same share of issues such as crashing, game becoming unresponsive, and the annoying black screen problem. In this troubleshooting guide, we'll help you deal with game crashes and its related issues.
Reasons why Total War Rome Remastered game crashes
If Total War Rome Remastered crashes, won't launch, black screen, or becomes unresponsive, it may be caused by one of the reasons below.
Incompatible hardware setup.
Total War Rome Remastered may be based on an old game but right now, it requires a decent machine in order to run properly. You should have at least an Intel i3 series or an equivalent AMD CPU and NVIDIA GTX 600 series or an equivalent AMD GPU to meet some of the minimum system requirements.
If your machine is old and not built for gaming, it may struggle to run the game properly, which may result to crashes and other issues.
Outdated drivers.
A driver is an important software component needed by your hardware so it can communicate with Windows OS. When it comes to gaming, keeping your GPU driver updated is as important as updating the operating system or games. If your video card runs on an outdated driver, you may encounter all sorts of issues, one among them is crashing.
Random game bugs.
New games, even remastered ones, may be released with more bugs than anticipated. Although Total War Rome Remastered seems to be stable and there's no major game breaking bugs that's been reported about it so far, some people may still experience game crash or other problems because of other factors.
Damaged game files.
PC games may sometimes crash not because of coding errors or minor bugs but due to corrupted game data. This can happen if the game is closed or interrupted while trying to save the game progress, or when you turn off your PC during a game update or installation.
Conflicts from other apps.
The least known reason for some cases of game crash problem is due to other apps. Some players report that certain applications, especially those that use an overlay function like the MSI Afterburner causes some games to crash unexpectedly.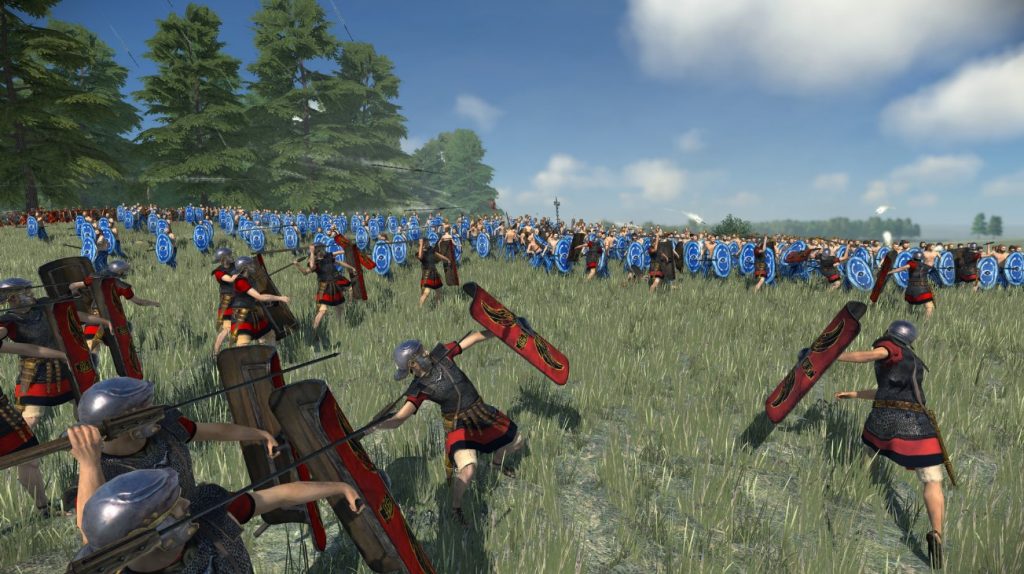 How to fix Total War Rome Remastered crashing issue?
Certain game issues are usually observed in some games more often than others. When it comes to Total War Rome Remastered, some of the common problems by far include random/unexpected crash, black screen, or failure to start or launch. If you are experiencing any of these issues, check the following solutions below to see which one will help you.
Fix #1: Update the game.
Some Windows 10 or Steam games may crash or may refuse to launch if they are not running their latest version. Make sure to check if Total War Rome Remastered currently needs an update by going over your Steam Game Library.
While you're at it, make sure that you also check if your Windows operating system needs updating as well. Microsoft releases updates regularly and by default, Windows 10 should automatically check for OS updates on its own. However, you can also manually check for updates anytime by going to Settings>Update & Security>Check for updates.
Fix #2: Install the latest video card drivers.
Keeping the drivers on your PC, especially the ones for your graphics card, is equally important as updating the game client.
Check out the links below on how to update your GPU:
If you're playing on a laptop that does not have a discrete graphics card, you should ensure that you also update your Intel CPU.
Fix #3: Verify if the PC meets the system requirements.
For a full list of minimum and recommended system requirements for Total War Rome Remastered, visit the official Steam website.
Important considerations must be done to ensure that your CPU, graphics card, and RAM all meets the minimum specifications. If one of the said components such as RAM is insufficient, the game may suffer from poor performance, or may fail to start up at all.
Fix #4: Repair game files.
Some problems such as black screen issue and crashes may happen due to damaged game files. To check if that's the case, you can use a tool in Steam.
Fix #5: Terminate other applications.
A game may crash if another app interferes with the operating system, or when there's a conflict between applications that Windows can't resolve. If you're running other programs while Total War Rome Remastered is playing, try terminating the other apps via Task Manager. If the crash stops after doing that, one of your third party apps must be the cause. You simply have to use the process of elimination to figure out which one is the culprit.
Fix #6: Reinstall the game.
If none of the solutions in this guide has not helped by far, consider deleting the game and reinstalling it.
OTHER INTERESTING ARTICLES:
Visit our TheDroidGuy Youtube Channel for more troubleshooting videos and tutorials.