The Sims 4 Discover University is a dedicated game expansion or segment where you could literally enroll in a University where you can take one class as your major per term. If you're new to this game and wondering how to play it, here's what you need to know about The Sims 4 university majors, distinguished degrees and careers.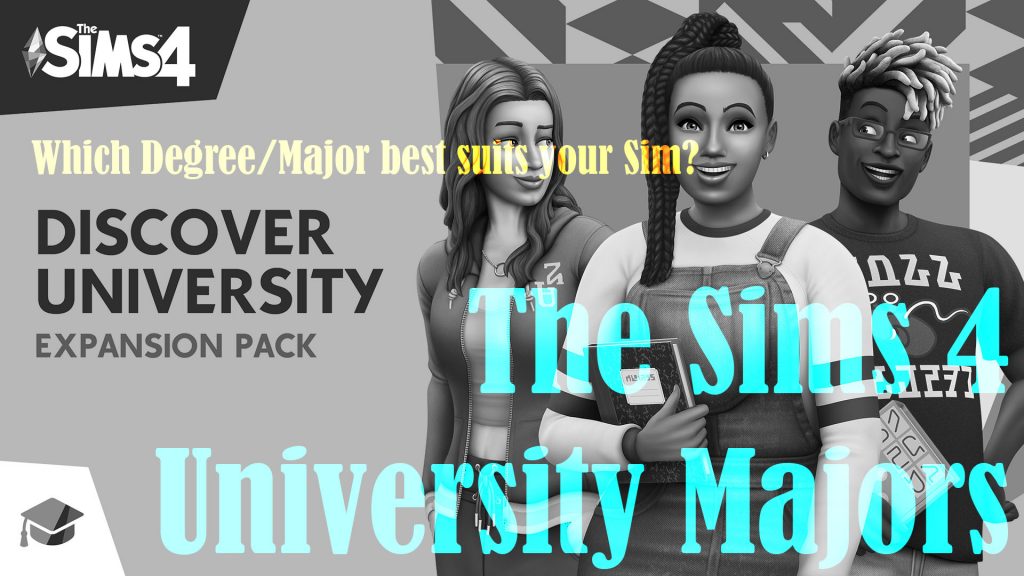 The Sims 4: Discover University Overview
The eighth expansion packed for The Sims 4 (Discover University) is all about college life and experience. In this game, you will get to explore all the experiences college has to offer.
One sure way to secure good career paths for your sim is to earn a degree. A degree-holder sim is expected to get better pays along with other perks such as more days off and easier promotions. In short, getting a degree will make your sim's life better. The key is to get your sim a good degree that will pave a way for your preferred career branch.
13 University Majors/Degrees and Required Skills
There are a number of university majors you can choose for your sim when you enroll in a university. Be sure to choose the degree that you're most interested in.
Listed below are the university majors offered in The Sims 4:
1. Art History – this major or degree is for sims who love art and history. Among the main skills required for this major include painting, writing, and charisma. Sims, who earned a degree in Art History best suits painters, critics and style influencers.
2. Biology – this major is for sims who are interested in the study of all living things on earth. It's a branch of science so it's a bit challenging to major. But for as long as your sim has the core skills including logic, gardening and fitness, everything should be just fine. This degree is best for doctors, gardeners, athletes, and conservationists.
3. Communications – If your core skills include writing, logic, and eloquence, then you can take communications as your major or degree. This major will make your sim end up in business management field, journalism and social media.
4. Computer Science – If you are good with computers, with robotics and programming as core skills, then computer science is the best major to get. Having a degree in computer science will help your sim become an engineer, computer programmer, tech guru or IT freelancer.
5. Economics – This degree is best for those who love numbers, particularly those who are in the education and business sectors. To get this major, your sim must have the skills in logic, research and debate. Aside from being good in numbers, being a conservationist is also among the key requirements for an Economics major.
6. Fine Arts – This is the degree that's reserved for those unique sims who are highly skilled in photography, violin, and painting. Sims with a Fine Arts major are likely to become a digital artist, photographer, musician, floral designer and master painter.
7. Drama – This is a degree that best suits entertainers with charisma and comedy as core skills. Most sims taking up Drama as university major end up being actors, internet personality and comedian.
8. Language and Literature – If you're charismatic and good in writing, research and debate, then you can take Language and Literature as your major. Doing so will help you become a writer, author, and even a private attorney.
9. History – Taking up History as your sim's university major will help you get very high jobs in the military and law firms. Your sim can also qualify as a politician. Go take this major if you've got charisma, logic, research and debate.
10. Psychology – If reading other sims is your specialty, then you can take up Psychology as a degree or university major. Finishing up a degree in Psychology will help your sim become a professor, military covert operator, secret agent or detective.
11. Physics – This is the degree for sims who are passionate in the field of science. To get this major, your sim must have the skills in rocket science, robotics and handiness. Earning this degree will make your sim become an astronaut, engineer or scientist.
12. Culinary Arts – This degree is basically designed for those who think of the kitchen as their main domain. The core skill that's required to get this degree is cooking. Sims who are Culinary Arts-degree holders will likely become food critics and culinary chefs.
13. Villainy – This major is best for those who yearn to become the ultimate villain in the community. To get this degree, your sim must have the skills in fitness, mischief and logic. Finishing up this university major will make your sim become an amazing criminal, a secret agent and also an astronaut in the interstellar smuggler sector.
In every semester, your sim can take four classes towards any normal degree and each degree correlates with a few skills.
Five new careers are also offered in Discover University and these include engineer, e-sports competitor, education, soccer team player, and law.
One way to boost your chances of getting onto distinguished majors or courses is to have higher skills that are relevant to the subject or degree you'd like your sim to pursue. Sims with high grades and skills also have a higher chance at getting scholarships.
Hope this helps!
Please visit our YouTube channel to view different troubleshooting and tutorial videos that might be helpful to you.
You Might Also Want To Read: