This post will guide you how to fix Brawlhalla that keeps stuttering or lagging randomly. Issues like these can be due to internet connection issues or technical problems with the game itself. Continue reading to learn more about it.
Aside from an obvious issue with the game, it's also possible that the problem is caused by an unstable or slow Internet connection. And then, there's another possibility that it's caused by a minor technical issue.
That's why it's imperative that you spend a little time looking into things that might just fix the problem. That way you can also learn what caused the problem to occur so that you can prevent it from happening again in the future. If you're one of the Brawlhalla gamers that's bugged by this problem, here are the things you should do: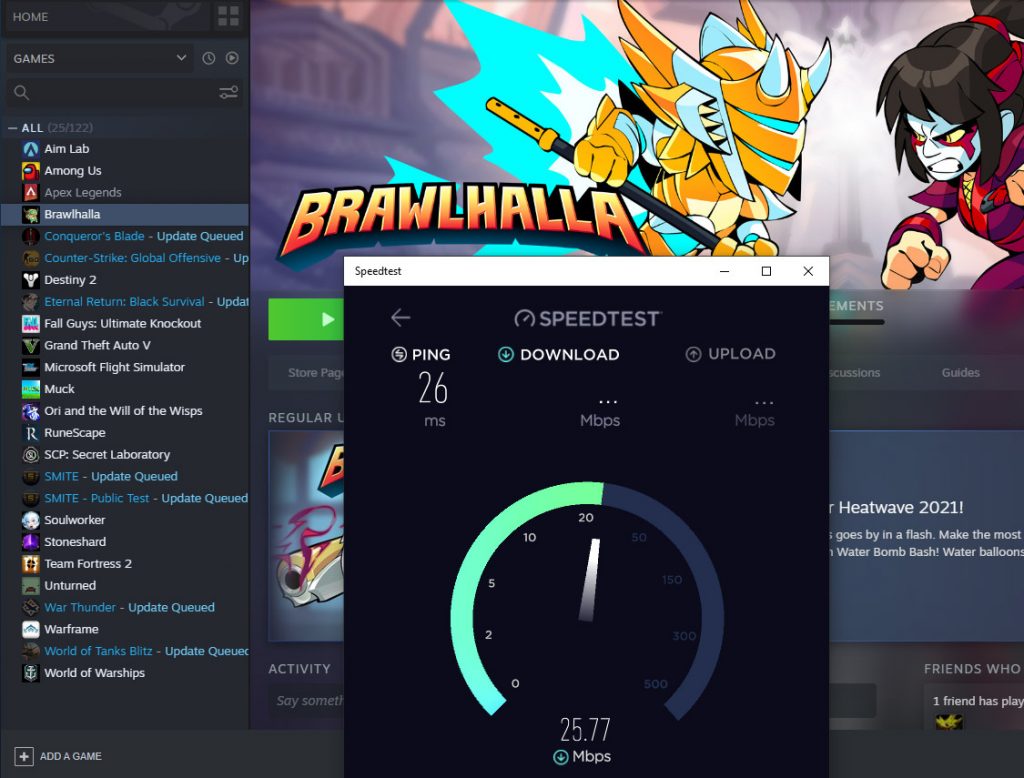 Fix #1: Force stop Brawlhalla and reopen it
The first thing you have to do is to stop the game from running. It's better to just stop its service using the Task manager so that it will abruptly close. So here's how you do that:
Right-click on the Taskbar and click Task Manager.
Look for Brawlhalla, click on it and then click the End task button at the lower-left corner of the screen.
Once the game is closed, launch it again from the Steam client.
Fix #2: Do a speed test
After force stopping Brawlhalla and the stuttering continues, then find out if the problem is caused by an unstable Internet connection. Connectivity problems can also make games stutter and freeze and that might be the reason why you're having this problem. So follow these steps:
Log on to SpeedTest.net.
Once the page is fully loaded, click Go to begin the test.
When the results show, compare them to the speed that you're supposed to be getting.
If it's indeed a connection problem, then you should call your Internet Service Provider and have it fixed. However, if your connection is fine, then move on to the next solution.
Fix #3: Verify Integrity of Brawlhalla's game files
Another thing you need to do if the problem continues to bug you is to scan and repair the game files. Cache and installation files have a tendency to get corrupted over time, and when that happens, issues like this will occur. So try this and see if it fixes the problem:
Launch the Steam client.
Navigate to the Library tab, right-click on Brawlhalla and click Properties.
Navigate to Local Files and then click Verify integrity of game files.
Wait until the verification is finished.
Once the Steam client has successfully scanned and repaired the game files, run the game again and see if the stuttering is also gone. If not, then move on to the next solution.
Fix #4: Uninstall Brawlhalla and reinstall it
After doing the previous solutions and Brawlhalla continues to stutter or randomly freezes, then it's time that you have it removed from your PC. Doing so will delete all of the installation files and its association with the system and other apps. After doing that, redownload the game from Steam and that should do it. Here's how you uninstall the game from your PC:
Launch the Steam client.
Navigate to the Library tab and right-click on Brawlhalla.
Hover over Manage, and click Uninstall.
Click Uninstall one more time to remove the game from your computer.
Once you've uninstalled the game, restart your PC and then reinstall it.
We hope that this guide can help you.
Please support us by subscribing to our YouTube channel. Thanks for reading!
ALSO READ: