Although the SteelSeries Arctis 7P is built mainly for PlayStation consoles (hence the "P" designation), it works flawlessly on other platforms as well such as PC, Nintendo Switch, Xbox consoles, and Android devices. If you want to enjoy your game, shows, or music in your Android using the Arctis 7P, here's a quick guide on what you need to do.
SteelSeries Arctis 7P specifications
For those who are new to SteelSeries headsets, or to the Arctis 7P in particular, this one is primarily optimized for the PlayStation consoles (PS4 and PS5) although it does not have any issues at all connecting to a PC, Android, or Nintendo Switch. It's basically similar to the Arctis 7X although that one has added features in order to work flawlessly with Xbox consoles (Xbox One and Xbox Series S|X).
For wireless communication, the SteelSeries Arctis 7P uses a USB-C dongle that transmits in the 2.4GHz frequency. This allows for lossless signal transmission across multiple platforms. The wireless transmitter has a rated range of about 40 feet or 12 meters.
In terms of battery life, SteelSeries claims that the headset can provide a maximum of 24 hours of continuous usage although in my experience, 16 hours is more realistic. The headset can be fully charged after an hour of charging, which is amazing for a battery of its size.
The bidirectional microphone of Arctis 7P is excellent and is Discord certified.
If you want to check the full specifications and other technical details about the Arctis 7P, check out the official SteelSeries website.
Two ways to connect your Arctis 7P to your Android
One of the advantages that the SteelSeries Arctis 7P offers compared to other wired headsets, say, the Arctis 5, is the fact that it allows you to choose between using a wired or wireless setup. If you're planning on playing your favorite game on your Android phone or tablet with the Arctis 7P headset, you can either use a wired connection or go totally wireless.
SteelSeries Arctis 7P wireless connection on Android
Playing a game on an Android phone or tablet is a lot less messy with Arctis 7P. All you have to do is to insert the wireless transmitter to the phone or tablet and pair your headset to the transmitter (if it isn't yet).
SteelSeries Arctis 7P wired connection on Android
If you don't want to take advantage of the wireless capability of Arctis 7P, or if your Android phone or tablet does not have a USB-C port where you insert the wireless transmitter, you can use the 3.5 mm cable that comes with the box.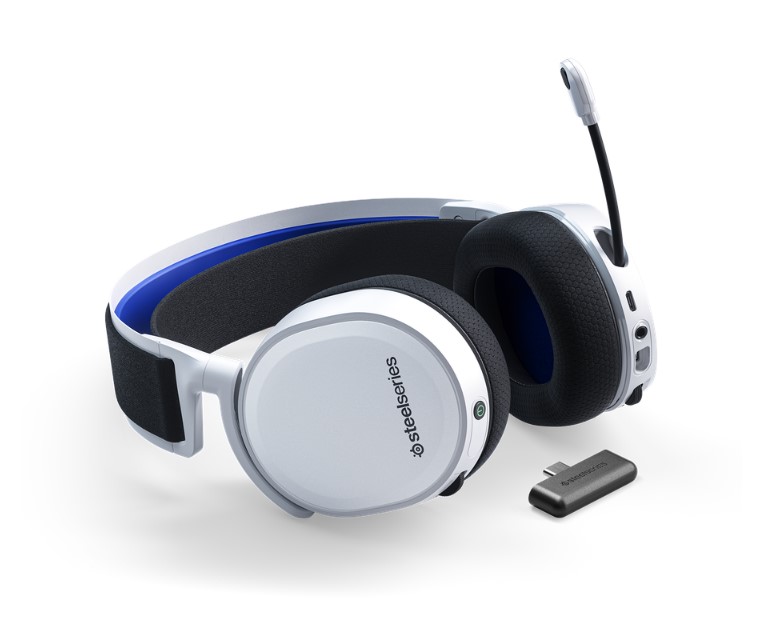 How to use your SteelSeries Arctis 7P on your Android phone?
Connecting your SteelSeries Arctis 7P to your Android device is very simple and neat.
Step #1: Prepare the peripherals.
If you want to go wireless, then you simply have to make sure that the wireless transmitter of your Arctis 7P is at hand. If you're not familiar with it, this transmitter needs a USB-C port in order to work. The USB-C port is the type of USB port that does not require you to insert a USB device in a certain orientation, unlike the USB-A or any other USB ports.
The wireless dongle or transmitter will use the battery power of your Android device when it's synced or paired with your headset so you might notice a faster battery power drop when it's connected.
If you want to use a wired connection, make sure that you prepare the Mobile audio cable that has a 3.5mm plug on one end.
Step #2: Plug in the device or wireless transmitter.
If everything's in order, all you have to do then is to plug in the wireless dongle or transmitter to the USB-C port on your Android device, or the Mobile audio cable with a 3.5mm plug into the audio port.
The wireless transmitter is already paired to your Arctis 7P headset after leaving the factory but if it won't pair automatically, you can try to manually pair it. All you have to do is to turn off your Arctis 7P first, then to turn it back on by pressing and holding the Power button for 6 seconds. Doing this should allow the device to scan the airwaves and pair with the transmitter in range.
OTHER INTERESTING ARTICLES:
Visit our TheDroidGuy Youtube Channel for more troubleshooting videos and tutorials.