Do you have a Sharp TV set with a black screen? When turning on the Sharp TV, you may also notice a black TV screen with sound and blue light only, which can be caused by a technical glitch, a bad update, a power cord issue, a power outlet issue, a power board failure, or a hardware issue. To fix the Sharp TV black screen, you'll need to go through a series of troubleshooting steps.
Sharp Corporation creates, manufactures, and sells cutting-edge consumer electronics, business products, and electronic components. Sharp rose to prominence as the liquid crystal display (LCD) industry's leader in the 1990s. LCD panels, which are lighter and thinner than cathode ray tube screens used in televisions, have transformed calculators, computer screens, video recorders, and handheld gadgets. Sharp, on the other hand, is more than just an LCD maker. The company also sells a lot of integrated circuits, digital copiers, fax machines, and home appliances. Sharp has subsidiaries all over the world, even though Japan accounts for 65 percent of its revenues.
Between 2015 and 2018, Hisense, a Chinese company, produced all Sharp brand televisions sold in the United States. Sharp Corporation acquired the license from Hisense in late 2019 and is presently producing Sharp-branded televisions.
Sharp TV black screen? Here's how to do a basic troubleshooting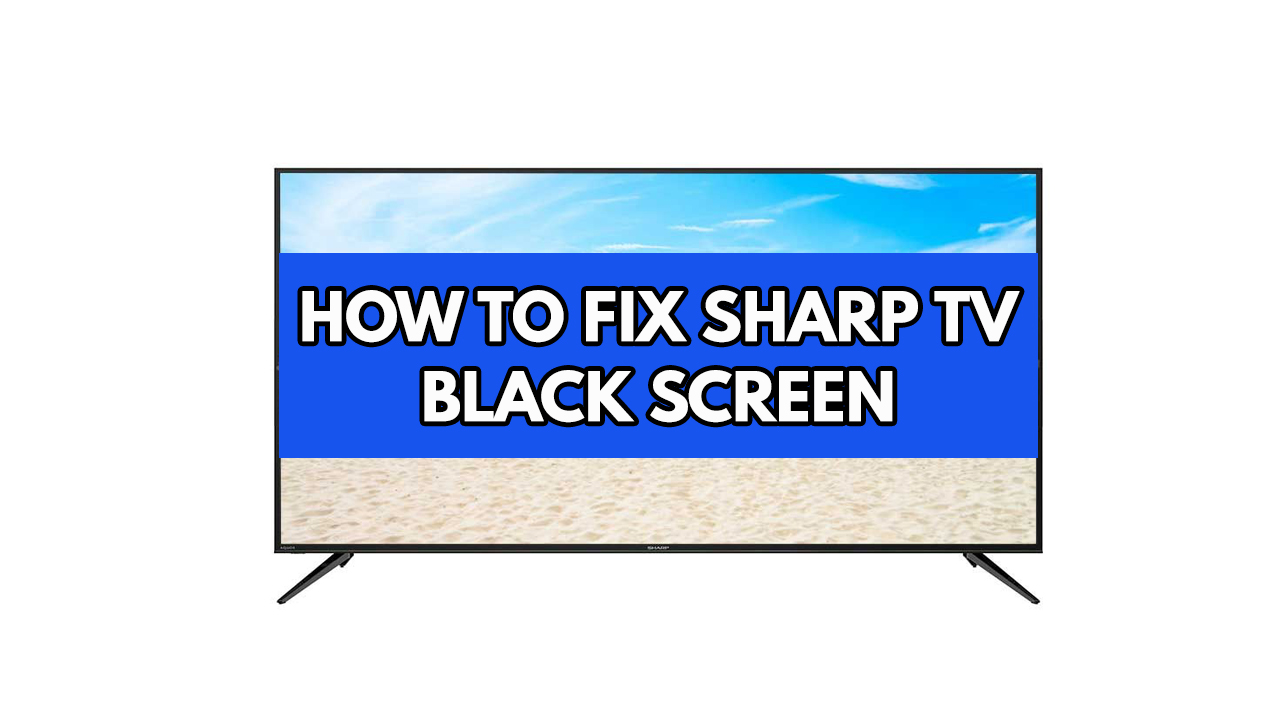 One problem that you may have with your Sharp TV screen is it displays a black screen. This can be a frustrating process, especially if all you want to do is relax and watch your favorite TV show or movie.
Here's what you need to do to resolve the Sharp TV black screen or Sharp Smart TV black screen problem.
Fix #1 Power cycle TV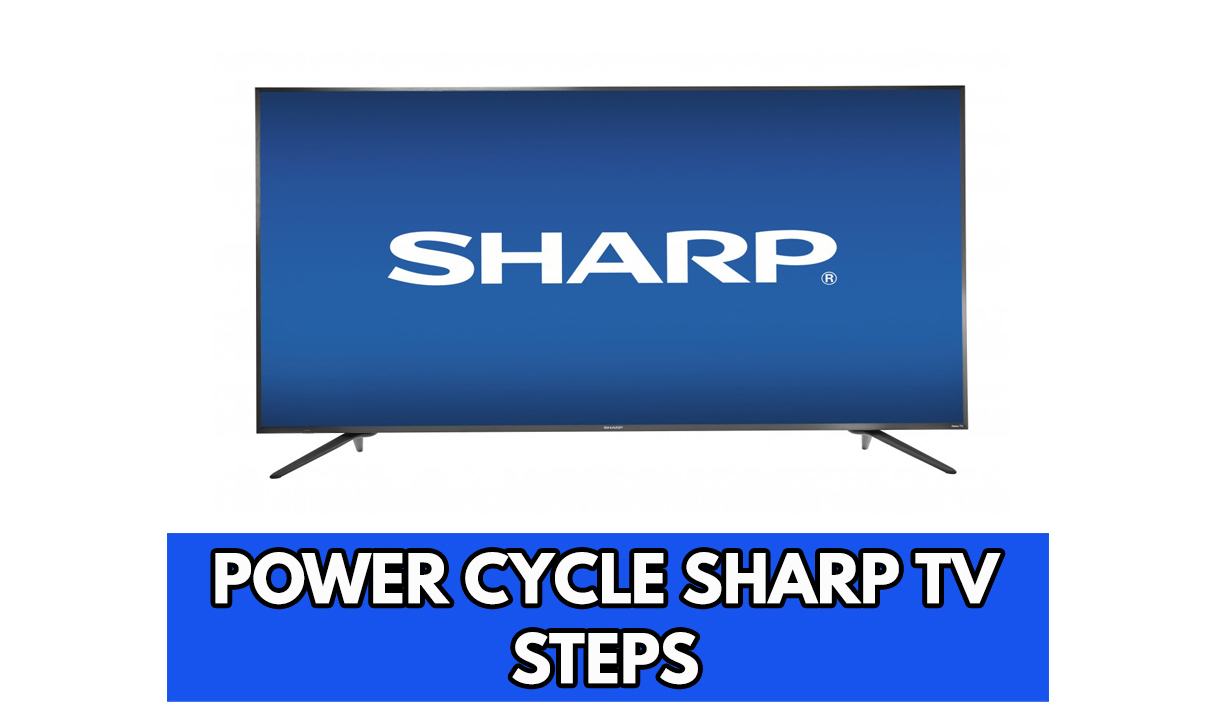 If you are having problems with your TV screen, such as the picture not displaying on the screen, we recommend power cycling or power reset the TV using the steps below. If you have an external USB device attached to the TV, unplug it before resetting it. This is the first and most basic step in getting rid of the sharp tv black screen of death. Many sharp tv owners were able to solve it; if you want to fix TV black screen, simply power cycle or power reset sharp tv by following the procedures below.
Steps to power cycle TV
Step 1: Use the power button on your Sharp TV remote control to turn off your television, then wait 15-30 seconds before turning it back on.
Step 2: If the black screen persists, turn on your television and disconnect the power cord from the power outlet. Wait 60 seconds.
Step 3: Reconnect the power cord to the outlet and switch on your television to see whether it works, after 60 seconds
Fix #2 Hard reset Sharp TV
Sharp TVs are prone to malfunctioning during outages or surges, which is a regular problem. The problem will be fix from the TV's memory without losing any of your downloaded material or settings if you do a hard reset. Many people have stated that resetting their television fixed the problem, therefore if you want to fix Sharp TV black screen issue, follow the hard reset process below:
Hard resetting Sharp TV
Step 1: Turn off the TV and any other devices and cable connections that are attached to it.
Step 2: Remove the power cord and cable connections of television.
Step 3: For 30 seconds, press and hold the television's power button.
Step 4: Leave the TV unplugged for a further 10 minutes.
Step 5: Reconnect the television, all the cables and other electronic gadgets and make sure they are properly connected.
Step 6: Turn on the television.
Fix #3 Make sure to check Sharp TV power cable
Examine your television's power cable and wires for any problems. So, look at the back of your television and make sure that all of the wires that are attached to it are correctly linked to the appropriate ports. And, if any loose or half-connected cables or wires are discovered, reconnect them to the port. After you've double-checked all cords and circuits, see if the black screen still exists. If you detect a damaged cable, replace it with a new one and then check to see if your Sharp TV has a black screen problem.
Fix #4 Check HDMI cables
Check if there is a damage on HDMI cable connections as this might be the cause of black screen issue.
Checking HDMI cable
Step 1: Remove the HDMI cable from the port on the back panel of the television; some televisions have two ports, while others have three; try plugging the HDMI wire into different ports.
Step 2: Restart the television, select the HDMI source (1, 2, or 3) and see if changing the port works, and if not, see whether your HDMI cable works.
Step 3: Replace your HDMI cable with new ones, or search for another device HDMI cable if you don't want to buy a new one. If the television begins to operate with that cable, you will need to purchase a new HDMI cable or just that one.
Fix #5 Check if Sharp TV is on Standby Mode
It's also possible that your television is in 'Standby' mode. Normally, you can wake it up by pressing the power button on the remote. However, make sure the 'Main Power' switch on the top of the TV is likewise turned on.
Fix #6 Examine the TV Remote Control
Open the camera app on your smartphone. Place the signal indicator at the front of the camera and push any key on your TV remote. If a light begins to flash, your remote is in good working order; if not, your remote batteries may have run out of juice, or you may need to purchase a new remote. All you need to do now is swap out the old batteries for the new ones. Then repeat the steps to see whether your remote works. If it does, hit the power button and restart the television. Choose the appropriate Source and see if your TV is working properly again.
Fix #7 Try a Different Outlet
If your remote works fine and all of the wires and connections that connect to the television are correctly connected, it's possible that your outlet is malfunctioning and your television isn't receiving enough power. As a result, it's preferable to locate a nearby outlet and plug thec cord into that outlet. If this step works for you, excellent; if it doesn't, continue on to the next option.
Fix #8 Factory Reset Sharp TV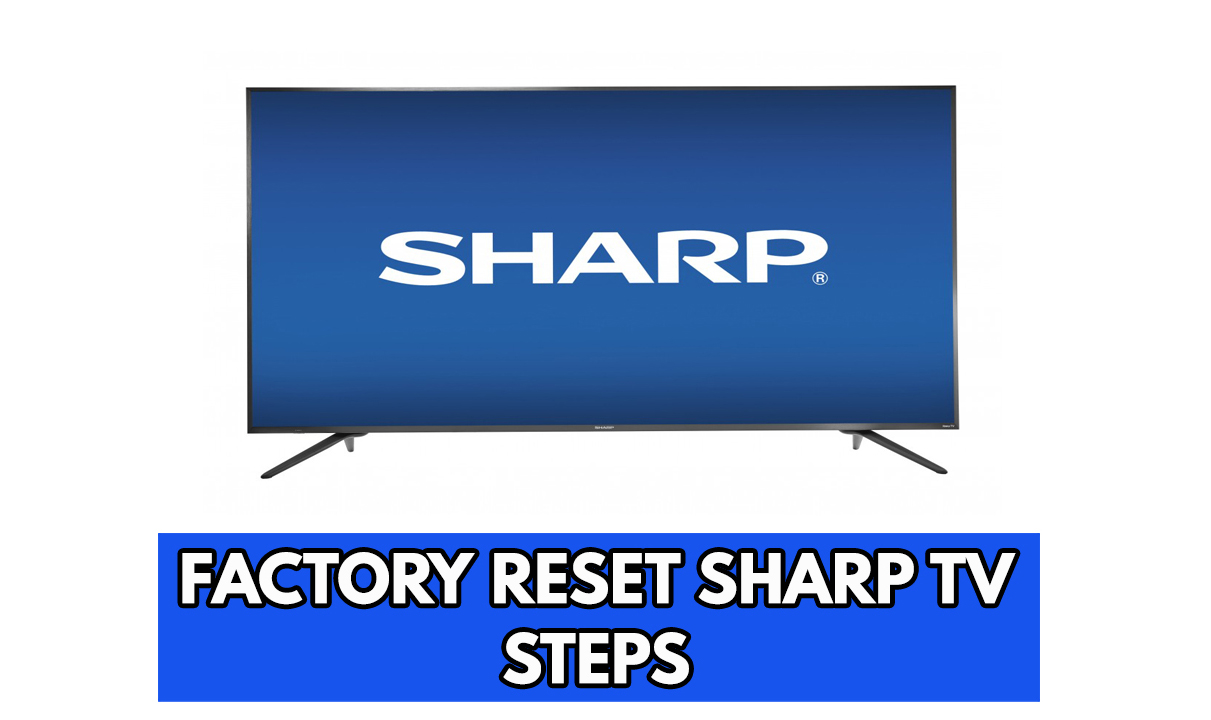 There are two ways to reset a Sharp TV to factory settings. Remember that a factory reset will delete all downloaded content as well as any saved preferences. This method, however, is the most effective at removing problems from your television.
Factory reset the TV without a remote
Step 1: Turn off the power to the television.
Step 2: On the TV, hold down the Channel Down and Input buttons at the same time.
Step 3: While plugging the TV back into the outlet, continue to hold these two buttons.
Step 4: When the TV has finished booting up, release the buttons.
Step 5: From the Service Mode menu, select Factory Reset.
Step 6: Wait for the television to turn back on.
Factory reset the TV using the remote
Step 1: On the remote, press the 'Menu' button.
Step 2: Select Settings > System > Support > Setup > Factory Reset from the drop-down menu.
Step 3: To begin the reset, press the Ok/Play button three times, or select Reset and enter your TV passcode. 1234 is the default passcode.
Fix #9 Sharp TV Blue Light and a Black Screen of death
A botched firmware upgrade is to blame for this. To correct this, follow the procedures outlined above to reset your Sharp television with a black screen. You must update your Sharp television after resetting it. Sharp tv no picture will be resolved after updating the firmware, but the blue light issue will remain.
Installing firmware
Step 1: Go to settings by pressing the menu on your remote.
Step 2: Next scroll down and choose the support option.
Step 3: Choose Check Software Upgrade from the drop-down menu.
Step 4: To download and install software on your Sharp tv, choose yes.
Fix #10 Sharp Roku TV has a black screen
If your Sharp Roku TV isn't showing any display, try the button combo listed below. This will restart your Sharp Roku TV after clearing the cache.
Press the home button five times, then the up button once, then the rewind and fast forward buttons twice each. In a few seconds, your Sharp Roku television will restart. Check if the black screen issue on your Sharp Roku TV has been resolved once the TV has restarted.
Feel free to visit our YouTube channel for additional support and troubleshooting guides on various devices