Are you experiencing the Hulu Black screen issue? There are various factors that can cause this problem such as Hulu app crash, corrupted files, or even an internet connection issue. to fix this you will need to perform several troubleshooting steps.
Hulu is one of the popular on demand video streaming platforms that offers thousands of movies and TV shows as well as original content. It is available mostly in US territories with various subscription plans aimed at the customers needs. It's parent company is Disney Media which allows it to easily provide various Disney related titles.
Why is my Hulu only showing a black screen?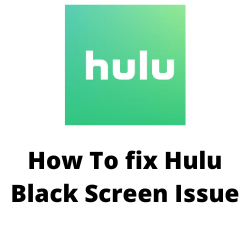 One of the issues that you might experience when watching your favorite show on your Samsung smart Tv or any Smart TV is the Hulu black screen issue. This can be an annoying issue especially if you just want to relax and enjoy the show.
Here's what you need to do to fix the Hulu black screen problem.
Solution 1: Check the internet connection
Since Hulu is one of the streaming services offering various movies and TV shows it requires a good internet speed to work. If you have a slow internet speed then there's a possibility that you will be getting a black screen on Hulu.
What you will want to do first is to check the internet connection speed of the network that the Hulu application is connected to.
Checking your internet speed
Open a browser on your smartphone.
Go to speedtest.net. This is an online speed test tool that is free to use.
Click on Go. This will start the speed test.
In order to watch content on Hulu you should have a good download and upload speed result. The results should match your subscription plan from your internet service provider.
If you have a slow or no internet then you can check if this is caused by an issue with your Wi-Fi network.
Turn off your the device that has the Hulu app.
Unplug your Modem and Router from the power source.
Wait for a minute then plug your modem and router back into the power source.
Wait until the lights turn back on.
Turn on the device with the Hulu app.
Reconnect your Smart TV with the Hulu app to the internet.
Try to check if the Hulu black screen issue still occurs.
Here's what you can do to get a stable internet .
Try to disconnect other devices connected to the Wi-Fi router while you use the Hulu app. This will allow the Samsung Smart Tv or any Smart TV to use the maximum internet bandwidth.
Move the Smart TV closer to the router . This will allow the device to get a much stronger Wi-Fi signal strength.
If you have a dual band router try to connect the Smart TV to the 5Ghz band instead of the 2.4.
Solution 2: Power cycle the device
One of the reasons you will be getting the Hulu black screen is because the cached data stored by the router and streaming device gets corrupted. Performing a power cycle will clear the cached data and refresh the software of your devices.
Power cycle
Disconnect all devices connected to your smart TV.
Turn off the smart TV and unplug its power cable form the main outlet.
Unplug the router from the power source.
Wait for at least a minute.
Plug the router.
Plug your smart TV and turn it on.
Run the Hulu application then check if the Hulu black screen error still occurs.
Solution 3: Clear cache and clear data of Hulu application
One of the main causes of the Hulu black screen problem is a corrupted app cache data. In order to get rid of this corrupted data you will need to clear the cache of the Hulu app. Take note that you should know your Hulu account name and password before proceeding as you will need to input this after performing the this troubleshooting step.
Clearing Hulu's cache data
Open the Settings app.
Select Applications.
Select Manage installed applications.
Search for and select the Hulu application on the list.
Select Force Stop.
Select clear cache and clear data.
Open the Hulu app then login to your Hulu account.
Check if this will fix Hulu black screen error you are encountering.
Clearing cache on Roku device
If you have a Roku TV then here's what you need to do to remove the cached data.
Go to the Home screen then press the Home button on the Roku remote 5 times.
Press the up button 1 time.
Press the rewind 2 times then fast forward 2 times.
After the Roku device reboots try to check if the Hulu black screen error is fixed.
Solution 4: Reset Samsung TV Smart hub
If you own a Samsung TV and the black screen issue occurs when you open the Hulu app then you should try to reset the smart hub on your TV.
Reseting the samsung smart TV hub
Go to Settings on your smart TV.
Select Support.
Go to Self-Diagnosis.
Select reset the smart hub.
Try checking if the Hulu black screen issue still occurs.
Solution 5: Reinstall Hulu app
Sometimes the problem can already be caused by a corrupted app. In order to fix Hulu black screen issues you will need to reinstall Hulu app on your streaming device.
Proper way to reinstall app on smart TV
Uninstall Hulu app.
Restart the Smart TV.
Install the latest version of Hulu on your smart TV.
Login to your Hulu account.
Try checking if the black screen on Hulu problem still occurs.
Frequently Asked Questions
Why does my Hulu app have a black screen on my smart streaming device?

If you are using one of the Android smart streaming devices then you should try clearing the cache and data of the app first. You should also make sure that your streaming device firmware is updated as this will improve the overall user experience.

How to fix the black screen on Hulu but we can hear audio?

If you are experiencing the black screen with audio problem then you should try lowering the stream quality. If you have set it to 4K then consider a 1080p stream quality.

Why is Hulu not loading?

If Hulu is not loading then you should try to update the app or the web browser you are using. If you have web browser extensions then try to disable them.

Can I use Hulu without an internet connection?

Unfortunately you will not be able to use Hulu if you don't have a Wi-Fi internet.

I have a Hulu account but i can't use it overseas

Hulu is only available in selected locations outside the US such as in Puerto Rico, military bases, and some areas in Japan.